November 8th and 9th were momentous days that set India abuzz: P.M Modi's demonitisation announcement on National Television, followed by Trump's win in the U.S. Elections. The back-to-back events gave national Hindi and English news channels in India a heady 37.3% spike in viewership compared to the previous week.
Interestingly, English news channels experienced a massive 83.4% rise in viewership - much higher than the 37.7% rise experienced by Hindi news channels.
The element of surprise has certainly shaken up news viewership in India. Here are some of the viewership trends experienced in the first few days of November: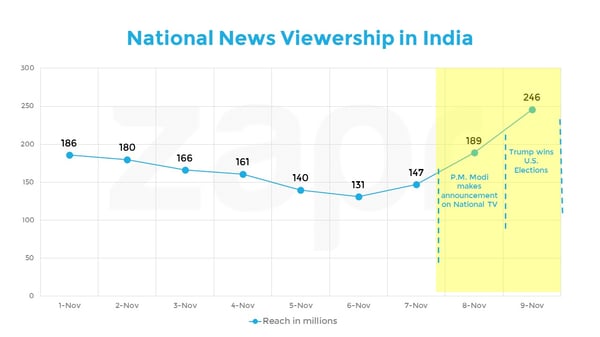 P.M Modi's announcement was broadcast Live on Hindi and English news channels between 8:00 PM and 9:00 PM. The announcement caused a rising news viewership for the rest of the night.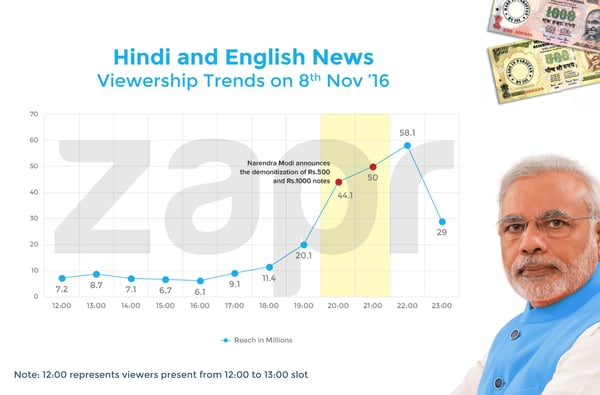 Across different states in India, larger number of urban audiences tuned in to watch the Prime Minister's announcement on National Television. Both Hindi and English news channels experienced similar urban-rural viewership trends.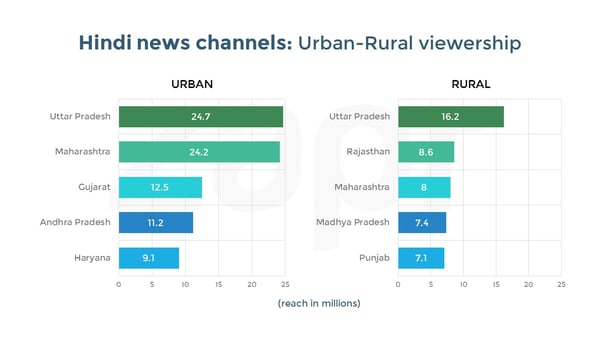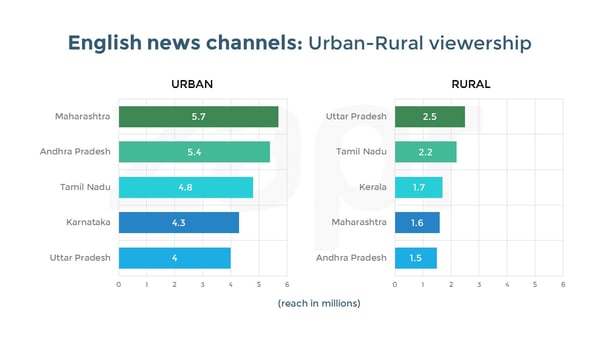 Interestingly, Delhi the capital of India witnessed the highest number of news viewers during the one hour telecast of Modi's announcement - 2.3 million viewers. Mumbai followed with 2 million and Bangalore with 1.3 million viewers.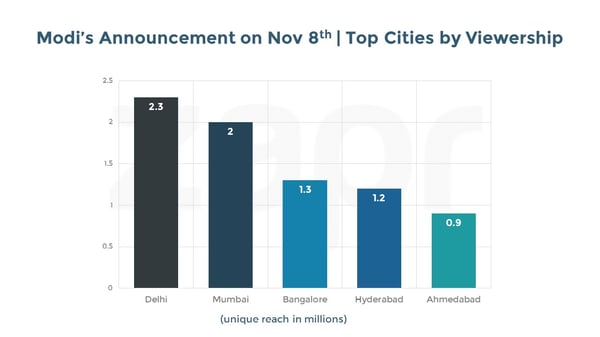 Read more on Live viewership for Modi's previous speeches on national TV here.
The U.S. Election Results covered Live on 9th November contributed to a continued high viewership for national news channels in India. The day witnessed 29 million viewers between 1:00 PM and 2:00 PM during which the final election results were out declaring Donald Trump as the new President of the United States.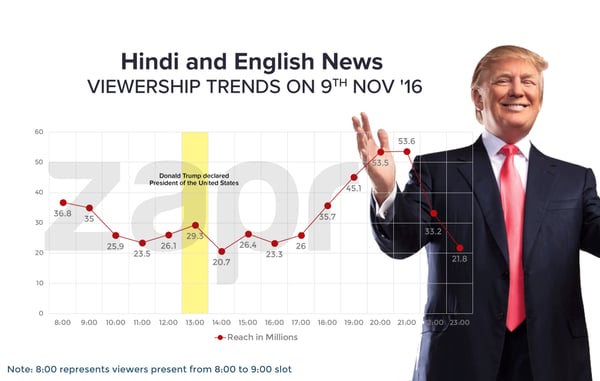 The city of Mumbai witnessed the highest news viewership on November 9th between 1:00 PM and 2:00 PM when Trump won the elections - 1.5 million unique TV viewers.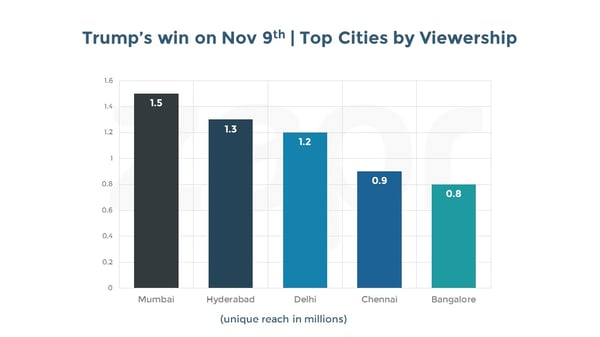 [Read more on the 'Premium Audiences' who watched the U.S. Presidential debates here.]
With millions of TV viewers all over India tuned in to watch the news on pivotal days like these, Zapr's TV-to-Mobile technology allows TV broadcasters and brands to identify smartphone users who are watching Television and push out relevant content to these individuals.
For more cutting edge use cases of Mobile Marketing campaigns undertaken at Zapr Media Labs, visit our blog.