VH1 kickstarted its re-branded journey with a successful Live coverage of the Global Citizen Festival India on 19th Nov 2016. Aired on VH1 from 5:00 PM to 11:00 PM, the telecast garnered 2 million viewers across India.
Successfully meeting the channel's aim to boost original content and simultaneously set the stage for International music, the telecast gave newly branded VH1 a 26.2% jump in viewership compared to the previous two weeks.
Interestingly, 86% of those who watched Global Citizen Festival India LIVE on VH1 have consumed content in English movie channels for the months of October and November. What else do they consume on Television?
Which parts of India watch a great deal of content on VH1? Does the channel's weekday and weekend viewership differ radically?
Let's take a look at how the Global Citizen Festival India impacted the channel's viewership trends.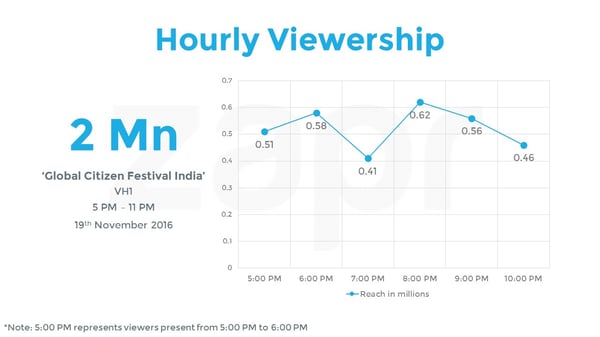 The Live telecast witnessed the highest viewership between 8:00 PM and 9:00 PM during which Coldplay took the stage.
The Global Citizen Festival India Live telecast saw the interests of viewers who heavily consume English language genres on Television: 86% of viewers watch English Movie channels like HBO, Star Movies and Sony Pix. 69.3% watch English News channels such as Times Now, NDTV 24x7 and BBC India. And a slightly lesser 67.8% of viewers watch English Entertainment channels like Star World, Zee Cafe and AXN.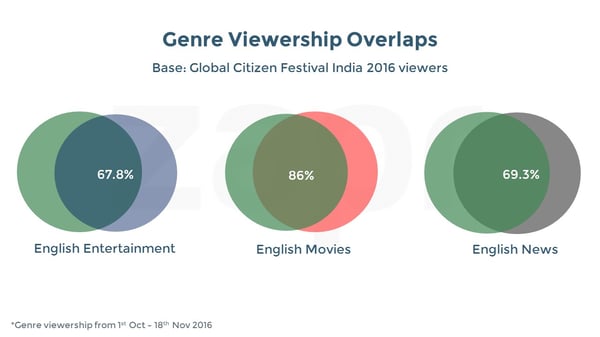 With the new strategy in place for VH1, it got us curious to learn about their viewership trends in the few weeks preceding the launch of the channel's new look and content.
Across the months of October and November, VH1 experiences the highest viewership in the 8:00 AM to 12:00 PM slot on weekdays. The same morning time-slot sees the largest number of viewers even on weekends.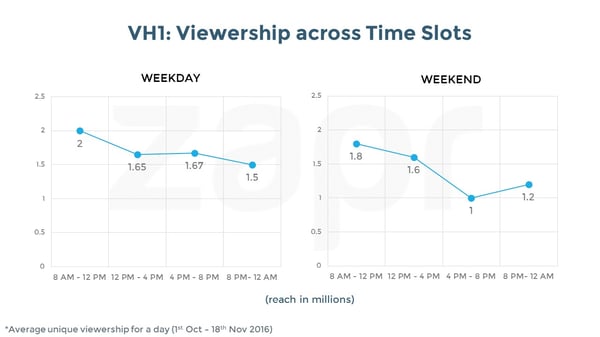 As seen in the graph above, Weekday Primetime experiences higher viewership that Weekends. The weekend 4:00 PM to 8:00 PM slot sees the lowest viewership across all given time-slots.
Looking at the geographical presence of the channel, the state of Maharashtra has the largest number of VH1 viewers - 12.2 million unique viewers over the months of October and November. Tamil Nadu follows with 9.29 million unique viewers. Other states like Andhra Pradesh, Uttar Pradesh and Karnataka also make it to Top 5 with significant viewership.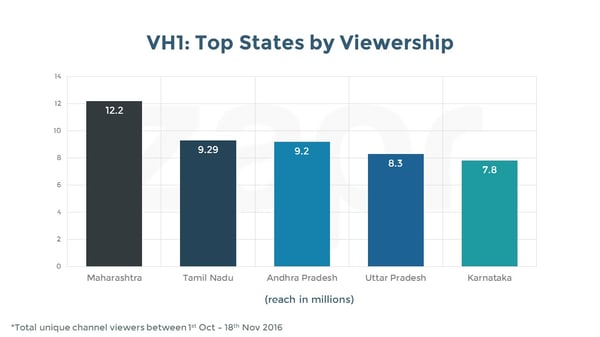 Having re-branded to expand audiences across the Indian Television landscape, VH1 introduces original shows such 'VH1: India Diaries' which trace the musical journey of many Indian artists. At Zapr Media Labs, we can identify specific individuals who consume similar homegrown shows on Indian TV. The channel can directly engage with these viewers and optimize their promos and ad campaigns via Zapr's TV-to-Mobile platform.
Zapr's smartphone driven technology allows TV broadcasters to understand their channel viewership and brands to identify Target Audiences exposed to niche content and engage with them using rich media formats.
Click here for complete TV viewership analysis of Global Citizen Festival India 2016 Live on VH1.