The first Indian produced English Entertainment show to get high rating in India, Koffee With Karan, is back with all the Celeb glamour and innuendos accumulated over four seasons. The fifth season's launch episode on 6th November gave Star World a 3x rise in its Weekend Primetime viewership. Only three episodes into the season, the show has emerged as the Number One most watched show among Primetime English Entertainment shows on Indian Television.
Are the audiences of Koffee With Karan absolutely hooked on getting a glimpse of the 'good life'? Do they also watch other popular Celebrity reality shows on Indian Television?
Let's find out.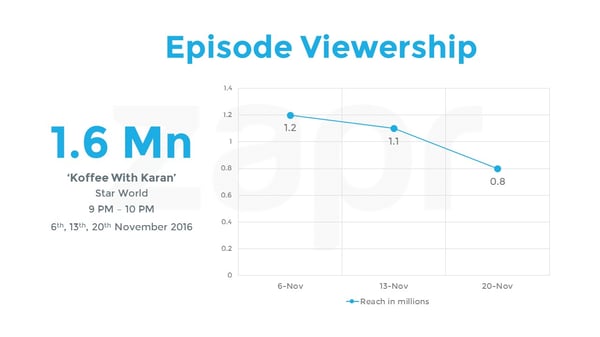 Aired from 9:00 PM to 10:00 PM every Sunday, a total of 1.6 million unique viewers have tuned into Koffee With Karan so far in the season.
In a mark of high show loyalty, a whopping 70% of viewers who watched the first episode on 6th November came back a week later to watch the second episode on 13th November.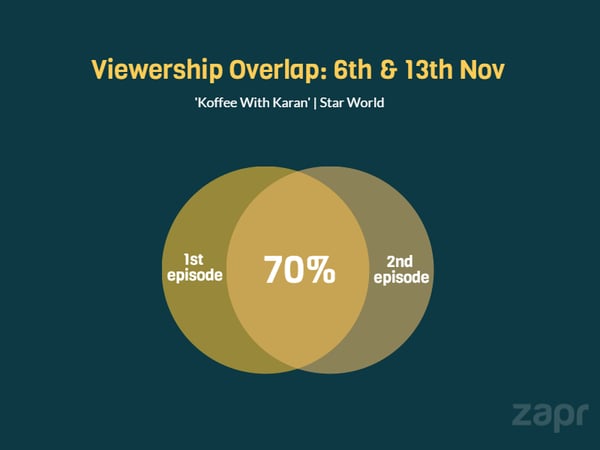 1.2 million individuals watched the launch episode of Koffee With Karan. Although the hour witnessed a gradual decline in the number of viewers, Karan Johar's 60 minutes of celebrity sleaze received high continuity in viewership - 48% of viewers who tuned in during the first half hour continued watching the the second half of the show.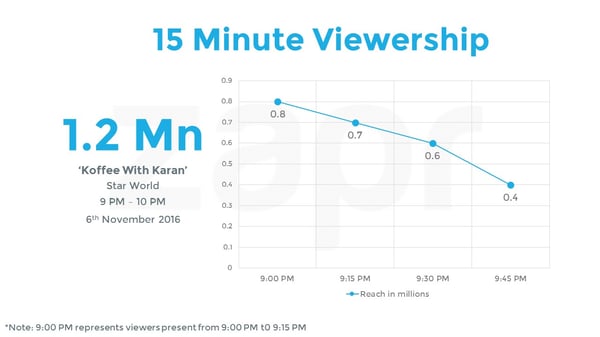 Koffee With Karan has outdone the viewership of other popular English Entertainment shows aired during the same 9:00 PM to 10:00 PM slot: Fear Factor U.S. on AXN, How To Get Away With Murder on Star World and My Kitchen Rules on Colors Infinity.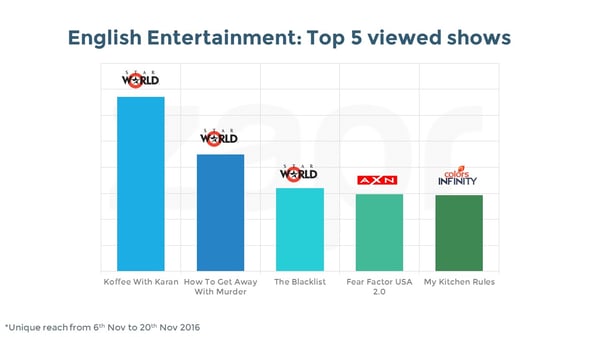 Metropolitan cities featured in the Top 5 cities with highest viewership for the show. Unsurprisingly Mumbai, being the hub of Bollywood, garnered the largest number of viewers - 0.2 million. Bangalore followed with 0.15 million and Hyderabad with 0.1 million unique viewers.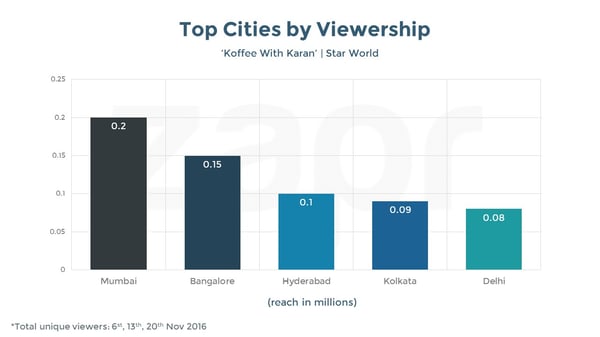 Research at Zapr Media Labs shows that Koffee With Karan viewers express significant interest in other Celebrity shows on Television: 9.3% of them watch a similar Indian produced Celebrity talk show in English language - 'Vogue BFFs' on Colors Infinity.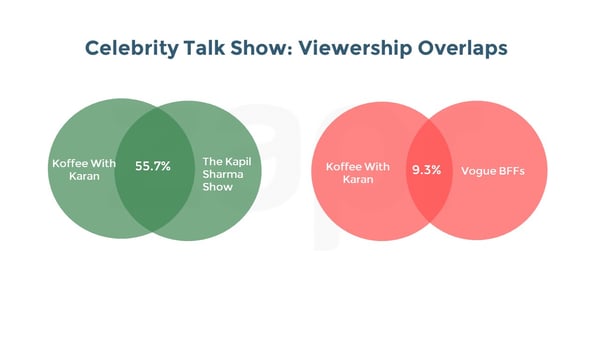 Interestingly, 55.7% of Koffee With Karan viewers also watch The Kapil Sharma Show on Sony Entertainment TV - a popular Hindi Celebrity show which runs during the same 9:00 PM to 10:00 PM slot on weekends.
From the above viewership metrics, we can infer that Koffee With Karan viewers are highly interested in Bollywood Celebrity content. Hence they most likely have high affinity towards other Celebrity shows and Celebrity related ad content.
Using Zapr's TV-to-Mobile platform, TV viewers can be identified and traced across their interests in particular genres and shows. Zapr's smartphone technology allows for TV broadcasters, brands and OTT content providers to identify who watches what and engage with them in the most optimized way.
Read more on how Zapr can bolster Audience Engagement, Brand Reach and Top-of-mind recall; upscale Product Monetization and more. Click here.
---