The Indian Cricket team bids adieu to 2016 with Karun Nair's smashing Test record and a string of undefeated matches at the England Tour of India. Subsequently Star Sports 1 and 3 which aired the Test series Live on Television saw 13% growth in Average Time Spent (ATS) by viewers.
At Zapr Media Labs we delved deep into the tour's viewership and our analytics have brought to light the content consumption patterns of core Cricket fans in India.
Discover how Zapr's precise Audience Targeting enables brands and OTT video players to engage with this audience for Sport and Cricket related content.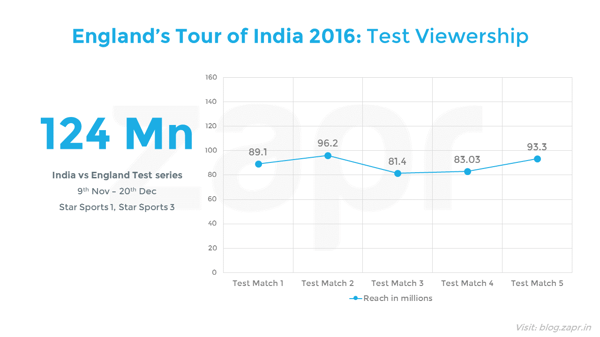 The England Tour of India hit its highest number of Indian viewers during the second Test match with 96.2 million unique individuals tuning in. The series ended with 93.3 million viewers for the last match.
After a draw in the first match, India's victory in the second Test match witnessed total unique viewership of 96.2 million with a peak impact of 61.1 million TV viewers on Day 4.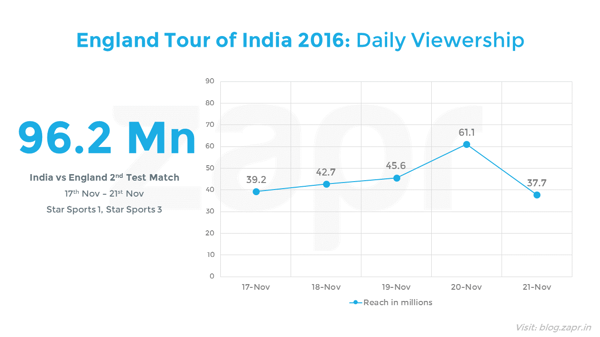 The Tour's highlight however was Day 4 of the last match in the Test series. An Hourly breakdown of the day's viewership reveals a steep rise in the number of viewers tuned in for the match.
20.6 million Indian TV viewers watched Karun Nair break world record as the youngest player to score a triple century in Test Cricket.
At Zapr Media Labs we found that individuals who watched the India vs England Test series heavily consumed other Live Cricket content on Television: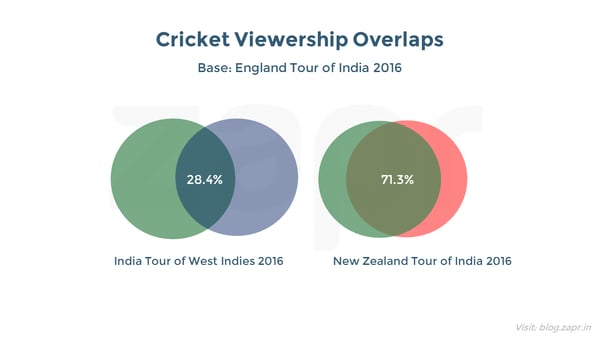 71.3% watched the New Zealand Tour of India inclusive of 3 Test matches and 5 ODIs, which concluded only a week before the India vs England Test series began.
28.4% watched the India Tour of West Indies earlier this year - four test matches and two T20s which attracted massive IPL level viewership.
Star sports 1 and 3 which aired all three of these Cricket tours both experienced huge growth in the Average Time Spent (ATS) from July to November: 11% and 16% ATS growth respectively.
We were also curious to see what other kind of content interests these viewers: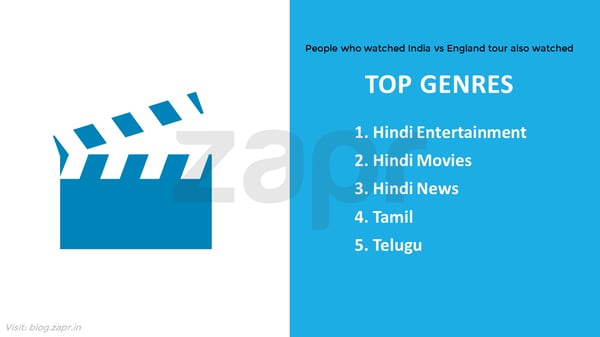 Our findings reveal that Hindi Entertainment, Hindi Movies, Hindi News, Tamil and Telugu regional content are some of the top genres consumed by individuals who watched the England Tour of India.
The England vs India test series had highest viewership in Maharashtra - 16.7 million viewers.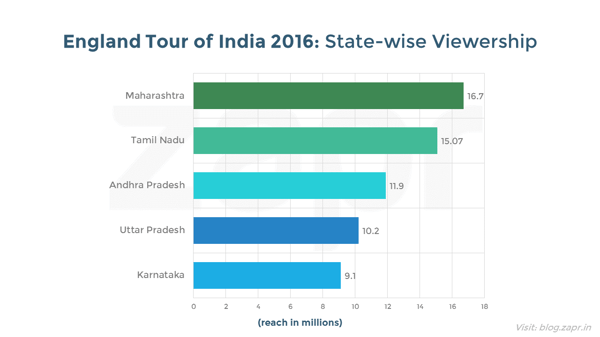 Tamil Nadu followed closely with 15.7 million viewers. Karun Nair's home state Karnataka featured in Top Five with 9.1 million viewers.
Zapr's TV-to-Mobile platform helps leading Brands precisely target and reach out to niche audience segments. Our user profiling technology enables brands and OTT content providers to engage with target groups via rich media content on their smartphones. Our blog features case studies on how some of the largest brands in India utilize Zapr's cutting edge user intelligence to enhance their brand campaigns far beyond mobile advertising benchmarks.