It's that time of the year when this drama-packed reality show makes fans inevitably tune in all seven days of the week, unlike most prime-time favorites which take up either weekdays or weekends. Colors TV saw a 44.3% boom in viewership with the Salman Khan hosted reality show, compared to the previous month. With rising competition for Hindi GECs most coveted primetime slot, is Bigg Boss getting the best out of this news-breaking reality TV content?
(Read how Colors TV boosted loyalty for TV series 'Shakti' and increased viewership by 25%).
We studied the impact of Bigg Boss by looking at its viewership share on both weekdays and weekends. We delved into success indicators like show stickiness, migration from other Hindi TV shows, and even other channel genres. Our analysis also mapped out the actual viewership penetration of Bigg Boss at a highly granular level, combining location and individual user data in a way that's never been done before.
Let's a take look at our TV viewership insights for Bigg Boss across 40+ million smartphone users profiled at Zapr Media Labs.
Surviving jungles to Dhinchak Pooja's ousting, this season's viewership so far:
16.8 million viewers tuned into the opening night of the new season of Bigg Boss on 1st Oct. Unsurprisingly, the show witnessed higher viewership during weekends, with an average of 13.4 million TV viewers compared to the weekday average of 7.3 million, undoubtedly owing to Salman's duly appearance on Saturdays and Sundays to assess contestants and eliminate them occasionally. Weekdays had reasonably consistent viewership touching a peak of 8.4 million on 4th Oct.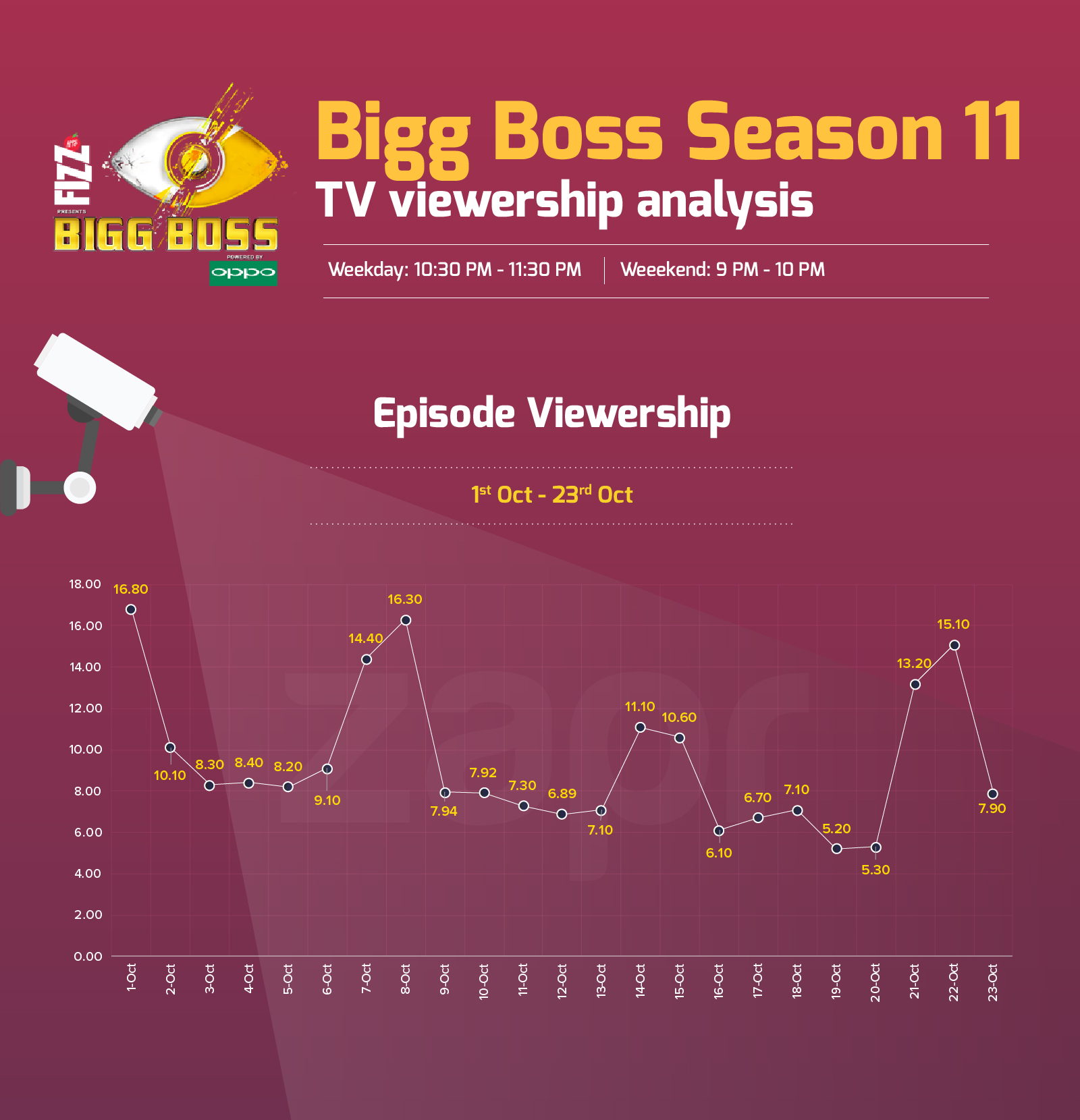 Colors TV almost doubles viewership, what's the likelihood that fans will stay?
In just one month, Bigg Boss doubled the viewership of Colors TV across all time slots, seeing a 44.3% rise in time spent on the channel from September to October. Interestingly, this spike in the channel's view-time is reinforced by an impressive 23+ minutes average time spent on Bigg Boss - almost the half of the entire air-time for every episode. In fact, the season's opening night commanded nearly the complete episode air-time (40+ minutes).
To find out more indicators of show stickiness, we studied the overlap of viewers from the first to the last episode of Bigg Boss. Results reveal significant audience loyalty - 9.4% of people who watched the opening night (1st Oct) of season 11 stayed till the last episode considered in this study (23rd Oct).
Where the grass looks greener: Migration from Hindi GECs and other genres
An important indicator of any TV show's success in its competitive race with other shows is how many people switch loyalties and inevitably TV channels?
To find out, we analyzed how TV viewers migrated/switched from other shows and genres which aired during the same time as Bigg Boss on Television. Results reveal that weekends had much higher migration from other top Hindi GECS compared to weekdays, with highest movement from weekend shows like Khatron Ke Khiladi (38.90%), Dev (31%) and Lip Sing Battle (25.10%) and weekday shows like Ishqbaaaz (21.10%), Kaun Banega Crorepati (20.60%) and Kundali Bhagya (18.60%).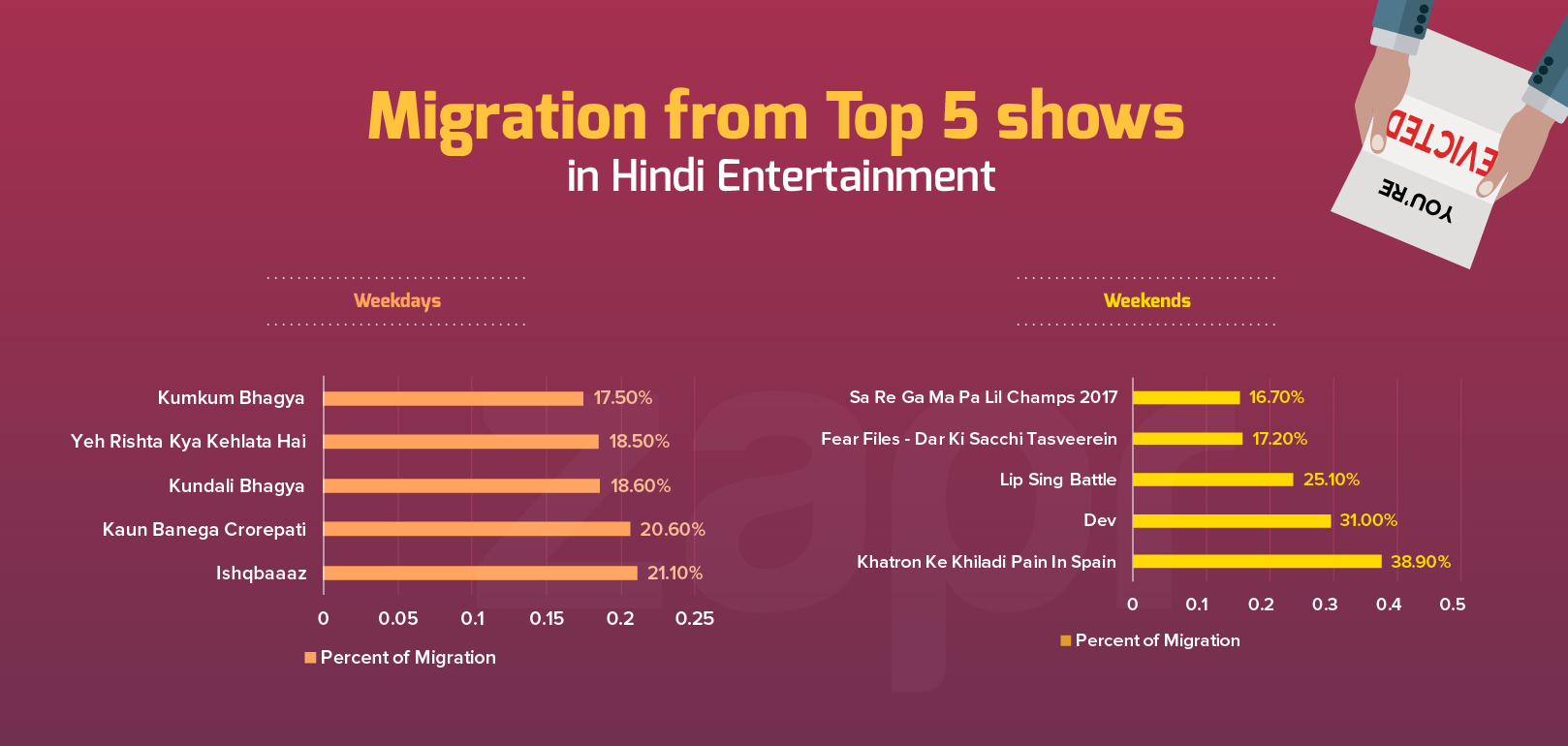 Bigg Boss 11 didn't just attract Hindi GEC audiences but also drew in a significant percentage of viewers from other channel genres. As expected, the show had the largest influx from Hindi News (13.80% on weekdays and 12.20% on weekends) and Hindi Movies (12.70% on weekdays and 11.30% on weekends).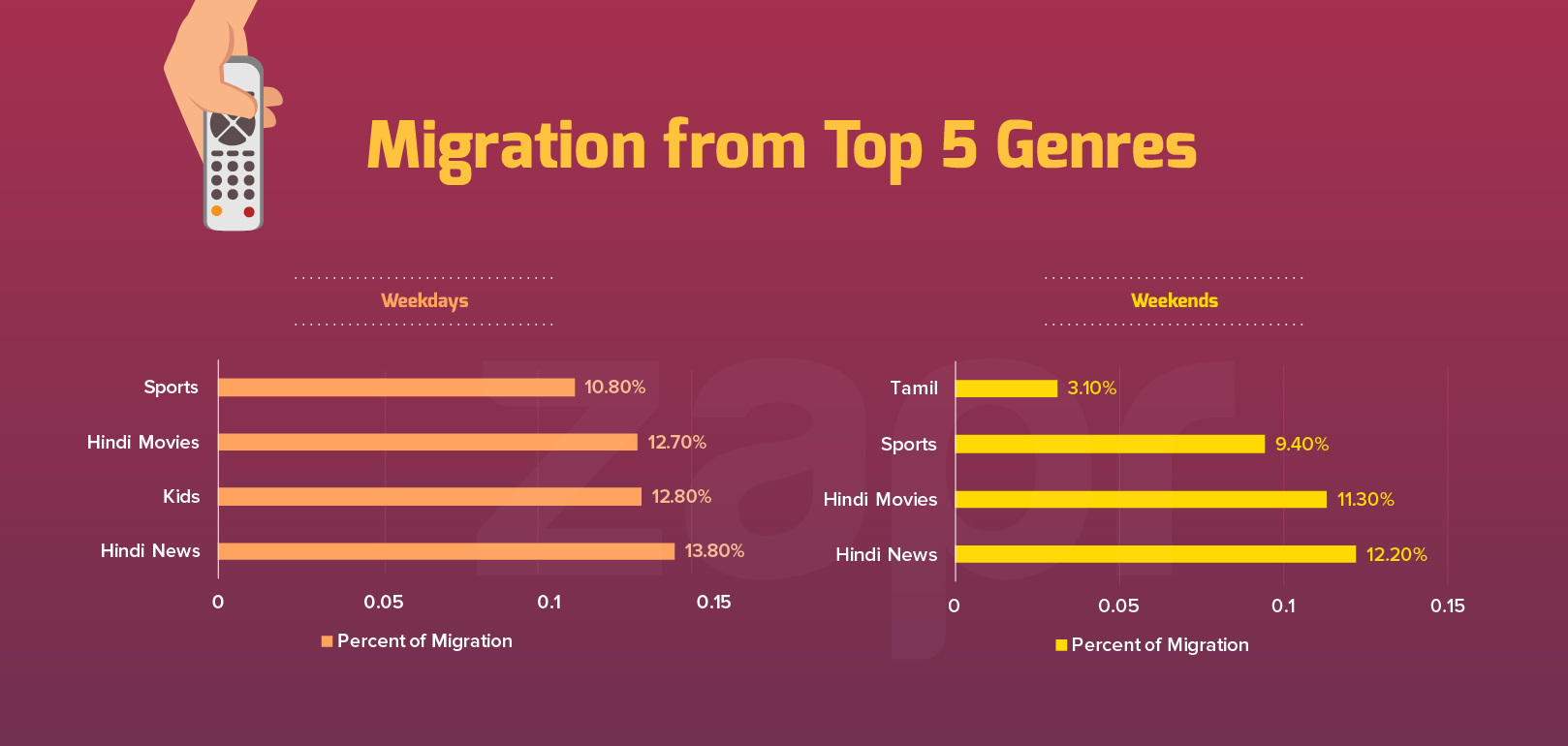 Interestingly, Kids channels featured in top migrations on weekdays while they didn't do so on weekends. This means a considerably large section of people who watch Kids channels like Pogo, Cartoon Network, actually tune in to watch Bigg Boss on weekdays, but they don't seem to come back on weekends. Since 80% of parents watch TV with their kids according to Turner's New Generation Report, this highly suggests that Bigg Boss is reaching out to a large segment of parents/child caretakers on weekdays.
4.The Primetime Showdown: Bigg Boss makes it to Top Five
Even after making it to the most coveted primetime slots, TV shows need to strive consistently to get audiences hooked. Bigg Boss has cracked just the formula to stay on top: the show has made it to the top five most watched Primetime shows among Hindi GECs across both weekdays and weekends.
Grabbing the third spot on weekends, Bigg Boss (18.30%) performs better that shows such as Sa Re Ga Ma Pa Lil Champs 2017 (16.40%) and The Drama Company (15.10%). On weekends, Bigg Boss claims 13.50% viewership share, outranking shows such as Ishqbaaaz (12.50%) and Kumkum Bhagya (10%).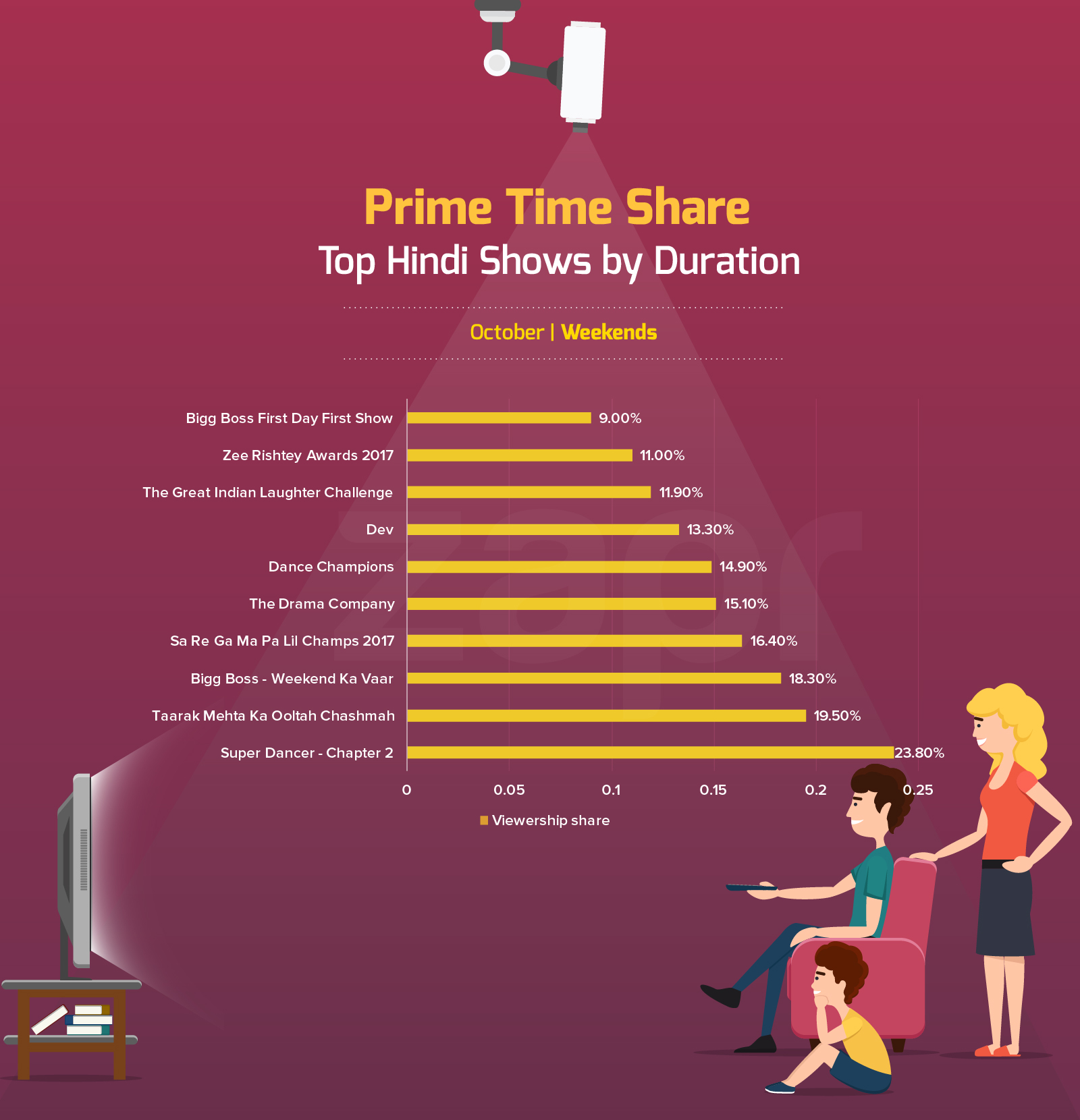 May the real Bigg Boss fan please stand up: viewer mapping at granular geo-level
Media planners are ever so curious about who actually consumes content so that they can engage just the right audiences across different geographic markets. Zapr answers this top-of-mind concern by identifying individual-level affinity to content, such that marketers can rightly engage hard-core Bigg boss fans regardless of where they are located.
We combined our user-mapping technology and TV analytics to precisely measure the penetration of Bigg Boss in major cities across India. We did this by meticulously calculating the show's reach in each city given the number of active TV-viewing smartphone-users in that locality. This gave us real consumption of the show at highly granular levels, in different areas classified by population.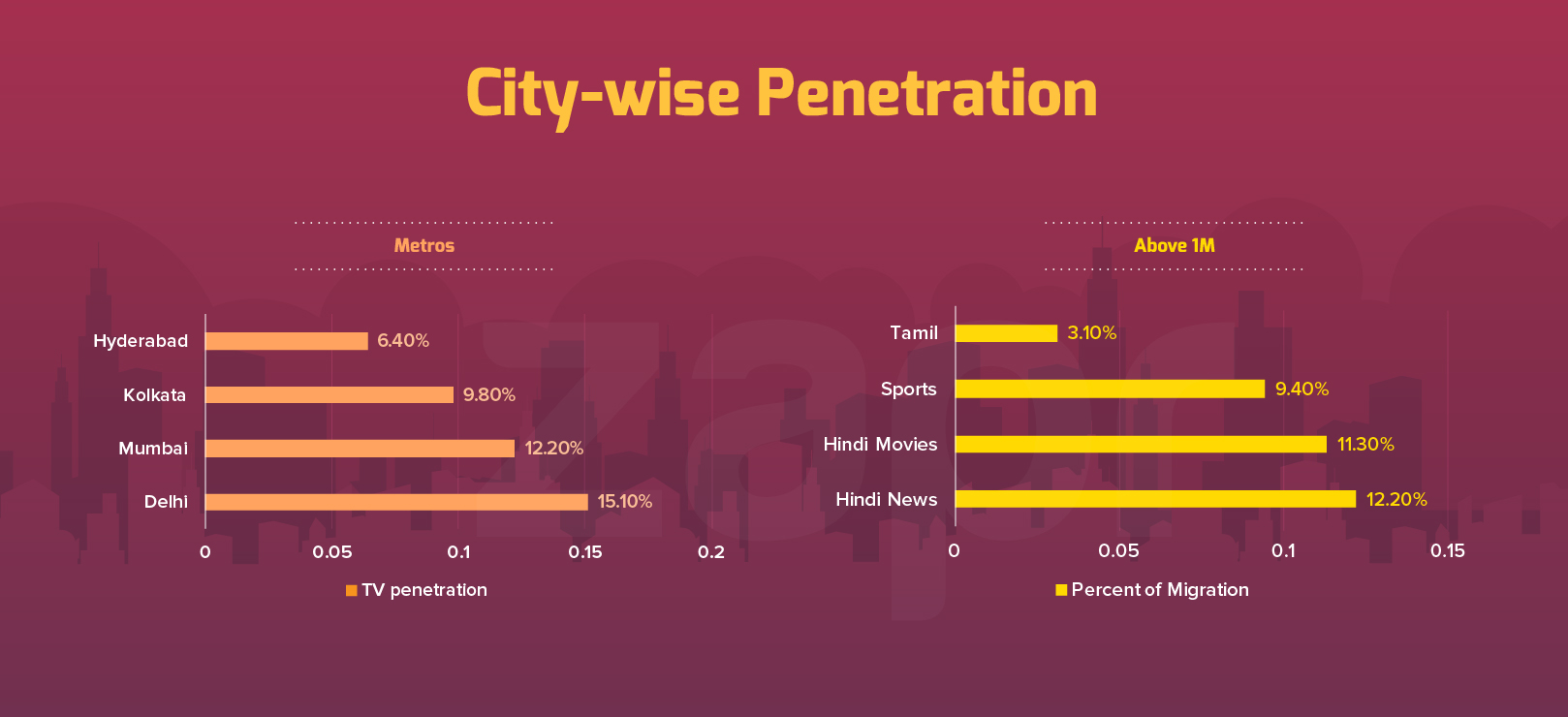 Our data findings reveal an acute skew in Bigg Boss viewership among Northern parts of India: Delhi (15.10%), Mumbai (12.20%) and Kolkata (9.80%) had the highest penetration among metropolitan cities, while Amritsar (16.10%), Chandigarh (14.90%), Bhopal (14.60%) and Indore (13.70%) topped cities with above 1 million populations. It is interesting to note that tier-2 cities have a visibly higher penetration compared to metros, pointing towards an affinity for Bigg Boss among specific Socio-Cultural Regions (SCRs).
The next analysis substantiates this speculation with insights on the spending power of Bigg Boss fans:
Device Distribution
The spending power of an audience is determined by many socio-economic class indicators, one of them being the kind of devices they use. Using Zapr's smartphone-powered technology, we identified the mobile handsets of Bigg Boss TV viewers and results show that more than 70% owned mid to high end phones indicating above average spending power.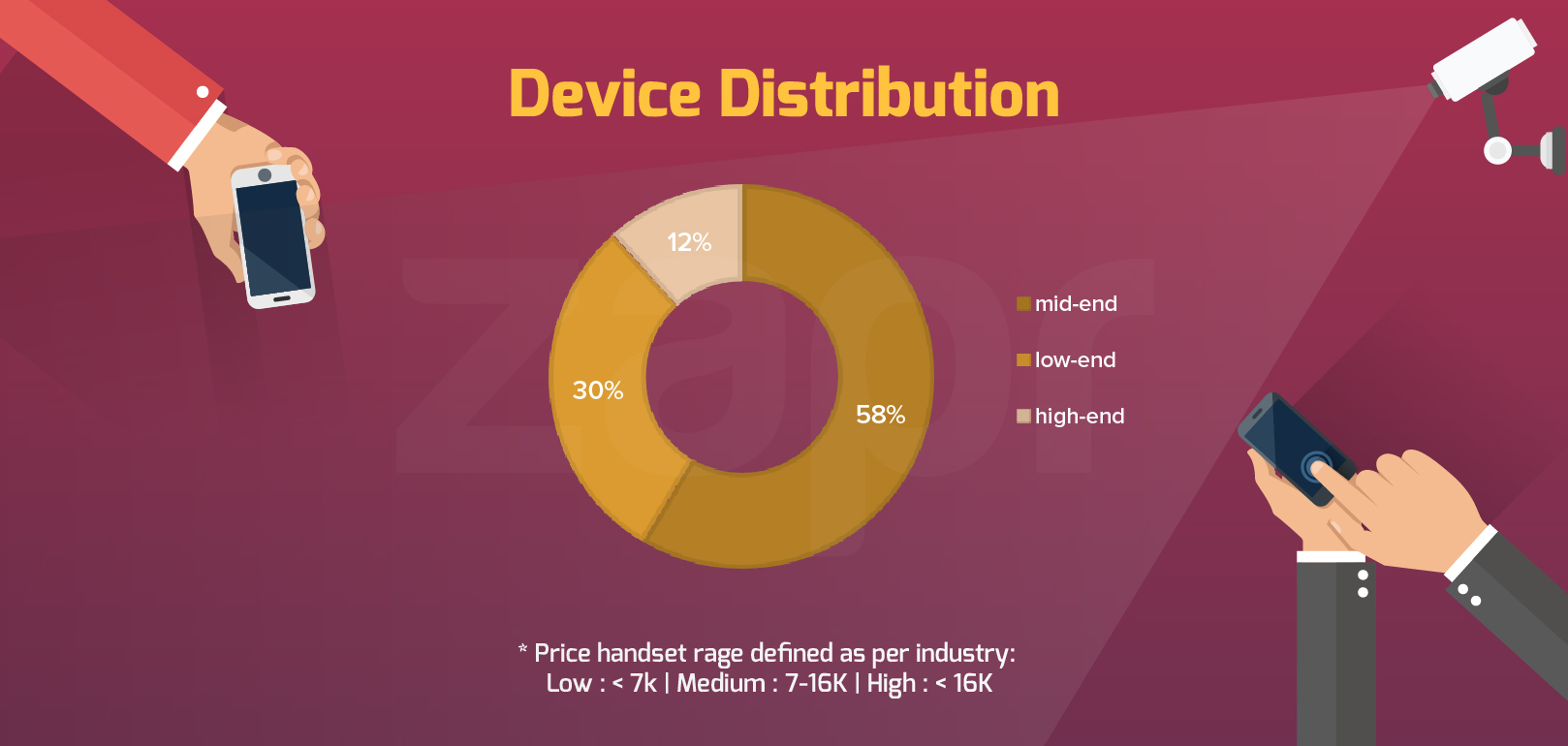 A majority of Bigg Boss viewers owned mid-end phones (58.60%) priced between Rs. 7,000 - 16,000. A significant portion also used high-end phones (11.70%) with high likelihood of premium purchase power.
Don't miss reading our case study on how Colors TV leveraged Zapr platform to increase loyalty for a show called 'Shakti', and succeeded in increasing viewership by 25%.