Colors TV, a major Indian broadcaster, had been running its successful Hindi drama series 'Shakti' for over a year during a peak primetime slot. But with rising competition from other Hindi entertainment channels, Colors Shakti ran into a problem - the show had a high lapse rate of 60%, which means more than half of the TV viewers were dropping off week after week.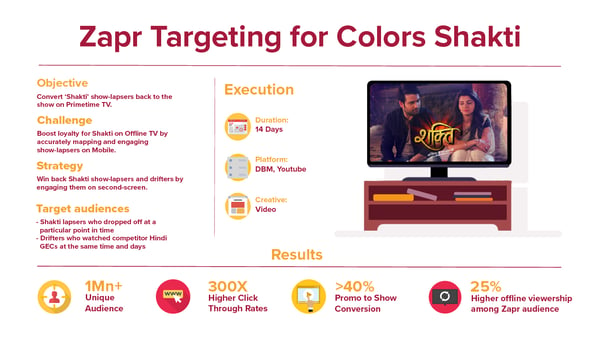 CHALLENGE
Colors TV was faced with the challenge of boosting loyalty among Shakti viewers and retaining the show's offline viewership. The channel approached Zapr to overcome this challenge using India's only TV-to-Mobile engagement platform to win back the minds of TV viewers for Colors Shakti and get them to eventually tune into the show again.
OBJECTIVE
They wanted to ensure that Shakti show lapsers who drifted to competitor primetime shows were reminded of what they were missing so that they would convert back to Shakti loyalists on TV.
STRATEGY
Using Zapr's TV-to-Mobile technology, Colors TV could precisely identify individuals who dropped off from Shakti. This way they ensured that only these viewers were targeted with promos, rather than exhausting their viewer-retention efforts on less specific segments whose responses can't be measured.
Shakti show lapsers and drifters would be engaged with teasers and promos straight on their smartphones, a lean-in point of attention which according to a CMS report has 64% higher conversion rates than other second screen advertising medium.
EXECUTION
Using our 'TV to Mobile Audience Engagement Platform', we ensured that the latest content from Colors Shakti reached only those who previously watched the show but dropped off, or migrated to other Hindi shows during primetime. Being exposed to mobile creatives increased their inclination to tune into the show, resulting in increased viewership for the show in just 14 days.
Duration: 14 days
Creative: Video
Platform: YouTube, DBM
We executed our campaign across niche geographies with the highest percentage of Colors Shakti show-lapsers. We also located specific Hindi Speaking Markets (HSM) purely based on their TV consumption rather than broad geographic classifications. This way, we reached a show-lapser no matter which part of the country they were in!
We constantly monitored the campaign on client-accessible dashboards to make sure every dollar was being spent the right way. We also built a reporting connector on YouTube to review performance and automatically refresh our audience pool based on daily TV viewership status, making necessary changes to (over)achieve Color's campaign goals.
RESULTS
Colors engaged 1,100,000+ Shakti show lapsers on their smartphones, after they missed the show or drifted to competitor Hindi GECs on TV and achieved 4% higher retention of viewers for Shakti on Colors TV.
The ultimate market impact of Zapr's campaign was that Colors Shakti saw promo-to-show conversion rates 40% higher than industry standards, while OFFLINE viewership among Zapr audiences increased by 25%!
CAMPAIGN TAKEAWAY
Powered by Zapr's unique core technology which has closed the chasm between the offline and online world, broadcasters can successfully tap into the minds of offline TV viewers - their loyalties and interest - and influence viewership all by using Mobile as the key point of engagement.
Also read how another major broadcaster, Star Plus, converted 170,000+ unique TV viewers for the new season of 'The Great Indian Laughter Challenge'.
If you're a broadcaster who wants to explore ways to engage your channel's audiences better, click the GET IN TOUCH button on the top of this page!