We previously talked about the performance of actors and actresses by their viewership on TV. We ranked top Bollywood movies of 2016 by their combined unique reach and also listed out the most popular ones in India's major metropolitan cities.
Next we present the reach impact of top Bollywood stars in two popular talk shows on Indian TV.
Zapr analytics can help marketers boost movie ticket sales or brand campaigns for these stars who are ambassadors for major brands. This can be done by precisely identifying who the promo viewers are - their consumption patterns and preferences. Advertisers can target the same people on their smartphones on any app, exchange and social media site.
First up, The Kapil Sharma Show on Sony Entertainment TV.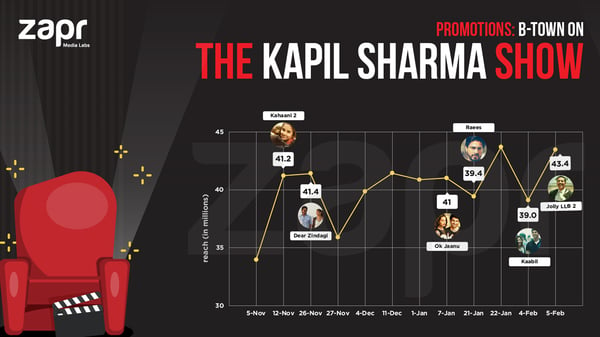 Akshay Kumar topped the chart with 43.4 million tuned in for the promotion of his latest hit film Jolly LLB 2. Alia Bhatt and Shah Rukh Khan's promotion of Dear Zindagi with 41.4 million was the next highest viewed followed by Vidya Balan's Kahaani 2 with 41.2 million.
Now moving to Koffee With Karan: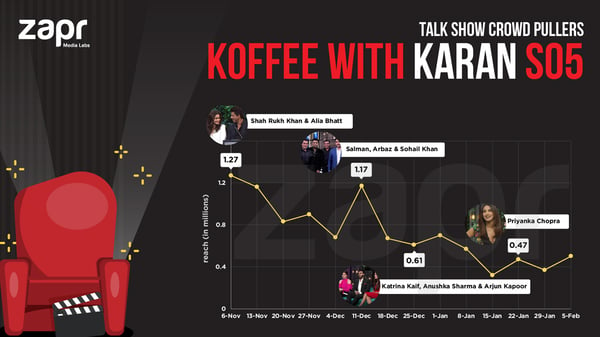 The SRK - Alia Bhatt pair turned out to be the most popular stars on Koffee With Karan with 1.27 million viewers.
The episode featuring Salman Khan was second highest viewed with 1.17 million.
Up next, check out the reach impact of Bollywood's biggest glam events as Zapr analyzes the top watched Bollywood awards on TV.
If you want Zapr insights delivered straight to your inbox, sign up on our subscription box below or follow this link: http://eepurl.com/ceX-z1
---
Found these insights interesting? visit http://www.zapr.in
Reach out to us at hello@zapr.in to know more about TV to Mobile Audience targeting, Indian Television Analytics and cutting edge use-cases with Zapr technology.
ZAPR profiles the TV viewership behavior of tens of millions of individuals across India. The audiences considered in this study are part of ZAPR's TV viewership audience pool. Additionally, through the ZAPR Audience Platform, millions of TV viewers can now be targeted and engaged with interactive mobile content and ads.

[catlist id=8]