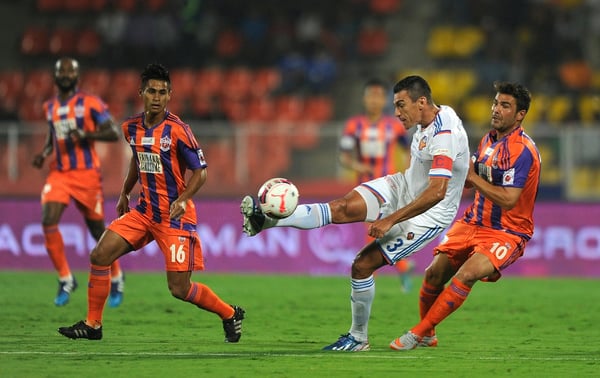 What became the world's fourth biggest football league with its very first game season in 2014, the Indian Super league (ISL) is back this year with an opening day that received 31.6 million TV viewers in India. This number is close competition to the most recent season of Pro Kabaddi League which saw an opening of 34.4 million viewers.
Sharing only 2.8% of viewers with the UEFA Euro football tournament this year. Has the Indian Super league successfully gone beyond just football fans in India?
The opening ceremony of Hero ISL 2016 aired live from 6:00 PM to 7:00 PM, and received massive TV viewership: 14.6 million tuned in to watch as franchise owners like Sachin Tendulkar, John Abraham and others took the stage.
The first match between NorthEast United FC and Goa FC which took place between 7:00 PM and 9:00 PM garnered 25.6 million Indian TV viewers. The day witnessed consistent the highest viewership in the first hour of the match - 7:00 PM to 8:00 PM.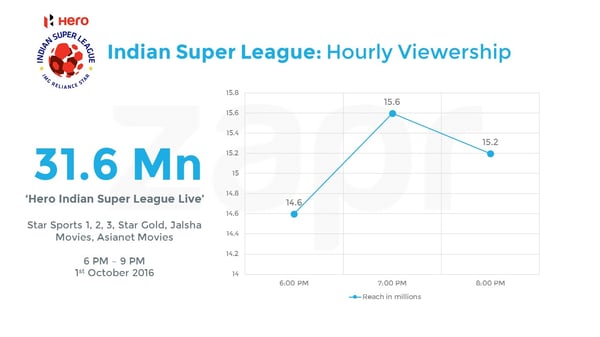 Kerala far exceeded viewership in all other states with its high rural audience share of 5 million viewers. West Bengal followed with 1.7 million rural viewers while its urban share of 2.1 million viewers topped the urban viewership chart.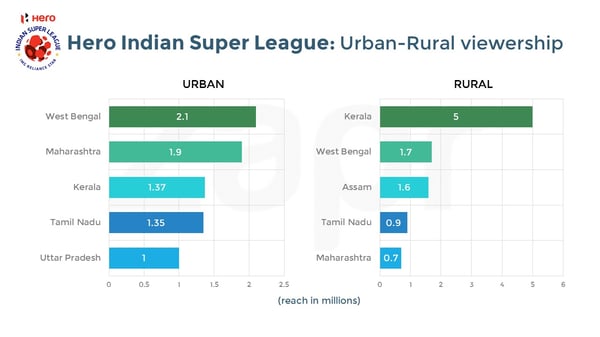 Kolkata - popularly known as the hub of Indian football - witnessed the highest viewership on the league's opening day with 1.5 million TV viewers. Making it on the list of top five cities with highest viewership for the league is the city of Guwahati which hosted the opening ceremony and the league's first match.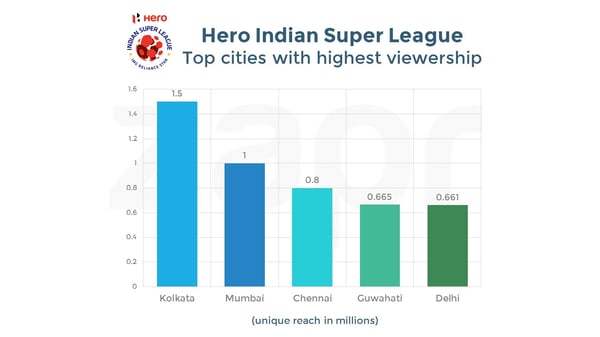 Among smartphone users who watch Hero Indian Super League 2016 mapped by Zapr Media Labs, the largest viewership overlap with another sport tournament occurs with the Premier Futsal League which took place in the month of July - 19.9%.
A significant viewership overlap also occurs with another sport tournament happening at the same time as the Indian Super League: 15.2% of ISL viewers watch the ongoing India vs New Zealand test cricket series.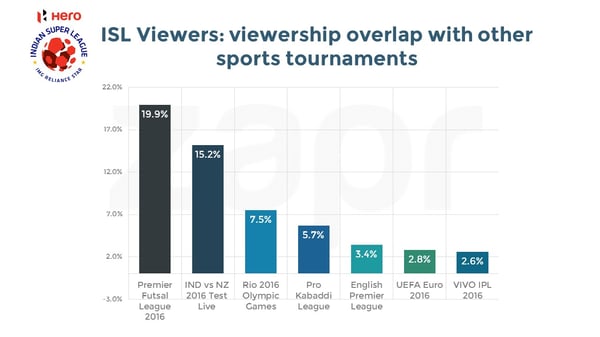 The TV viewership trends of ISL viewers reveal that only specific sport events like futsal and the ongoing India vs New Zealand test series received high viewership overlap. According to research at Zapr Media Labs reveals, engagement with niche audiences yield high engagement rates; these specific ISL audiences with niche interests in sports content can be reached out to for advanced targeting campaigns.
Using Zapr's TV-to-mobile technology, brands and advertisers can now reach out to ISL viewers and engage with them on their smartphones.