Meet Agam - the guy who joined Zapr fresh out of college, and went straight to developing Android apps and massive data centers. What he helped build from scratch, he now leads with the same excitement that got him on board four years ago. His journey at Zapr begins with three founders and an intern trying to solve big and challenging technology problems.
When I joined Zapr, all I knew were few coding languages and some technical knick-knacks I picked up in college. Suddenly I found myself in front of three MBA graduates and none of them were computer science engineers. What instantly struck me was that we were really serious about solving problems; even if it was just the seven of us working in a shoddy basement, the ideas were big and we were thinking of them at such a large scale.
I realised that in the company of such good mentors, I can do really well. The first few months in which I struggled as an intern helped me grasp so many things and get to where I am now. We got to build technology so structurally sound that it handles more data than IRCTC ever does at its peak time. And that was a few years back!
Back then, our single focus was to improve Zapr's core algorithm that matches fingerprints from mobile with channels on our servers, to create actual viewership data. Initially it took few seconds for the code to process data, but by the time I was done interning we had brought it down to few milliseconds. I also worked on optimizing a lot of our technology - I even wrote a protocol which synchronized the work of several machines to a single machine at our data center.
Once during a brainstorm session, Sajo (CTO, Zapr) wondered aloud: in the same way we detect channel viewership, could we detect ads? That's how we started identifying and targeting TV ad viewers - an important part of why brands approach us for campaigns. I learnt that it's just a matter of re-framing the question: the applications of Zapr's technology are endless.
At the core of it, what we do with signal processing is very interesting (read Inside Zapr: The team that breaks down sound to numbers) and what we built above it is what only few tech companies can do. With just our fingerprinting technology, we've built different products for a range of analytics previously impossible in the industry. Even when we try new things and our codes run fine, we constantly think of how they're going to work in real life scenarios. So we've got one eye on scalability and the other on accuracy.
What's cool is overtime we grew in numbers and now we have a proper social structure. I'm no longer the solitary coder working in the corner of the room. So I try to give as much moral support as I can to people working on tight deadlines, like when they have to stay and work late in the night. I hang around and help out, or just chit chat.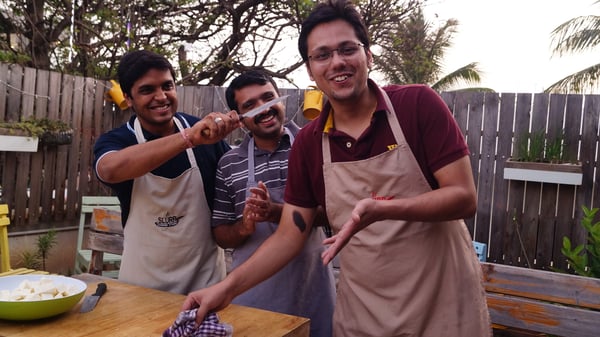 (Having a good time with Zapr peeps @Slurp Cooking Studio, Bangalore)
The best thing here is that people are experts in not just one domain, and there is absolutely no territorial behaviour. If somebody picks up work they've never done before and happens to excel, we're all really appreciative. So to create even better mutual understanding of all our tech aspects, we started a system called Operations Management Tasks (OMT) where we pick out certain people to solve all urgent operational problems and get hands-on experience on a host of issues for a few weeks. This way we bring everyone in the loop and shuffle tasks.
As Tech Lead of algorithms at Zapr, I'm figuring out how to make the team most productive by influencing them less or more, according to the need of the hour. I find that thinking backwards helps - from the end result to the most important decisions that would help achieve those goals.
Initially I was of the wrong opinion that I should do 40% of the work and let my team members do the next 60%. What I didn't understand is that people become skillful very quickly, with just the right nudge and direction. Now I spend most of my day talking to my team about the challenges they face. Basically it's about helping others do what they're trying to do.
I've been around for a long time and in all my years here, I've never ever seen us pointing blame at each other. In a start-up system where things are happening so fast and there are no set norms as such, you kind of expect people to snap when something goes wrong. But here you can talk to anyone - be it Sajo or Siddharth (VP, Engineering), If there's a problem you have and you let them know, they make it their problem.
Our founders are really wise and hardworking, and the culture sort of evolves from there. Sometimes we work till 3 AM and Deepak (COO, Zapr) would be in office with us, but the next day we'd see that he began work way ahead of everyone by 9:30 AM. It's great to see that people here at Zapr are really motivated in solving serious problems, the way we began four years back. And that's what we look for moving forward.
When I interview software developers to hire, it's alright if they are not able to answer quickly or correctly. All I look for is the questions people ask us and the concern they show in solving real problems.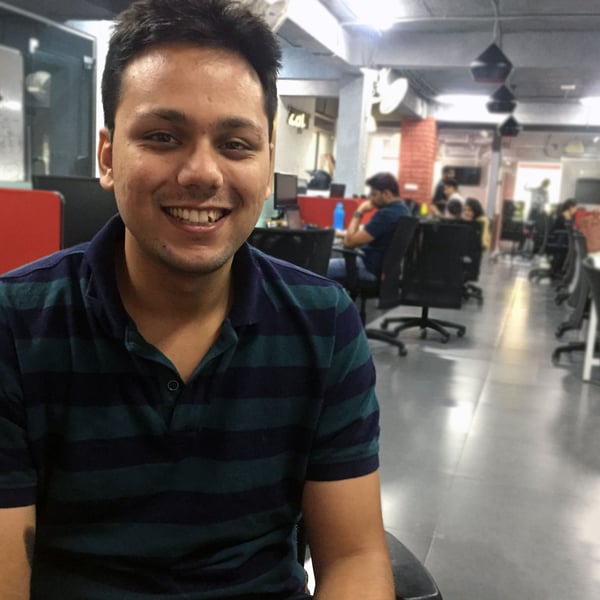 - Agam Jain
(Tech Lead, Zapr Media Labs)
Join Agam and other software developers in building world class technology at Zapr Media Labs! Check out our team page and get in touch with us: http://bit.ly/2zapr-team-careers
If you know other people who'd make a great fit here at Zapr, share this article and let them know we're hiring!

(also read: "I never knew that I could do so much" – Chhavi Parasher on a seriously fun life at Zapr)