Operating at the intersection of data analytics, media-tech and mobile advertising, Zapr Media Labs constantly explores the confluence of innovation and technology to power successful brand campaigns in our multiscreen world.
We present our next case study on a campaign executed for one of India's leading fabric to fashion retail brands, one that comes to mind for the big occasions - Raymond.
Zapr executed a mobile marketing campaign for the brand's new clothing lines - 'Raymond Whites' and 'Raymond Technosmart'. The campaign achieved huge engagement by deploying advanced identification and targeting parameters made possible by Zapr's deep media consumption analytics.
The brand reached out to an unusual mix of audiences meticulously designed to meet targeting objectives - from those who had recently watched Raymond TVCs on traditional offline TV to those who were exposed to competitor ads, and people who were actively part of fabric and custom-tailoring related interest groups on Facebook. Using psychographic targeting on Facebook, Zapr also helped the brand reach out to recently engaged and married people who had watched Raymond TVCs.
Keep reading to discover how Zapr's unique TVC viewer targeting helped Raymond achieve Click-Through-Rates over double the benchmark for video engagement on mobile.
"The solution provided by Zapr really worked for us in terms of content sequencing and integrating offline media with online. The innovation was highlighted in our townhall and was well appreciated."

- Vaibhav Dalal
Head, Digital & Analytics - Lifestyle, Raymond Ltd.
THE CHALLENGE
Identify people belonging to different target groups including TVC viewers who were most likely to be interested in the brand's creatives, with whom the brand wanted to engage.
Our challenge was to execute highly precise targeting within very specific parameters aimed at reinforcing the brand's mindspace among pre-defined target groups. These audience segments were mapped from across both their offline and online interests, building a truly cross-platform, multi-screen user profile.
Our challenge can be broken down into three core steps:
Identify

individuals who had watched Raymond TVCs on traditional offline TV, and segment them into target groups as discussed in the Zapr strategy below

Show

only these audiences Raymond ad creatives within

specific targeting parameters

on their smartphones

Monitor and track

performance of the campaign among Target Groups, provide detailed results for different age groups, gender and time periods, weekly and daily reach
THE ZAPR STRATEGY
To meet our challenge of claiming higher share of mind among Raymond's target audiences, we designed an engagement strategy in which viewers of Raymond TVC viewers formed the base, and were further classified into different layers of Target Groups: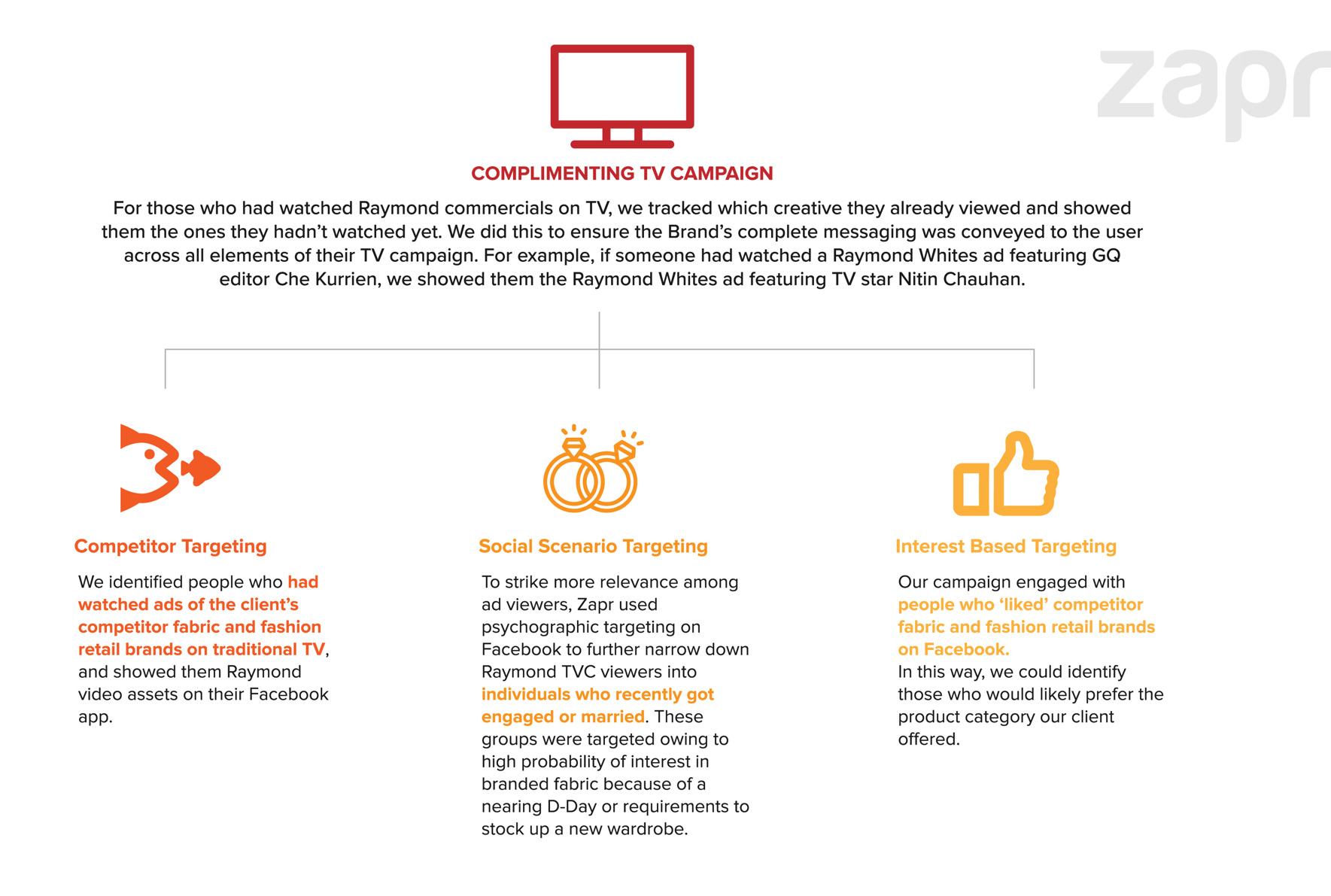 (To receive the latest Zapr case studies and data insights, subscribe to our newsletter.)
EXECUTION:
The brand's target audience segments were carved out from Zapr's audience pool comprised of more than 40 million smartphones in India and the entire campaign was executed on Facebook. Targeted individuals were shown video ads as per the parameters required for their group.
Creative: Video
Campaign duration: 10 days
Platform: Facebook (Filtered by Targeted IDs supplied by Zapr Platform )
The video ads were rolled out on Facebook with duration ranging from 33 seconds to more than a minute. We monitored each ad unit throughout the campaign and optimized reach among target audiences.
RESULTS
The Raymond Whites campaign reached more than 560,000 individuals while Technosmart crossed 330,000. Specific creatives with TV ad targeting achieved Click-Through-Rates +2x higher than the industry benchmark for video on mobile.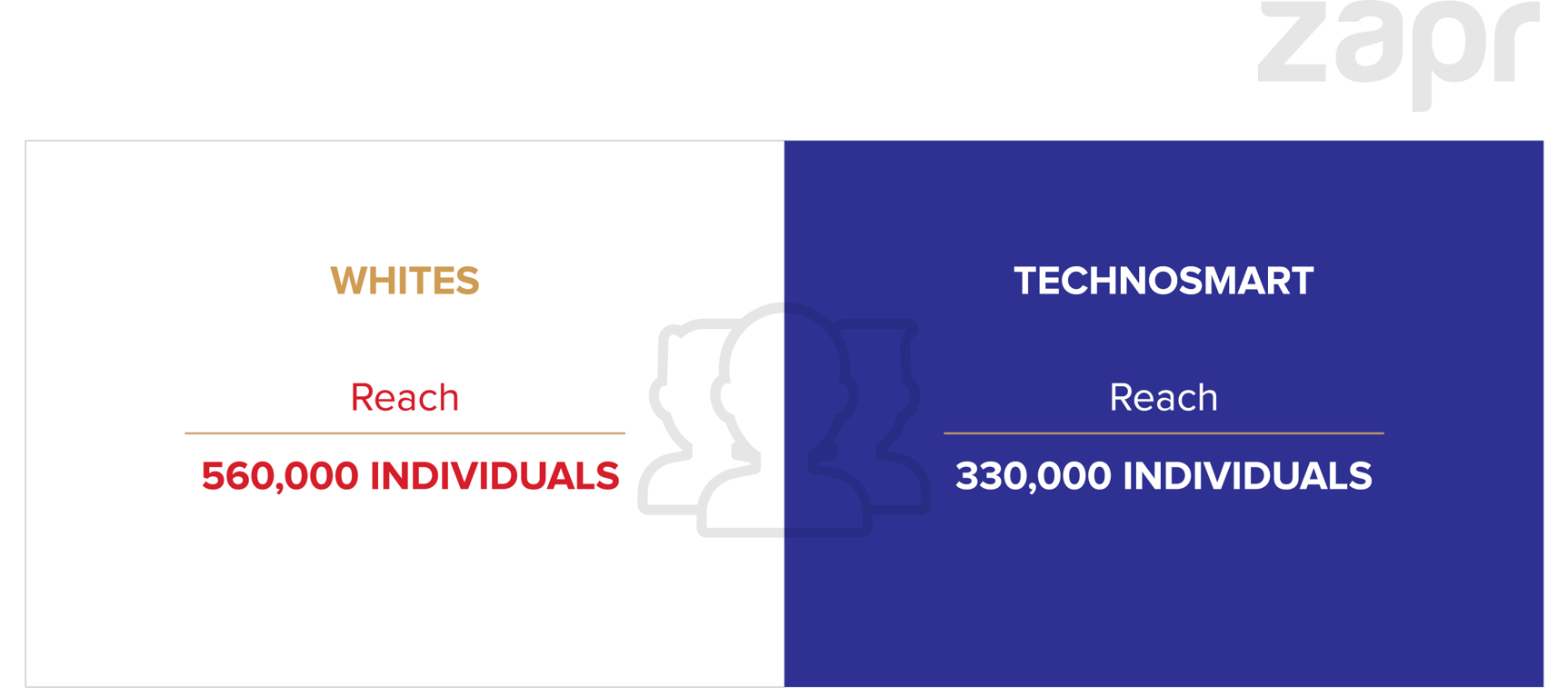 For the Raymond Whites ad featuring Nitin Chauhan, we also reached out to non Raymond TVC viewers and saw that targeted TVC viewers saw 44% higher CTRs than non TVC viewers, strongly suggesting that complementing TV campaigns on mobile leads to higher mindspace and better engagement.
Campaign results also reveal that ad duration is a highly influencing factor for video completion rates. The 33 second Raymond Technosmart ad received higher Video-Through-Rates compared to Raymond Whites ads which were all above 60 seconds.
Marketers can write in for more detailed performance metrics across different demographics and time stamps.
CAMPAIGN LEARNINGS
The insignts from the campaign reveal, unsurprisingly, that we can execute more campaigns and get better results with shorter video units on mobile (< 30 seconds) to complement offline TV campaigns using Zapr's TV targeting and user profiling. Research by Mobile Ads shows that 80% of viewers recall a video ad they have seen in the past 30 days, out of which the first 10 seconds are most critical for driving user engagement. Therefore, brands can deliver their message effectively across larger audiences (in terms of completed views), while simultaneously driving higher brand recall and engagement on video using Zapr's precise targeting parameters.

Brands can also use our platform to execute highly geo-centric targeting where we promote discount and offers related communication in the 5 KM vicinity to increase store footfall.
To better direct viewers deeper into the sales funnel, our campaign learnings point towards the need for Call-To-Action options embedded in videos. This makes it easier for users to explore the brand's microsite on the same platform (in this case Facebook) without being redirected to another site.
Reach out to us at hello@zapr.in to discuss your next data-driven campaign.
You can read more of our case studies here. If you'd like to check out the complete suite of our user engagement offerings at Zapr Media Labs, visit our website.