Club Mahindra's new TV commercial hit the airwaves recently, featuring a little kid and his work obsessed parents happily unite at a family vacation. The video largely resonated with people who are too busy to take off on vacations. Add to that floating cottages and an island full of coconut groves - enough to make anybody wish for a nice getaway.
But how do you sell holidays to people who are too busy to actually take them?
Research at Nielsen shows that 87% of smartphone users engage with second screen devices like mobiles and tablets while watching broadcast TV. Right there lies a golden chance for brands to optimize the memorability of their TV ads, and turn it into actionable engagement.
Club Mahindra banked on this opportunity and came up with a marketing plan allowing people to directly visit the brand's website on mobile right after they watched the commercial on TV. This effortless integration of TV and mobile created an impulse to visit the holiday website, without the need for any manual searches on the internet. Zapr seamlessly synced the two devices and gave conversions three times higher than industry benchmarks.

"We ran this campaign as a test to the data driven platform and we were highly impressed with the results, specifically for driving qualified traffic to our website. The test has given us confidence to include the cross device integrated campaign as a part of our regular media mix."

- Ajay Kaul
Chief Digital Officer, Mahindra holidays
THE CHALLENGE
To engage only with people who watched the Club Mahindra commercial while it aired on broadcast TV.
Our challenge at Zapr was to convert top-of-mind recall into immediate action by targeting TVC viewers on their mobiles.
There were 3 important parts to the challenge:
Identify

smartphone users as soon as they watch Club Mahindra's commercial on TV

Display

Club Mahindra ads to targeted users, optimized for highest viewability across different digital platforms

Monitor

the campaign throughout run-time and make sure ads are directed to the apps where users spent the most time
THE ZAPR STRATEGY
To achieve client objectives of getting immediate action from TV commercial viewers, we designed a high recall - response strategy.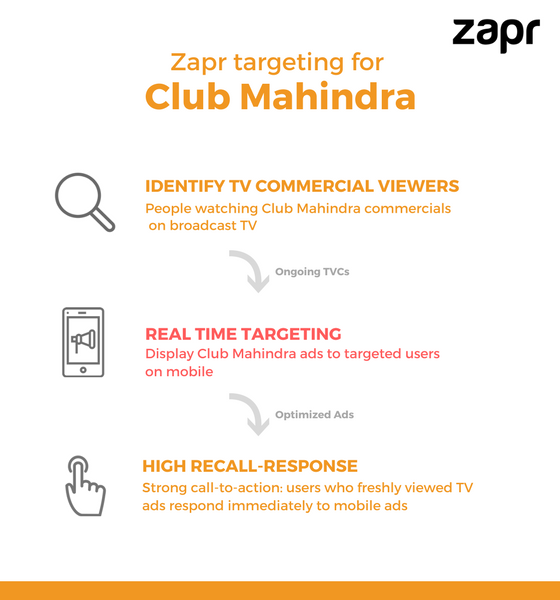 Users who just watched the ongoing Club Mahindra TVCs were targeted with action-focused ads on mobile, a lean-in point of attention which they cannot ignore. This made it possible for the brand to spontaneously convert ad exposure into immediate action.
Zapr targeting would ensure that there was no wastage of impressions on people who didn't watch the Club Mahindra Holidays commercial. In this way, we only reached out to people who could maximize the brand's share-of-voice.
EXECUTION
We deployed this unique recall-response strategy across the Zapr audience pool comprised of over 40 million smartphone profiles all over India.
Using proprietary fingerprinting technology, we precisely detected the users who watched Club Mahindra's ongoing ads on offline TV. The same segment was fed into Zapr's ad tech platform and served the most optimized ads across multiple inventories.
Creative: Banners and Interstitials optimized for user screens
Duration: 20 days
Platform: Zapr programmatic
The campaign helped Club Mahindra reach its TV audiences who took impressive snap decisions when targeted immediately on their phones.
RESULTS AND AUDIENCE INSIGHTS
Club Mahindra engaged with more than 1 lakh unique commercial viewers on whichever apps they used across different categories like news, games, food and lifestyle.
The campaign's call-to-action got huge response with click-through-rates +3x higher for banners and +2x higher for interstitials compared to industry benchmarks, leading targeted users straight to the brand's landing site.
Interestingly we found that 37% of those who engaged with the brand owned high-end phones priced above Rs. 20,000, while 44% owned mid-end phones between Rs. 10,000 - 20,000.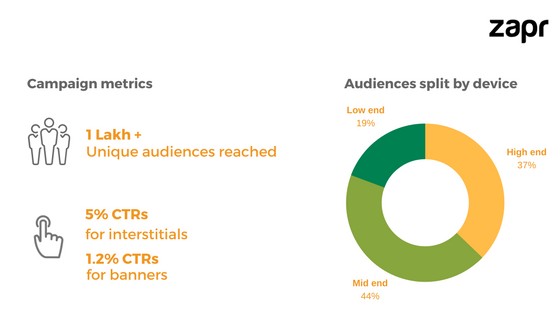 This indicates that people with high purchase power got to engage with Club Mahindra Holidays, all by reaching out to them immediately at the point of highest recall right after watching the commercial on TV.
(Marketers who wish to deliver highly targeted campaigns and access similar reports can contact us at hello@zapr.in)
WHAT WE LEARNT
India may have been ranked the fourth most holiday deprived country in recent times, but the kind of engagement Club Mahindra Holidays got with a highly targeted campaign suggests that the trends are changing. People make snap decisions all the time with food, clothes and accessories - clearly holidays are not excluded. By bringing it straight to people, we got them to engage in way they would have never done on their own.
At Zapr Media Labs, we are not only changing the way brands and agencies engage with their audiences, but also driving consumption with algorithms that immediately match recall with response - want with have - from the TV screen to mobile.
Read more case studies on Zapr campaigns here. You can also visit our website to explore more user engagement offerings at Zapr Media Labs.