Brand campaigns need not be set in stone. This IPL, advertisers can build the most versatile strategy by adapting to live events and campaign performance, creating real impact during the biggest sport season in the country!
Advanced analytics on individual TV consumption lets advertisers measure viewership of live IPL matches and exposure to TV commercials. Based on these real-time metrics, brands can improve the effectiveness of their IPL campaigns and innovatively engage priority segments. Campaign ROIs can be achieved by bridging TV with other platforms - digital, on-ground and even traditional mediums like print and radio.
Here are six ways in which IPL ad campaigns can be sharpened on-the-go:
1. Running a TV campaign? Boost your reach on digital
If you're advertising on TV during IPL, you're most likely to end up spending 20% more for premium ad spots than usual. To ensure the value of your (huge) ad dollars, track your live campaign performance and complement ongoing TV ads with mobile ads.
Last IPL alone, 100+ brands advertised across 20,000 ad spots on TV. To remain fresh in the minds of IPL audiences, it's crucial to break free from the clutter and build frequency to ensure that your own brand stands out. This can be achieved by detecting those who watch your TV ads and further engaging them on mobile - an effective lean in point of attention.
Another way to build higher impact for your IPL campaign is by reaching IPL viewers who missed your ongoing ads on TV. This way, you can avoid any overlap between your digital and TV spends and bring only incremental value with your integrated strategy.
2. Identify loyal IPL viewers and target them on digital
Want to ensure that your brand connects with the biggest IPL fans?
Once the matches begin, you can filter your target base and reach only hardcore IPL viewers straight on mobile. Our studies revealed that over 53% of last year's IPL viewing segment on our user-base were loyalists with high viewership. Using real-time TV viewership analytics, brands can identify exactly who these loyal viewers are, and engage with them for maximum impact during IPL.
3. Game up against competition
Worried that your competitors are grabbing all the spotlight by advertising heavily on TV during IPL?
Whether you're running your own TV ads or not, you can win back share-of-mind from every individual exposed to your competitor's TV ads during IPL! With most people switching their attention from TV screens to mobile phones during ad breaks, those who watch competition ads can be identified in real-time and immediately engaged with your own brand messaging on mobile.
A major automobile brand worked with us during IPL and reached one-third of their biggest competitor brand's TV audiences. They campaign resulted in more than 80% video completion rates indicating high retention of brand message among competitor audiences. Read more here.

4. Sync live IPL moments with contextual mobile ads
Another way to create huge impact in the minds of IPL viewers is by syncing live cricket moments with contextual ads on mobile. This kind of moment marketing can be super powerful because you can convert big TV moments into immediate brand engagement!
In a recent campaign, Britannia engaged more than 2 million LIVE viewers of a major cricket tournament on mobile and achieved 4x higher CTRs in less than a week! Cricket fans were targeted with highly contextual ads related to 4s, 6s and boundaries each time they watched it on TV. Read how they did it here.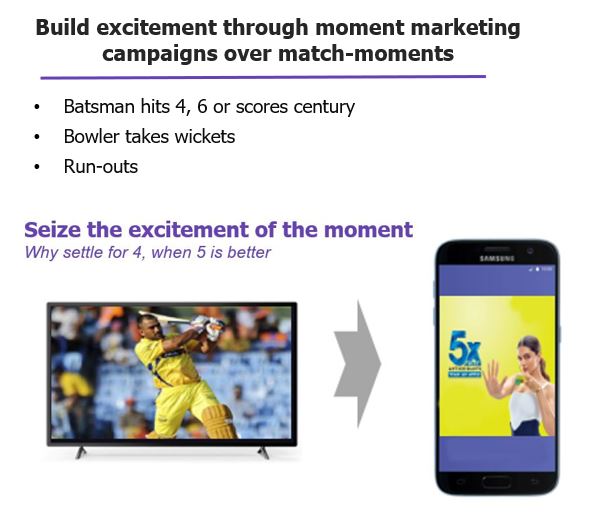 5. Sponsoring an IPL team? Target your fanbase
If you're sponsoring a team this IPL, then you have huge potential to engage your fanbase using geographic filters. Under each region, brands can locate IPL viewers and target them with ads featuring star players in the regional teams. For example, Chennai Super Kings related ads can be targeted to core IPL audiences in Tamil Nadu, Mumbai Indians in Maharashtra and so on.
6. Decide action plan for other media platforms based on TV commercial performance
If you have a 360 degree advertising strategy for IPL, real time analytics of your TV commercials can also help you decide how to place your ads on other media platforms.
Firstly, tap into the performance of your TV ads at granular geo-levels where your priority segments are present, such as socio-cultural regions, cities and go even more niche with hyperlocal analysis (towns and zones). This will help you understand where your TV ads are doing well and also identify under-performing areas where you need to boost brand reach.
Based on your findings, you can tweak your multi-channel marketing efforts in the following ways:
For low performing areas, you can complement your TV campaign with print, radio and digital medium to attain reach and frequency.
For medium to high performing areas, you can run on-ground campaigns with hoardings and billboards to grab top-of-mind recall among audiences
This IPL, brands can take their marketing strategies to the next level by adapting to the pulse of the game and the way audiences are responding to their campaigns. Get in touch with us to know how you can execute these cutting edge solutions!