It's been a great year for Indian women's sports: from winning Olympic medals to the first season of the Women's Kabaddi Challenge. Most recently, the Indian Women's Cricket Team won its sixth consecutive victory in the ACC Women's Asia Cup with 5.5 million Indians watching. In just one match the viewership for Women's Cricket surpassed that of any day of the much hyped Premier Futsal League, which included celebrities like A.R Rahman and Ronaldinho.
Can Women's Cricket be the next televised sport sensation like Kabaddi or Football? Let's take a look the numbers.
The finals between India and Pakistan on 5th Dec 2016 gained massive viewership from cricket fans who heavily consumed the most recent cricket tournaments Live on Television.
Here's a look at the Live viewership breakdown during the final match: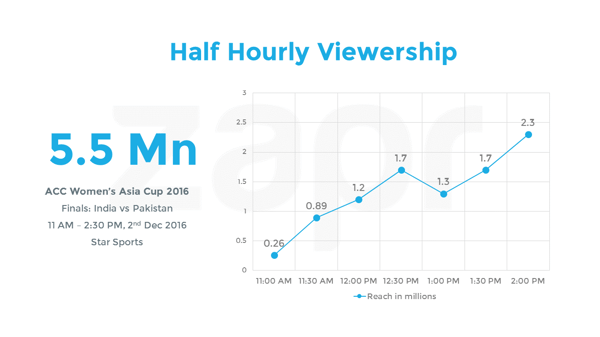 The match saw rising viewership throughout the day. 1.7 million Indian viewers tuned in between 12:30 PM and 1:00PM witnessing Indian captain Mithali Raj finish undefeated with 73 runs.
The day's viewership reached a peak with 2.3 million unique viewers between 2:00 PM and 2:30 PM when India claimed the Women's Asia T20 title yet again.
At Zapr media Labs we conducted viewership overlap studies with men's international Cricket tournaments to see if viewers of the Women's Asia Cup are interested in Cricket regardless of which gender is at it.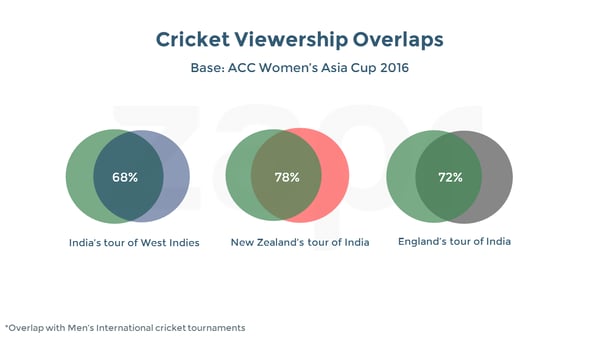 Our research shows that 78% of them watched the complete India vs New Zealand tour this year. 63% of them watched the India vs West Indies tour and 72% watch the ongoing India vs England Test series.
They certainly love their cricket!
We were also curious to know if the same viewers belong to an even smaller niche of women's sport viewers.
It turns out that a significant 24% of viewers watched the Women's Kabaddi Challenge which happened earlier in June and July this year.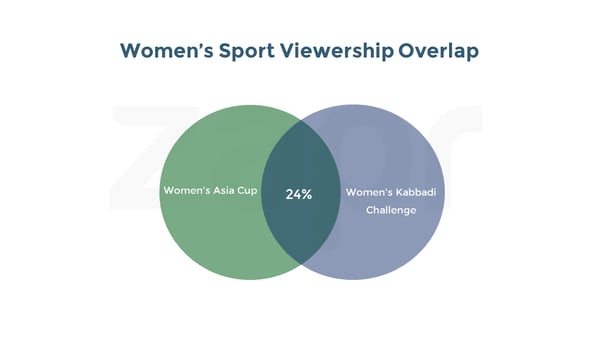 The ACC Women's Asia Cup garnered large viewership in South India: Tamil Nadu led the chart with 0.99 million viewers. Captain Mithali Raj's home state Andhra Pradesh made it to Top Five with 0.77 million viewers. Karnataka witnessed 0.47 million viewers.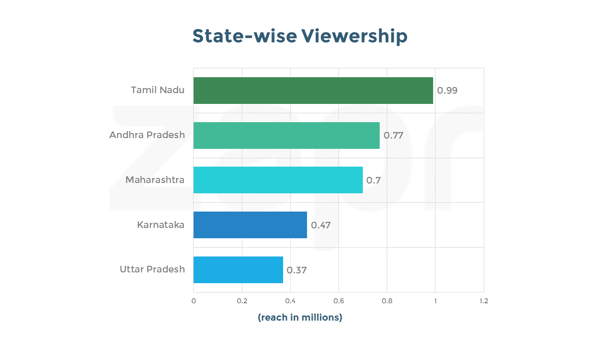 One of the cool things we do at Zapr Media Labs is to take niche audiences like 'Sport Viewers' and break them up into even more niche segments. In a recent campaign for a global protein supplement brand, Zapr targeted hardcore sport enthusiasts whose love for physical activity translates to fitness groups on social media.
Similarly, we helped a leading Fashion E-commerce brand reach mid-core sport enthusiasts whose interest in sports translates to fashionable indulgence in sporting gear.
Both campaigns received video engagement and click-through-rates which beat industry standards by miles.
Using Zapr's TV viewership analytics, brands and OTT video providers can identify individuals who watch specific kinds of sports and track their viewership across tournaments. These ardent Sport viewers can then be targeted by leveraging Zapr's technology that serves customized content to smartphone users.
Found these insights interesting? visit http://www.zapr.in
Reach out to us at hello@zapr.in to know more about TV to Mobile Audience targeting, Indian Television Analytics and cutting edge use-cases with Zapr technology.
ZAPR profiles the TV viewership behavior of tens of millions of individuals across India. The audiences considered in this study are part of ZAPR's TV viewership audience pool. Additionally, through the ZAPR Audience Platform, millions of TV viewers can now be targeted and engaged with interactive mobile content and ads.