India beat Australia by eight wickets to win the ICC U19 Cricket World Cup title a fourth time. However, the 'cricket geeks' were not only present in Mount Maunganui (New Zealand), but glued to their TV sets as well!
Zapr TV analytics provides insights into the audiences who tuned into the international cricket tournament and showcases how India watched the ICC U19 Cricket World Cup from Day 1. While the entire tournament garnered millions of audiences, Indian matches grabbed 82% of the viewership share among all the matches!
Let's look at the details below:
India's winning streak garners giant 82% viewership share
To analyse how viewers watched the ICC U19 Cricket World Cup, we looked at the viewership share across cricket matches in the series. With the Indian team's winning streak, their matches garnered 82% of the total viewership share across all the matches in the tournament, reinforcing the fact that cricket remains to be King of Indian sports, both on field and broadcast.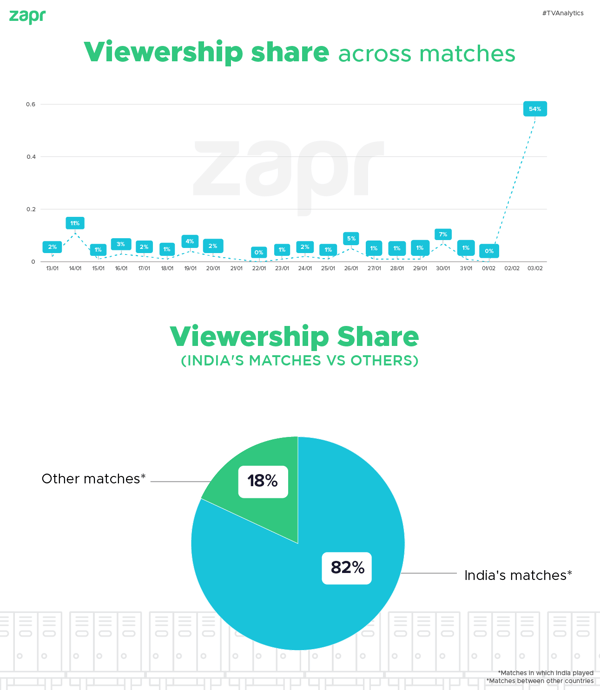 Mumbai is India's cricket capital for a reason - city grabs 13% reach percentage
Mumbai - the cricket capital of India garners the highest reach percentage of 13% followed by Delhi (9%), Bangalore (6%), Hyderabad (5%) and Chennai (4%) filling the top five positions.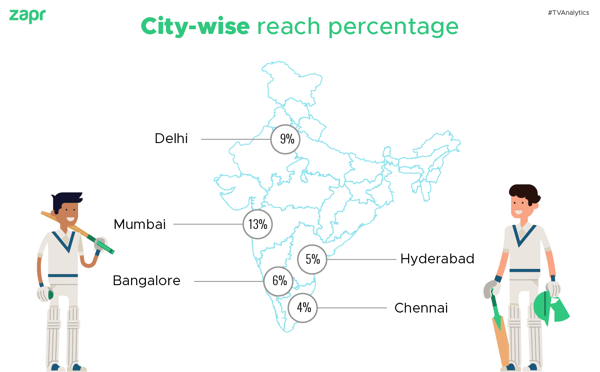 India vs Australia - from toss to trophy
Our TV analysis found that close to a million viewers tuned in an hour before the actual match began, too keen to know who wins the toss! 3.9 Mn viewers tune in to watch India vs Australia match in the first hour (6:30 AM-7:30 AM) and the number only rose with the heat of the match. The viewership peaked at 12:30 PM with 17.7 Mn viewers anticipating the victory of the Indian cricket team.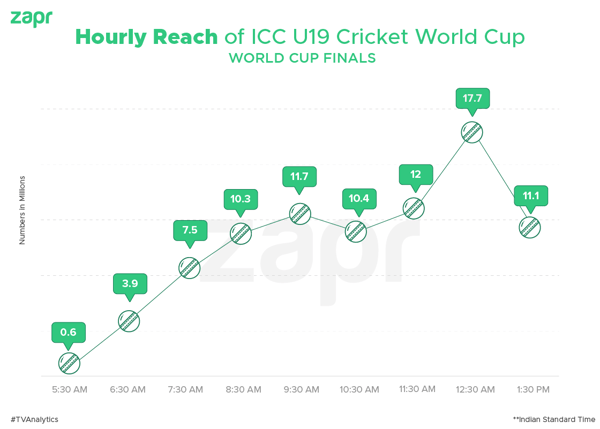 58% urban viewership: U19 Cricket prevails among urban audiences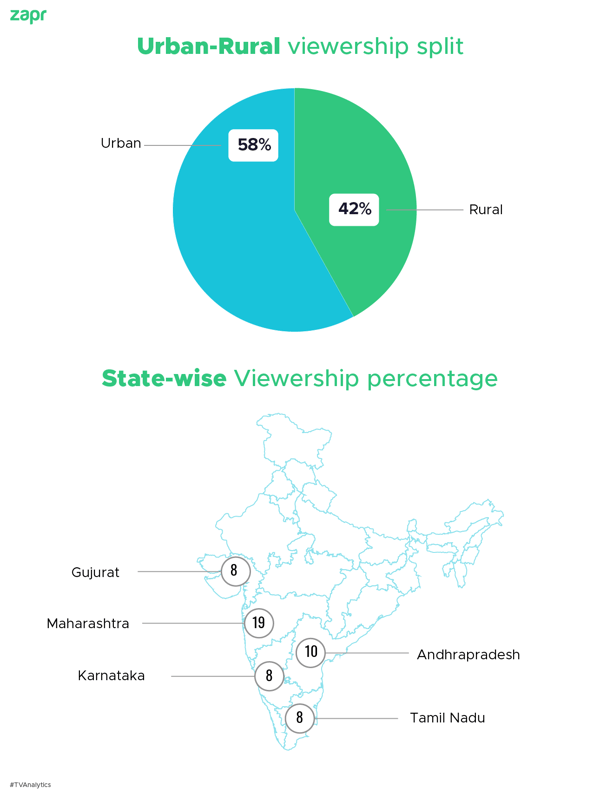 We combined our user-mapping technology and TV analytics to precisely measure U-19 Cricket audiences at granular levels. This not only allows media experts understand who tuned in for the match, but also identify viewership trends across geographic locations.
Irrespective of the fact that U19 Cricket World Cup final aired live only on pay channels (Non-Free to Air channels), rural India garnered substantial share of viewership for the tournament falling only slightly short of urban India's 58% share. At Zapr, we delved deeper to analyse viewership across states with Maharashtra taking the lead with 19% viewership share, followed by three Southern states - Andhra Pradesh (10%), Tamil Nadu (8%) and Karnataka (8%).
Cricket prevails among the millennials - the game is still ON
71% of male audiences that tuned in for the India-Australia LIVE match belonged to the '18-34' age group while 66% female audiences belonged to this age category, indicating a high millennial presence. This makes the cricket tournament an ideal platform for advertisers to reach young population, which recent studies report to have high income and higher spending capacity.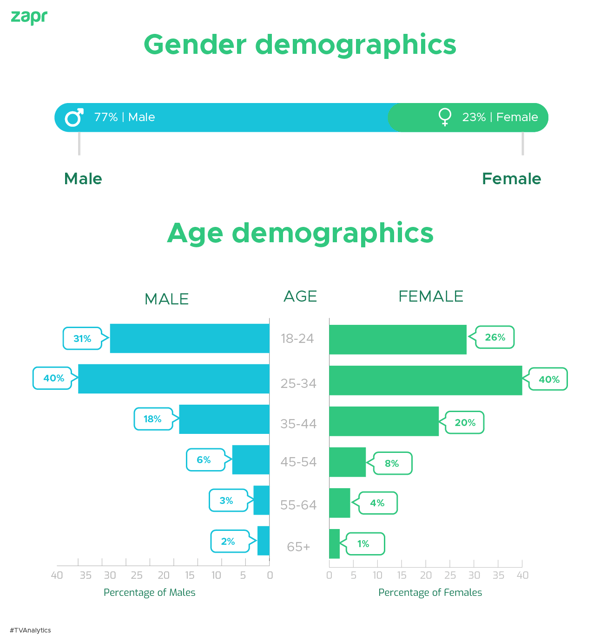 U19 Cricket World Cup audiences with high purchase power: 60% affluent audiences
We analysed handset distribution among the U19 Cricket World Cup viewers to extract affluent audiences. Results reveal that 60% of the viewers owned mid to high-end smartphones, possessing an above average purchase power with significant access to premium products and services.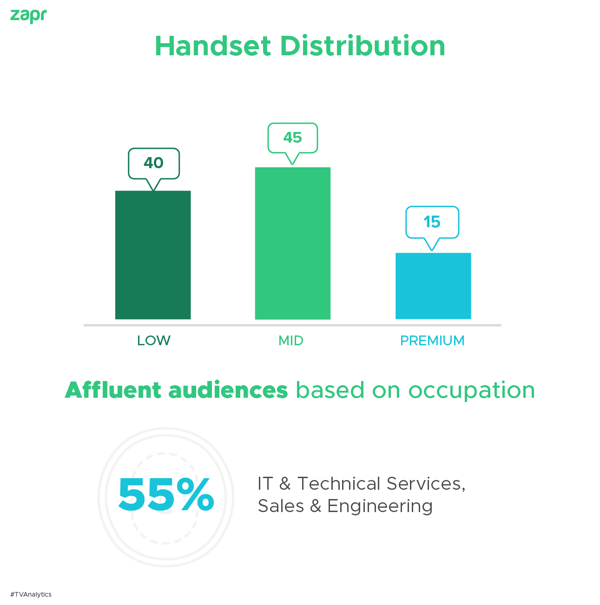 Our in-depth analysis also provides insight into the occupations of these viewers, wherein 55% audiences belong to the new age, premium job segment- IT, Sales and Engineering, making them ideal market segments for various brands and marketers.
ICC U19 Cricket World Cup garnered millions of audiences throughout the series, culminating in the India vs Australia match that grabbed the most eyeballs! With 60% affluent audiences possessing above average purchase power, the biennial event has gathered a huge chunk of viewers with high purchase power, making it a relevant platform for several brands and advertisers to grab attention of their specific target audiences.
With Zapr, you can identify audiences relevant for your brand, find the ideal platform for marketing and get highly granular details that will help create the best media plan for your brand.