Break the content clutter to grab the largest viewership pie on TV - dance reality shows on Hindi GECs counter the overdose of Indian TV soaps and attract more audiences every day with its unique show formats. With 11% viewers of Hindi GECs - the most viewed Indian television genre, tuning into the three dance reality shows - Dance India Dance - Little Masters (DID), High Fever..Dance Ka Naya Tevar and Super Dancer Chapter-2, the show genre is garnering high share of eyeballs from TV viewers.
Our analysis at Zapr gave us insights into where the dance reality show audiences migrated from and we found that majority of audiences shifted from genres like English movies (26% to DID), Bengali (10% to Super Dancer) and Infotainment (18% to High Fever)! This could possibly owe to the reality format of these dance competitions - intense auditions, unpredictable eliminations and best talent from across cities. Know more about these audiences as we look at viewership share among these reality shows, geographical split and migration in detail.
Rising viewership of dance reality shows: a call for attention among marketers
The 10.5% rise in viewership of dance reality shows over a week's time during our period of analysis affirms that these entertainment shows are here to stay. As we analyzed viewership share among the three dance reality shows, DID topped the list with 60% share of viewership making it a platform for marketers and media planners to reach out to a large number of audiences. The high viewership share could owe to the great quality of the show and the numerous celebrity guests that join various episodes to add face value to this talent hunt on TV. To get in-depth details about audiences of this show, get in touch with us at hello@zapr.in.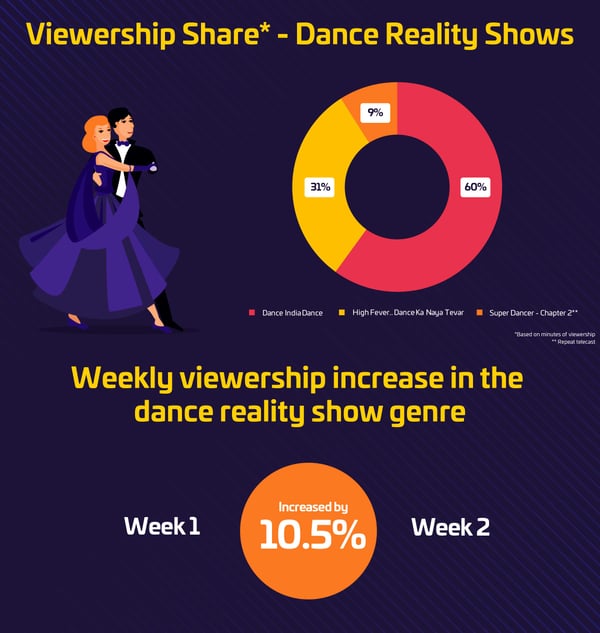 The newly launched dance show - High Fever - Dance Ka Naya Tevar that has brought together the 'best dancing jodis' from around the world has made headlines owing to its unique concept and highly talented participants. With 31% viewership share, the show follows DID in the list, occupying the second position.
Audiences shift from their regular shows on TV; add to the viewership of dance reality shows
The battle for eyeballs among Hindi GEC broadcasters led to the introduction of exciting and new show formats on these channels. Our analysis at Zapr gave us interesting insights into where the dance reality show audiences came from - the highest migration to DID Little Masters is from the English Movies genre (26%), much higher than the shift from other Hindi GECs (8%). This means that more audiences shifted from their regular favourite TV genres to tune into the dance reality show, which is an indicator of popularity of the show among other television channel genre loyalists.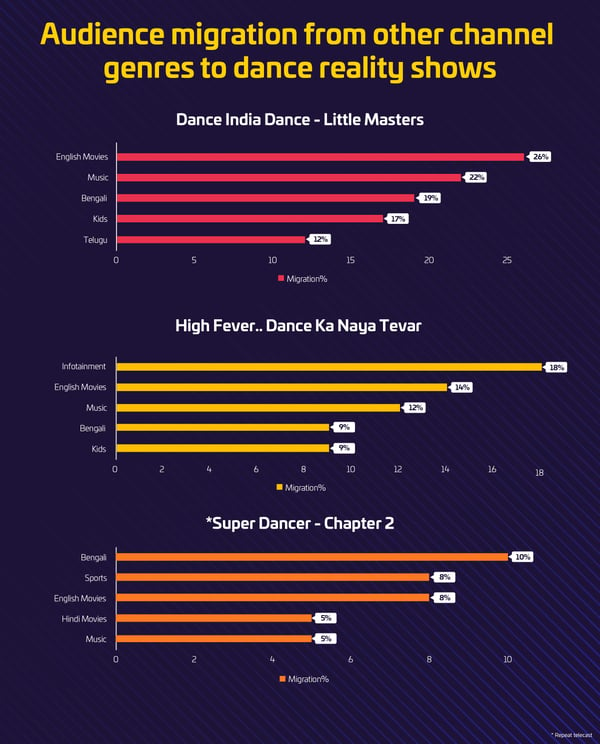 Reach penetration among TV viewers: the in-depth audience analysis
At Zapr, we get data at highly granular levels which helps marketers and brands to create the best media plan that fetches high ROIs.To analyse the reach of dance reality shows among TV viewers across locations, we looked at reach penetration, which means reach of the particular show based on actives in the region.
Mumbai, the land of Bollywood, shares the top position with Delhi as the two cities garner a reach penetration of 5% among their TV audiences. While this could possibly owe to the larger Hindi Speaking Markets (HSM) in these cities, the lesser reach penetration among other cities could be due to the presence of numerous regional reality tv shows in various languages across channels.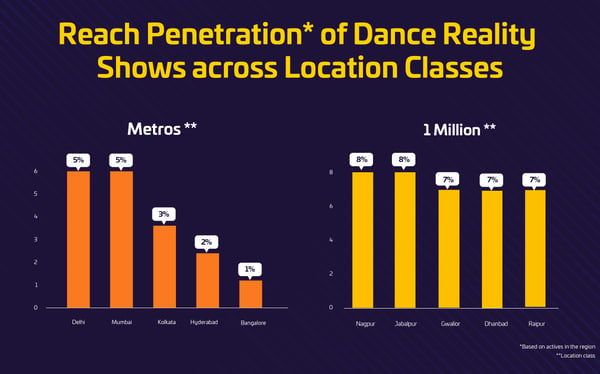 At Zapr, we can delve deeper, analyse shows and attain highly granular data that would help create the best media plan for your brand. We can even conduct surveys on why TV viewers tune into particular shows, to understand what attracts them to a particular show genre. Reach out to us at hello@zapr.in to know more about our offerings and integrate with us for your next media campaign.