We recently talked about Kapil Sharma's 110 crore contract with Sony TV and how viewership data supports his Forbes listed income. At Zapr Media Labs we were curious to look at other Indian Television stars who made it into the lakhs-per-episode club for the year 2016 as reported recently.
Using Big Data analytics on TV consumption of millions in India, we measured a major success indicator for these actors: the show's viewership share across Hindi GECs during their respective time slots (genre share).
We also analyzed how these shows performed across various geographies which reflect different socio-economic sections of India's TV viewing population. By deploying Zapr's TV-to-Mobile mapping, the study reveals how each show was viewed among urban and rural audiences in India.
Starting from the Kingpin of Hindi GECs, here's how Indian Television's top paid stars fared with their viewership:
1. Kapil Sharma
Since its launch on 23rd April 2016, The Kapil Sharma Show has held top position among Hindi GEC shows with an average of 41.3 million viewers per episode in 2016. Competing with other headline grabbing shows like Bigg Boss in the same 9:00 PM 10:30 PM slot on weekends, The Kapil Sharma Show claimed 35.3% viewership share.
Maharashtra claimed the highest urban share of 21% - a significant margin from other states which made it to top five. Punjab had the largest rural share of 11.5%, followed closely by Maharashtra and Uttar Pradesh.
Read more on 4 analytical reasons why Kapil Sharma is still the King of Hindi Entertainment.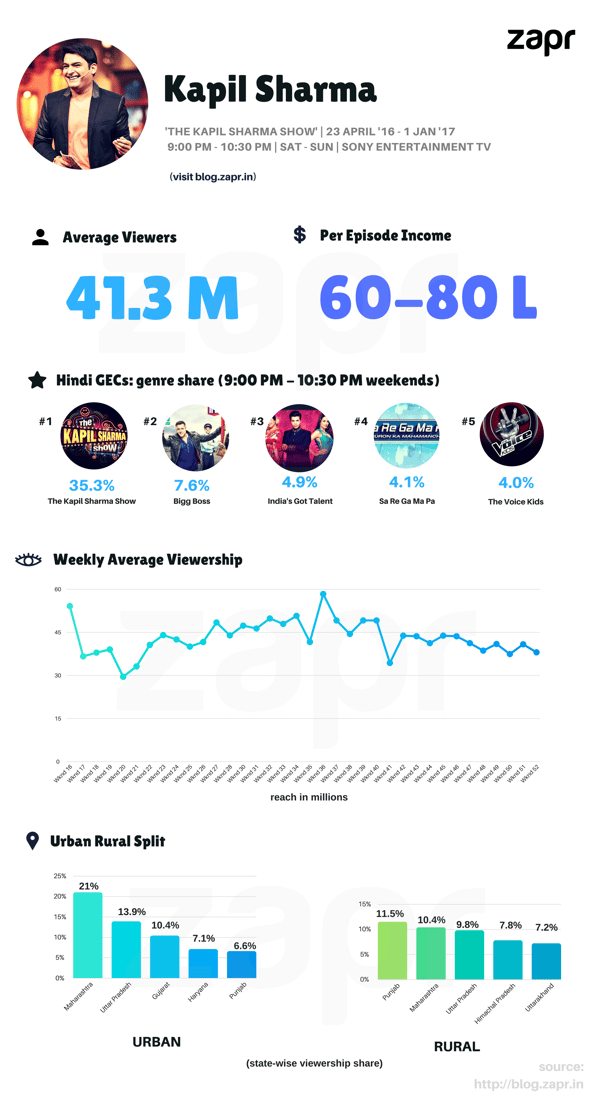 2. Mishal Raheja
His show Ishq Ka Rang Safed on Colors TV had an average of 3 million viewers per episode in 2016.
Aired during the 6:30 PM to 7:00 PM slot on weekdays, the show ranks third among Hindi GECs with 8.2% viewership share.
Uttar Pradesh led both the urban (18.8%) and rural (15.2%) viewership charts. Maharashtra's urban audience followed closely with 16.5%. Punjab and Rajasthan's rural shares were neck-and-neck with 7.8% and 7.4% respectively.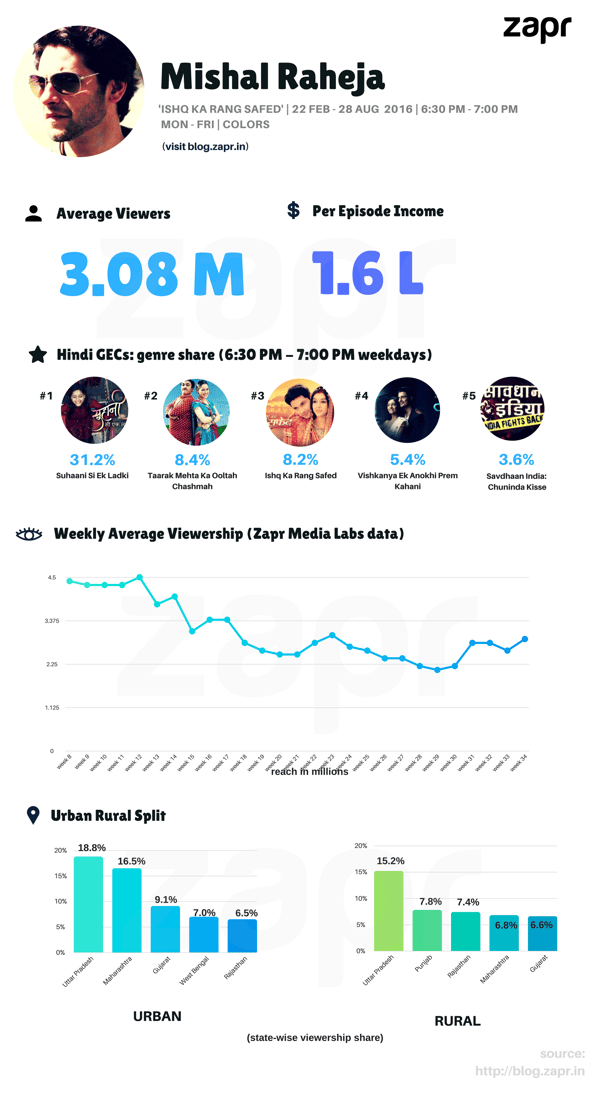 3. Ronit Roy
His lead role in Adaalat 2 on Sony Entertainment TV drew in an average of 7.7 million viewers per episode.
Aired in the 8:00 PM to 9:00 PM slot on weekends, the show grabbed second spot with 13.6% viewership share among Hindi GECs.
Zapr's geographic mapping shows that Gujarat had the highest rural viewership - 11.6%. Though Maharashtra claimed the largest urban share of 20.8%, Gujarat followed by a small margin - 17.6%.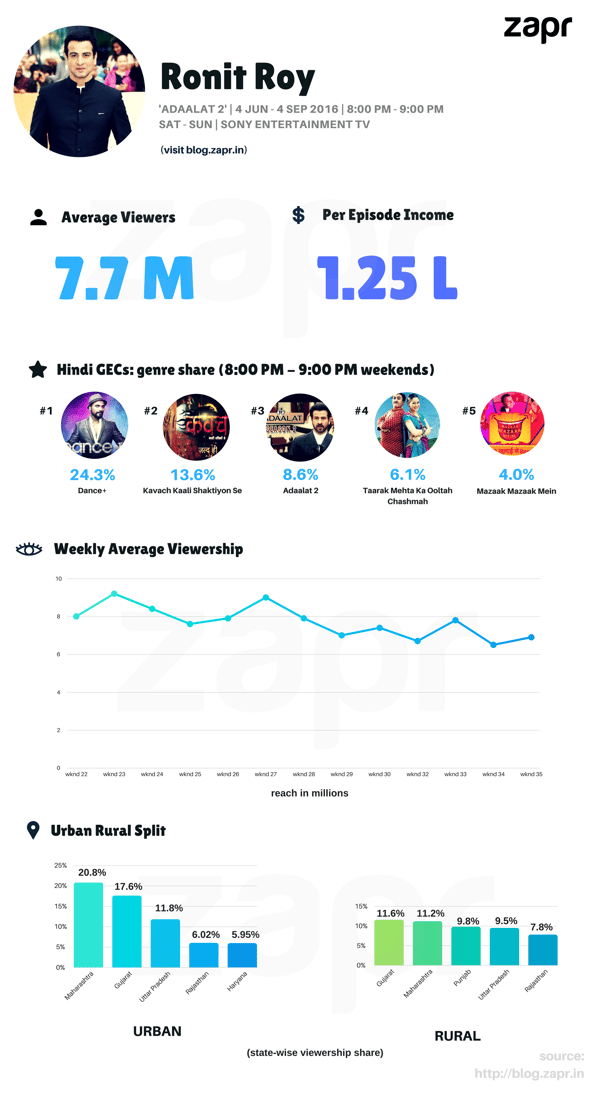 4. Hina Khan
Her show Yeh Rishta Kya Kehlata Hai on Star Plus experienced average reach of 13.8 million viewers per episode. Aired from 9:30 PM to 10:00 PM on weekdays, the show grabbed the highest share for its time-slot across Hindi GECs: 25.6%
The show's rural distribution was highly uniform across the states of Rajasthan, Punjab and Madhya Pradesh which topped the chart with 10.97%, 10.95% and 10.4% respectively. Rajasthan and Madhya Pradesh also featured in Top Five urban shares.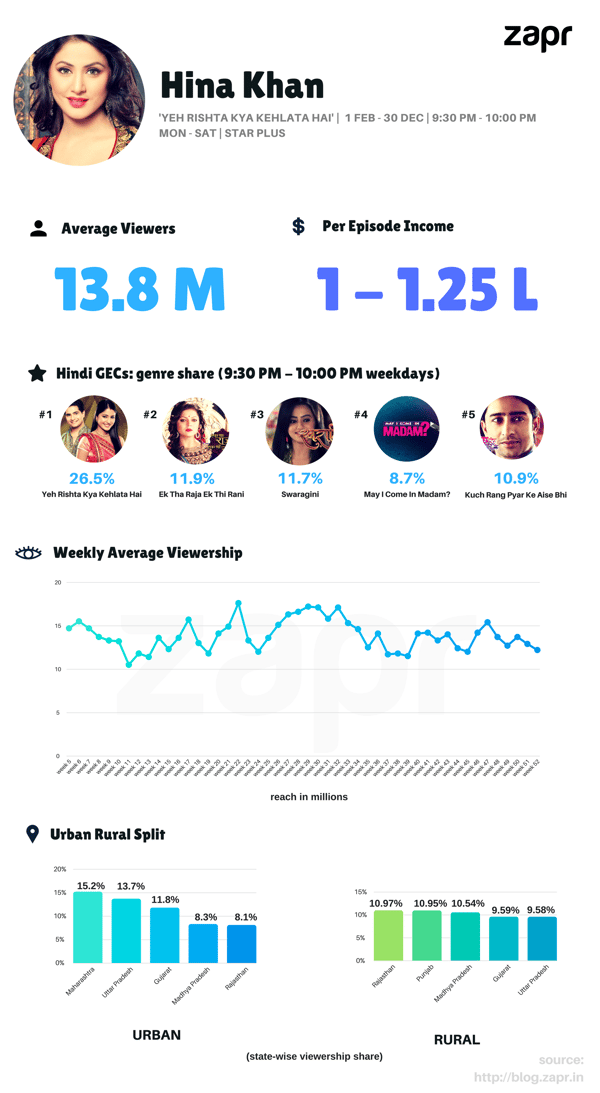 5. Karan Patel
Karan Patel's Ye Hai Mohabbatein on Star Plus had an average reach of 15.1 million viewers per episode. The show grabbed a massive 41.5% viewership share across Hindi GECs for the 7:30 PM to 8:00 PM slot.
Maharashtra had the highest urban share of 17.2% but placed fourth among rural audiences with 7.8%. Punjab grabbed top rural spot with 11.5% and Uttar Pradesh followed with 9.7%.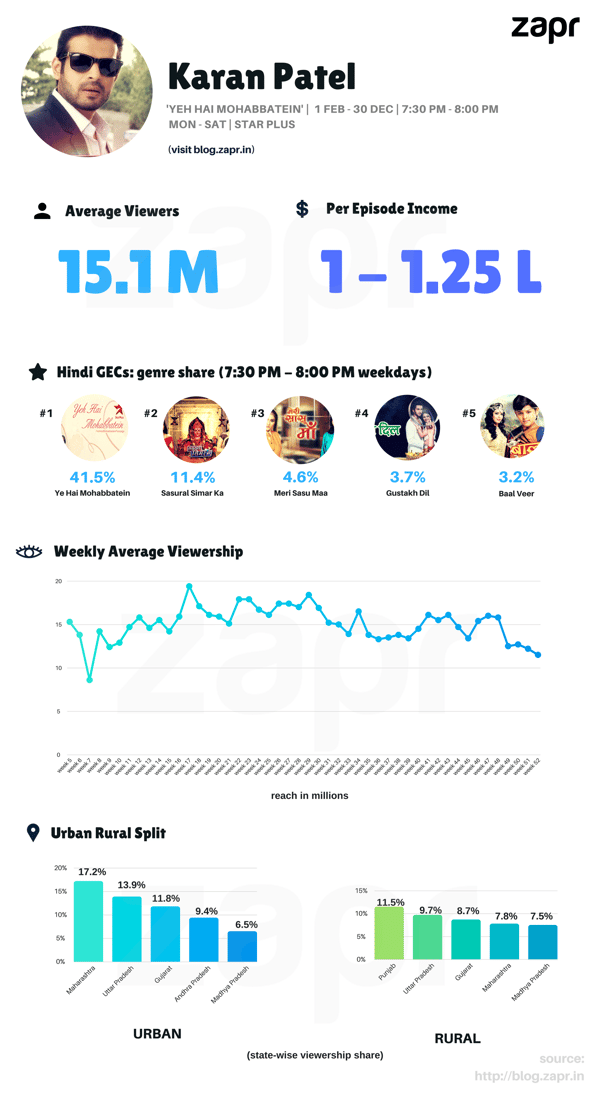 Top actors, shows and… Big Data Analytics?
Using our big data analytics at Zapr Media Labs we've tried to understand the relationship, if any, between an actor's success and their industry valuation. Is viewership the only criteria or does the 'X' factor, that intangible something multiply their payout? Looking at the data before us, we would guess the latter.
Zapr precisely identifies unique viewers, analyzes their TV viewing behavior and can deliver brand campaigns directly to their Smartphone screens through a large network of publishers. The process is like creating offline cookies for TV viewers and then engaging with them on mobile apps, directly impacting brand recall. For example, we could power a campaign that reaches out to Kapil Sharma fans on their smartphones and drives them to purchase tickets online for his upcoming Bollywood film Firangi.
For broadcasters, brands and OTT content providers, this precision targeting is the perfect way to optimize promos and advertising spends.