The finals and semi-finals of 'Roland-Garros: The 2016 French Open' witnessed a spike in the tournament's TV viewership across India with more than 5 million TV viewers watching the live telecast on NEO Sports and NEO Prime.
The tournament garnered 2.3 million viewers on 3rd June 2016. On this day, Indian TV viewers watched India's top tennis players - Leander Paes and Sania Mirza, compete against each other in the mixed doubles finals. The TV viewership reached its peak between 11:00 PM and 12:00 AM with 1.29 million TV viewers. This was the highest Indian TV viewership experienced in an hour during the final week of the tournament.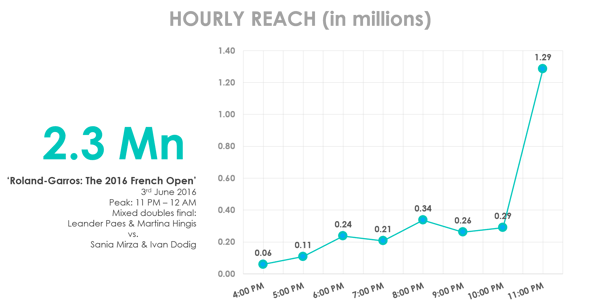 4th June saw 1 million TV viewers for the day, witnessing the women's singles final match between Serena Williams and Garbine Muguruza. The viewership numbers picked up on 5th June with a total Indian TV audience of 2.9 million viewers.
The telecast saw the highest Indian TV viewership from 9:00 PM to 10:00 PM during the men's singles final. The hour witnessed the victory of Serbian tennis player Novak Djokovic which made him the first man since 1969 to hold all four Grand Slam titles concurrently.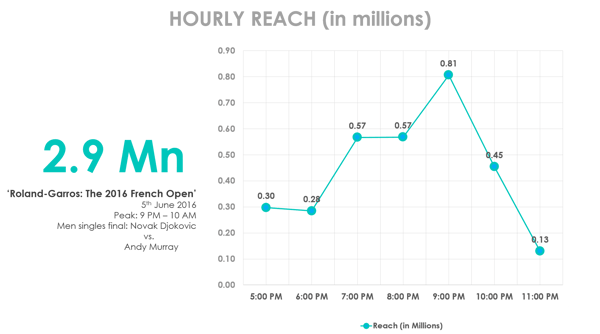 The state of Maharashtra claimed the highest share of 18.6% of the total Indian TV viewership for the tournament finals, followed by Karnataka with a 12% share.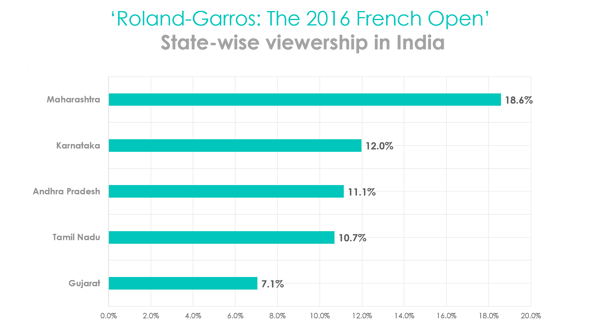 Despite the general bias in TV consumption of sports across India, The 2016 French Open has succeeded in roping in a remarkable number of Indian TV audiences.