Though one cannot completely stay away from the daily dose of drama, romance, comedy and fantasy, the recent rise of biopics in the Hindi GEC segment is indeed a wave of new content. At Zapr, we analysed three Hindi biopics - Porus, Swami Ramdev - Ek Sangharsh and Chandrashekhar that currently airs on TV, over a month. The analysis of these shows that occupy prime time slots in the most viewed Indian television genre gave us insights into the audiences that tune into these biopics, genre share during time slot and purchase power among its viewers.
With 45% of TV viewers tuning in during prime time on television, there is cut-throat competition for higher share of eyeballs among shows. Zapr analyses these biopics based on core audiences - audience segment considered to have spent the maximum time on Hindi GECs during the time of analysis. Find the detailed analysis on these shows and its audiences below to know more about this recent wave of real life stories on TV.
Biopics claim positions among top ten shows during the time slot
Despite contenders like Taarak Mehta Ka Ooltah Chashmah and Kullfi Kumarr Bajewala that grab high share of eyeballs by reaching more than 20% of core Hindi GEC audiences, Porus has garnered a spot among the top ten shows. The show has reached more than 10% of the same TV audience category (core Hindi GEC) who tunes in during the 8:30 PM - 9:30 PM slot.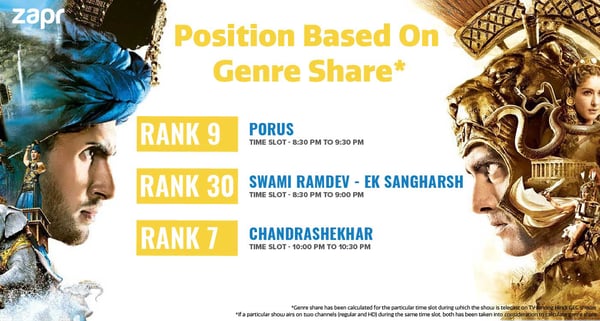 While audiences show interest in the Indian king Porus' story, Chandrashekhar - the story of Chandrashekhar Azad who chose to revolt for freedom is at the seventh position reaching 13% of core Hindi GEC audiences during its half an hour time slot!
Metros tune in longer to watch the life story of Baba Ramdev - yoga guru turned entrepreneur
Our analysis of biopic viewership across geographical locations gave us interesting insights on region-wise content preferences. We found that Swami Ramdev: Ek Sangharsh, garnered 21% viewership share from metro cities which is slightly higher than the metro viewership share for the Hindi GEC segment, probably owing to the preference for real, non-fiction content among urban TV viewers.
With rural India accounting for larger share of impressions in Hindi Speaking Markets (HSM) for Hindi GECs than urban India, the consistently high viewership share from these regions across biopics does not come as a surprise. At Zapr, we can delve deeper and get highly granular data that gives insights on city-wise viewership, reach and show penetration. Reach out to us at hello@zapr.in to know more about our offerings.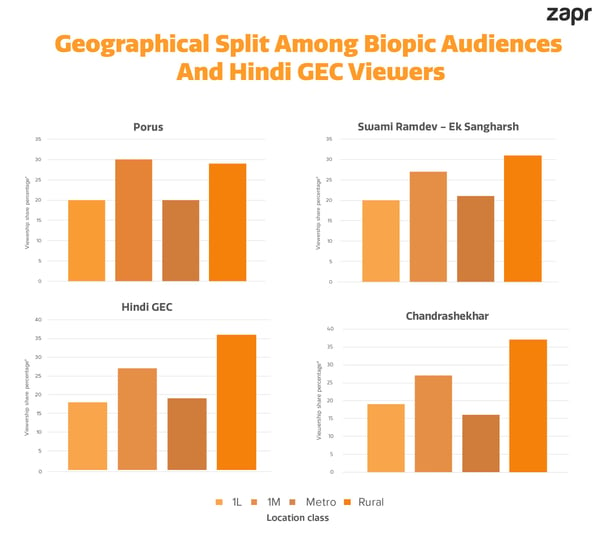 Biopic audiences with high spending capacity: majority owns mid to high-end devices
The spending power of an audience depends on various socio-economic factors and at Zapr, we analyze this based on the kind of handsets owned by individual viewers. Majority of biopic viewers own mid to high-end handsets which means that they own devices ranging INR 7K+. To know the exact share of devices and analyse purchase power of audiences, reach out to us at hello@zapr.in.