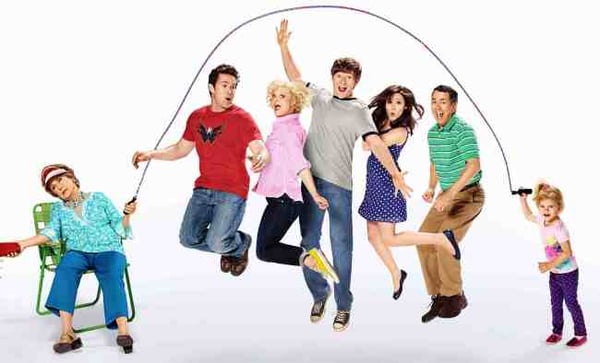 The single-camera show has a madcap tone, and it revolves around people — the Chance family — who work odd jobs and don't have much money. Plimpton's Virginia is a hotel maid, her husband, is a pool cleaner, and their 23-year-old son, Jimmy helps him out. They live together in grandma's home — they call her Maw Maw. They're a boatload of affectionate chaos, with provider Burt acting more like a big kid than son Jimmy. Burt is doing quite a job with his comic timing and is a lovable character as an infantile father or grandfather
As if this weren't crowded enough, Jimmy unexpectedly brings home his infant daughter, adding yet another level to the multi-generation insanity. Virginia is quite displeased about this new addition, to put it mildly. She was 15 when she had Jimmy, and she's longing to be free of child-rearing. She knows she's the one who'll wind up taking care of the baby — even though she's as poorly equipped to do that as she was at 15 — so she suggests Jimmy drop Princess Beyonce at the fire station.
Jimmy feels that the presence of his baby is offering his family a new chance (as such, her name changes to Hope). And that's how "Raising Hope'' expands from a funny portrait of eccentrics which also includes Jimmy's new love interest, a supermarket check-out girl with a subversive streak, into something special. This show has a lot of genuine heart to balance the broad humor. And even better, the warm moments are never pushed in our faces; they remain just below the surface, unarticulated by the inarticulate characters.
Reading about the show might not do justice to this mild hearted comedy which is dark and lovable at the same time. Trust me if you start following it, you would enjoy it. Season 4 can now be caught on Star World. Do use ZAPR to set alarms and not miss the hot and happening in the TV arena.