17 million unique viewers watched this season's Premiere Badminton League live on television. Zapr intelligence profiled these viewers and found that 50% of them had watched P.V Sindhu at the Olympic finals and semi-finals last year. What does this intensive audience loyalty mean for brand marketers?
With the highest brand value for a non-cricketer, Sindhu surpasses other Forbes listed sport stars like Sania Mirza and Saina Nehwal making her fans the market for major sport endorsements. Using high precision TV-to-Mobile analytics, we identified this audience and tracked their consumption across television.
Our study maps out premium channels and shows in which P.V Sindhu's fans have strong presence. We also found that significant percentages of them use mid-end and high-end mobile devices suggesting that her fans possess above average purchasing power.
Let's break down our data findings on the league's viewership:
3.84 million TV viewers watched day one of PBL as Olympic finalists P.V Sindhu and Carolina Marine clashed on the court.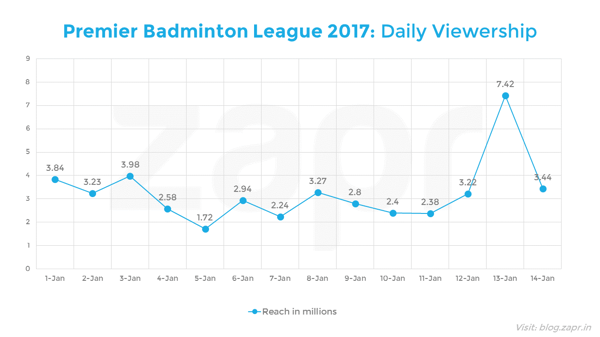 The tournament's main attraction however was the semi-finals on Jan 13th which saw drastic spike in reach - 7.42 million unique viewers tuned in for all the matches on the day and 2.6 million watched the match between India's top Badminton stars P.V Sindhu and Saina Nehwal.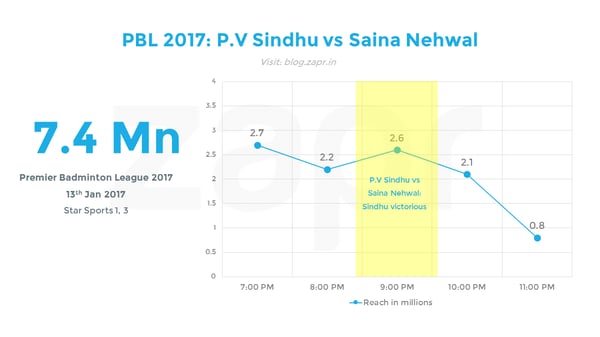 At Zapr we profiled the sport consumption of those who watched PBL and identified a large segment with high loyalty for P.V Sindhu on live television.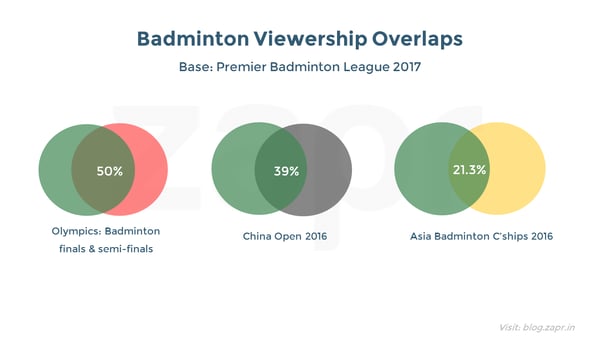 50% of PBL viewers had previously watched her at the Rio Olympic semis and finals, which means half of the PBL audience were already fans of P.V Sindhu and were ideal target groups for PBL promos and ads. Zapr analytics provides more of such overlaps to accurately gauge audience affinity from consumption history, which can be analyzed much before the tournament even starts!
39% of people who watched P.V Sindhu win at the China Open in December 2016 continued watching PBL in January. In contrast, viewers of Asia Badminton Championships which took place before the Olympics expressed lesser interest in the league - 21.3% of them tuned in for PBL.
We looked at PBL viewers in depth to profile their interests across different genres which can be further classified into smaller granularities of shows and timings.
Some of their top viewed Hindi GECs were Star Plus, Colors, Life OK, Zee TV and And TV, while Star World, FX and AXN were the top watched English Entertainment channels.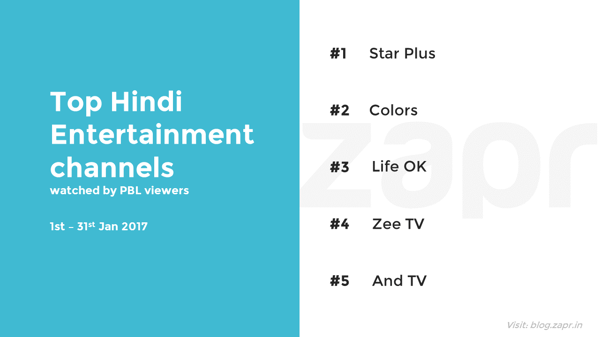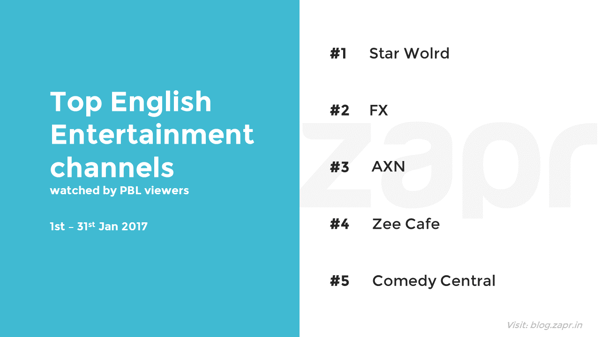 This precision mapping is one sure way for brands to optimize their marketing campaigns by reaching out to interest-based target audiences anytime on their mobiles through Zapr's audience platform.
PBL viewers also consumed Business news channels like Zee Business, ET Now and Awaaz - premium content typically reflecting higher purchase power.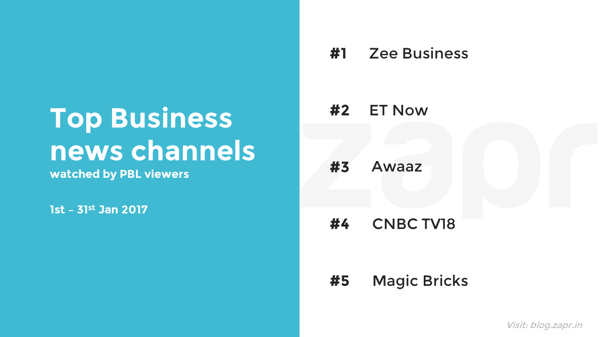 Powered by our smartphone-driven technology, we conducted further research on the kind of mobile handsets used by PBL viewers and found that 3.4% own high-end devices priced above Rs. 20,000 while 42.2% own mid-end devices priced between Rs.10,000 - 20,000.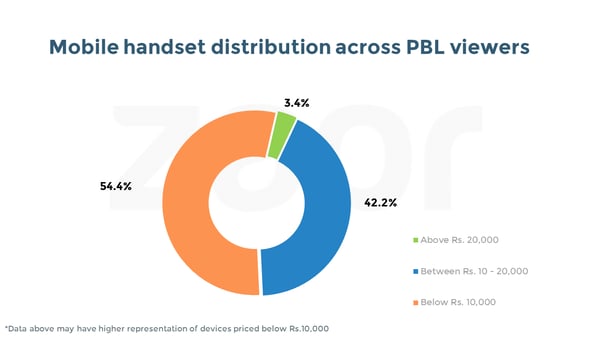 Using Zapr's geographic mapping we located PBL viewers beyond just their states, we were able delve deeper into smaller localities classifying viewers as urban and rural audiences.
Our data shows that the tournament reached larger number of urban viewers compared to rural. Andhra Pradesh had the highest urban reach of 1.5 million unique viewers.
The south Indian states of Tamil Nadu and Andhra led both the urban and rural charts as seen below.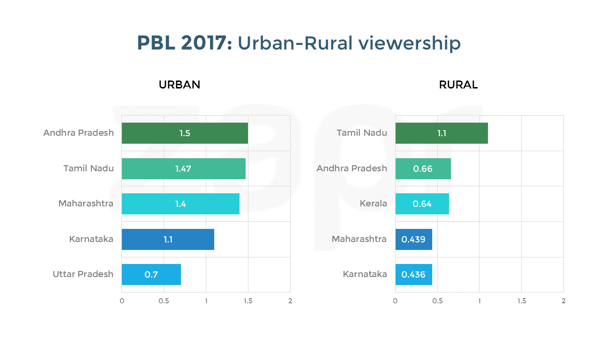 Right after the Olympics, we had predicted P.V Sindhu's lucrative deals and how Zapr could identify her viewers to drive highly targeted Brand campaigns. Similarly, we recently conducted a study on top paid TV stars in India to see if their viewership numbers back their industry value.
Zapr analytics boosts marketing strategy for brand ambassadors by tracking loyal audiences. Marketers can use Zapr's platform for brand ambassadors by precisely finding people who are fans, and never lose them no matter where they are or what they are doing on their mobile phones.
Using TV-to-Mobile mapping, Zapr accurately profiles users to serve the most targeted ads. In this way, both brands and publishers can achieve effective engagement with fans of Sport stars, actors, TV shows and other brand ambassadors.