With some of the most popular Hindi TV celebrities gathered in one night, the Star Parivaar Awards 2016 attracted a TV audience of 44 million viewers.
Aired on 28th May from 8 PM to 11 PM, the award show witnessed high engagement throughout the telecast, reaching a peak in its TV viewership between 9 PM and 9:30 PM.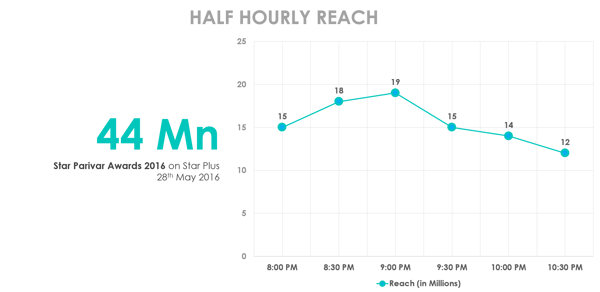 Star Plus experienced a 10x rise in its TV viewership on weekend prime-time compared to the previous weekends.
Presenting awards for some of the most popular Hindi TV shows on Star Plus, the Star Parivaar Awards 2016 witnessed a huge TV viewership across India. Gujarat leads with 14.4% of the total viewership, followed closely by Maharashtra.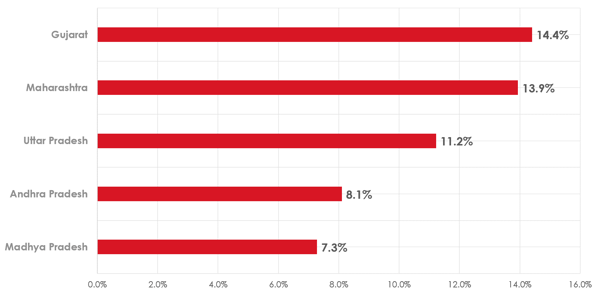 Meanwhile, Indian reality TV witnessed its own Gayle storm at 'The Kapil Sharma Show' on Saturday, May 28th. The show featuring the West Indies cricketer attracted a TV audience of 32 million viewers.
Bringing Chris Gayle's famous grooves from the cricket field to the stage, the episode experienced a rising TV viewership throughout the show, reaching a peak between 10:00 PM and 10:15 PM.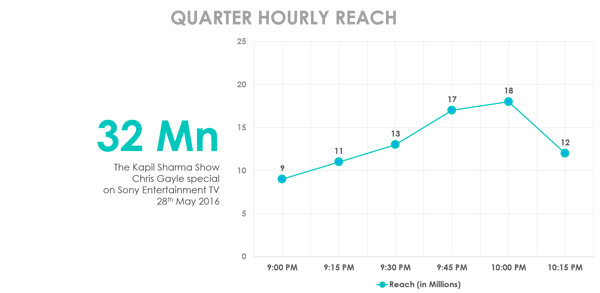 The show witnessed a massive TV viewership spread across India. Maharashtra had the highest share of 14% of the total TV viewership.
Out of the total viewership received by both the shows, 10.8% of the total viewers tuned into both the shows.
Whether it is award shows or popular reality TV, India's TV audiences do enjoy a gathering of celebrities.