A growing segment in Indian Television, Food and Lifestyle shows have recently seen greater inclusion in mainstream Hindi GEC line-ups with shows like 'Farah Ki Daawat' on Colors and 'MasterChef India' on Star Plus to name a few.
TV viewership data at Zapr Media Labs shows that the fifth season of MasterChef India on Star Plus ended with 13.1 million viewers tuning in to watch the Grand Finale on 25th Dec 2016. In fact, MasterChef India was the highest viewed weekend Primetime show on Star Plus. So we decided to dig deeper using cutting edge TV-to-mobile mapping technology to look at Big-data based insights on the show's success indicators like viewership, audience loyalty and stickiness, geographic reach and genre share.
The following report uses key metrics to gain some insight into how MasterChef India has successfully positioned itself as a popular Hindi GEC show with high reach among niche Food and Lifestyle audiences.
We further analyzed if these viewers watched other popular versions of the MasterChef series, making them a segment of core Food enthusiasts who follow food shows that are continents apart.
Audience Loyalty
As seen in the graph below, the show has maintained stable viewership throughout season 5 with only few dips between episodes.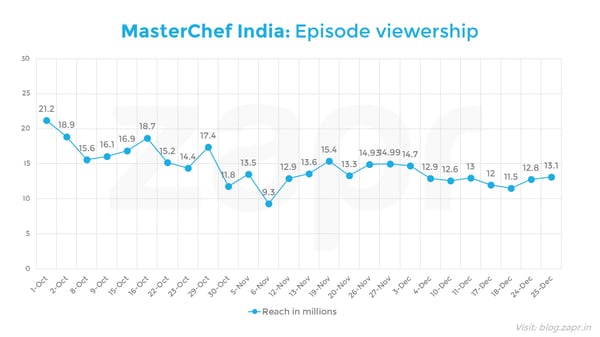 The first episode on 1st Oct experienced highest viewership for the entire season - 21.2 million viewers. Impressively, 25% or one-fourth of these viewers also watched the Season Finale. This suggests that MasterChef India was successful in keeping viewers gripped with its content episode-to-episode throughout the season.
Celebrity Effect
MasterChef India season 5 hosted Bollywood actors, reality TV winners and even sports stars on select episodes. While several factors such as elimination rounds and episode cliffhangers affect viewership, we found it interesting that only few celebrities managed to considerably bump up the show's viewership.
5th Nov featured reality TV stars Shakti Mohan and Raghav Juyal from Dance India Dance. As seen in the graph above, the episode witnessed 13.5 million viewers, a slight raise from 11.8 million on 4th Nov. Whereas 12th Nov featuring Bollywood actress Bipasha Basu witnessed 37% viewership rise from the previous episode.
Surprisingly the appearance of popular Bollywood actors Ranveer Singh and Vidya Balan on 3rd and 4th Dec - 14.7 and 12.9 million viewers respectively didn't evoke higher interest among viewers. In fact, the show's viewership dipped on both days compared to the preceding two episodes (26th & 27th Nov).
The season finale had negligible rise in viewership compared to preceding episodes during the show's last month on air. Perhaps the celebrity effect didn't work much to the favour of the final star on the show, Sonakshi Sinha.
Channel Leader
To understand where Masterchef India stands within the channel's viewership, we analyzed the top viewed Weekend shows on Star Plus across the day.
MasterChef India led the intra-channel viewership chart with 59.7 million total unique viewers for season 5 making it the most popular show on the channel.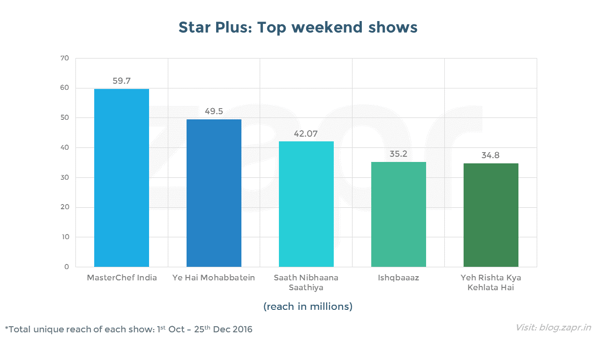 Weekends on Hindi GECs are all about the 9 - 10 PM slot ruled by popular shows like The Kapil Sharma Show on Sony TV and Bigg Boss 10 on Colors. We were curious to see what viewership distribution looks like in the 8 - 9 PM slot during which MasterChef India aired on Star Plus.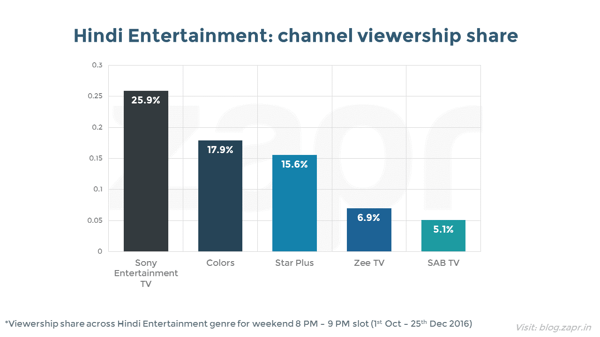 Sony Entertainment TV grabbed the highest viewership share of 25.9%. Colors followed with 17.9% and Star Plus came very close with 15.6% share of total Hindi GEC viewership for the 8 - 9 PM weekend slot.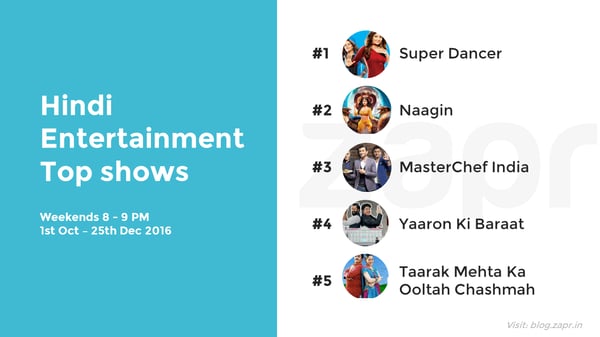 MasterChef India was third most viewed among Hindi GEC shows on weekends 8 - 9 PM.
Food enthusiasts:
Zapr overlap data reveals that 22% of individuals who watched MasterChef Australia on Star World (9th May - 29th Aug) also watched MasterChef India on Star Plus. At Zapr Media Labs, we identified them as a specific segment of Food enthusiasts who watched both shows which hugely differ in food, language and even show format to some extent.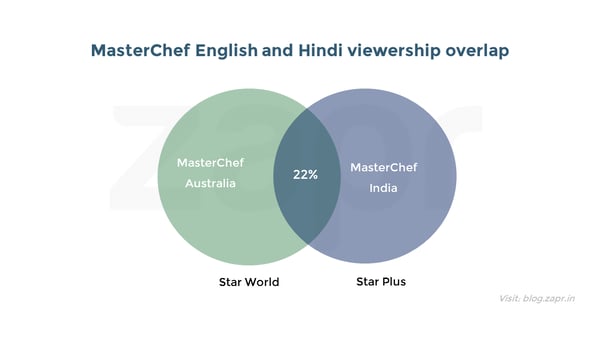 Our overlap studies also reveal that the show reached out to wider Food and Lifestyle audiences.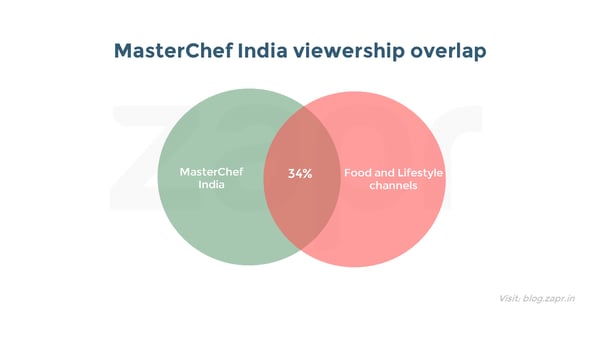 34% of MasterChef India viewers watch channels like Living Foodz, NDTV Good Times, Food Food and TLC.
Geographic reach:
Zapr's user mapping technology traces the show's geographic reach across India: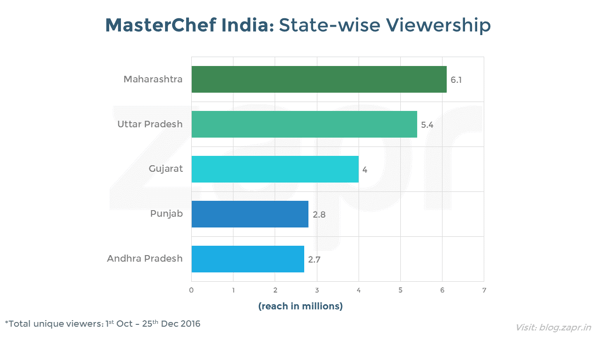 States like Maharashtra, Uttar Pradesh, Gujarat and Punjab claimed highest viewership. Andhra Pradesh was the sole South Indian state which featured in Top Five.
We could say that MasterChef India has firmly established itself in the Hindi GEC market as Star Plus claims the third highest viewership for its time slot. The show also receives interest from Food and Lifestyle viewers, hence grabbing significant share of genre specific audiences.
At Zapr Media Labs, we leverage our data analytics to execute various targeting requirements for brands and advertisers to both niche and broad segments such as these.
Our recent campaign for a large FMCG brand targeted mobile advertisements specifically to audiences who had watched Masterchef on Star Plus. The campaign was displayed during or immediately after the show, improving recall and brand association. This precise targeting powered the Moment Marketing campaign to beat industry standards on user engagement by miles.
With Zapr Media Labs, marketers can optimize their ad spends by engaging with niche interest groups relevant to their products and campaigns. For example, if a brand wants to engage with viewers of specific Lifestyle shows or Sport events, Zapr's TV-to-Mobile platform provides a multi-screen strategy where TV viewership analytics compliments ATL spends and impact.