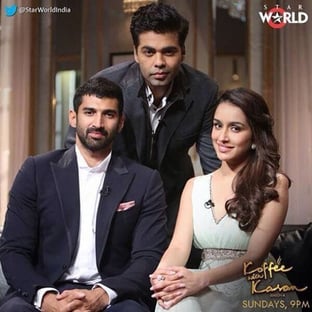 Much to everyone's expectations,Karan went onto the question of "Are you seeing each other?" and apparently the response "We have a deep/special friendship" with a much controlled smile is a part of the denial strategy. Anyways the speculated couple Aditya Roy Kapoor and Shradha Kapoor didn't really have any star vibes around them but that did not make for a fresh episode.
Aditya who has been a VJ had a good presence. He has been a snoot about Hindi cinema but is not an alcoholic. His bromance with Ranbir Kapoor is very true. The actor will be open to nude scenes only when he is in shape like John Abraham. In a group there is always a person who repeats people's lines and nods his head in approval at various intervals and Shradha Kapoor was exactly that person, who till the rapid fire round said 'yeah' at least fifty times and for other times unnecessarily praised her deep friend. Both the actors take Aashiqui 2 as turning points in their acting careers. As both of them love to sing, they together sang a famous track from their movie and did not leave eye contact for a moment. I am just hinting at their true friendship.
Some jitters, some denials and overall a much sober episode of Koffee with Karan. But the newbies would surely get used to talk shows in sometime.