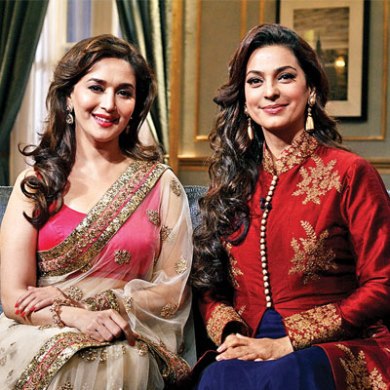 Rivalry between female contemporaries is quite an old thing. This was quite evident in Koffee with Karan's latest episode with the yesteryear's Bollywood divas- Madhuri Dixit and Juhi Chawla who have had a history of animosity. Amongst Juhi's bad decisions included the one to not accept the part in Dil Toh Paagal Hai, just to be not second to Madhuri. This episode did not cook much media matter but had an old world charm and the nostalgia of 90s.
Why did they do a movie together now? Juhi did reject it because it was a negative role but then she thought 'if she was the villain and Madhuri was the hero, it's gonna be quite a combination'.
We got to hear about the ways of the industry earlier and that was quite amusing. Films were at times started without a story. Dialogues were written just in time. Contracts were in the form of oral commitments and sometimes producers had to ask the actors to let go of the fees. Clearly the industry has become bigger, better and bitter.
Interestingly, the boys of today were asked about the two ladies. Imran and Varun had filmy connections with them. Sidharth scandalized Madhuri by calling her the girl you take to your bedroom and Ranveer in his forever entertaining acts, did a dhak dhak performance that was a laugh riot for Madhuri.
For more on TV, do follow us!!!