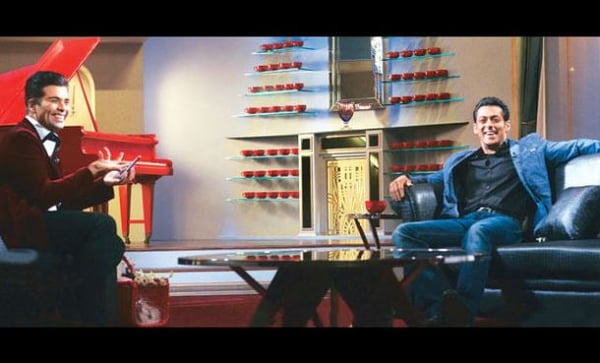 Koffee with Karan has always been a delight to watch with ingenuity, wit, gossip and emotions packaged together in an absolutely entertaining hour. "A lot can happen over coffee" would be quite an understatement for most of its past episodes. Season 4 of the show premiered last week with Salman Khan, the interview shy actor who had avoided coming on to the show for the past three seasons. Given Salman Khan's much talked about life, the episode trailers indicated a great episode with a lot of awkward questions around exes, relationships, competition and controversies.
Contrary to expectations though, the episode turned out to be really dull with Salman's awkwardness and vagueness which sucked the spice out of all the questions. His esoteric answers were not quite understood by people at large. He confessed to being a virgin, and that was sadly one of the high points of the show. A couple of jokes around Ranbeer and Katrina did help bring about the realization that we were indeed watching Koffee with Karan.
The rapid fire Q&A round which is usually full of fire, was quite dumb and devoid of humor. During the entire show, Karan Johar was either hiding his face or laughing, possibly not at the answers but at Salman Khan, or so it seemed. There was a tone of depression when Salman Khan talked about suppressing his true self and being afraid of perceived wrongly. He has been unfortunate with the media in the past. He talked about how he considered himself lucky to have succeeded as an actor with his average talent and how Kumar Gaurav was a big influence in his life and how he, likewise, is a mentor to newbies in the industry.
There is an innate niceness to Salman but he is definitely not good at not being a host on a reality show. The episode had a few spikes but was otherwise fairly uneventful and vague. For Star World's sake, and ours, let's hope for some better entertainment in the rest of the season. It does promise a very interesting line up of stars waiting to get grilled by Mr. Johar.