Kaun Banega Crorepati (KBC) is back after three years with as high as 37.21 million viewers for Sony TV in a single episode. Since its launch on August 28th, the Amitabh Bachchan hosted show has consistently claimed the largest primetime-viewership share among Hindi GECs, sweeping nearly 50% viewership share of the genre's highest watched slot (8 pm - 12 am). But what impact does the show have on India's larger TV viewing landscape across major geographies? Has it changed how people watch Hindi GECs in general, or does it extend to other genres on Television?
We deep-dived into Zapr's unique fingerprint-based analytics and found highly granular insights for KBC's reach over 40 million unique profiles in India.
Father, Son… Which one scored higher on popularity?
24.98 million viewers tuned in for the opening episode of KBC season 9 on their TV sets. We mapped out viewership for each episode in the first two weeks and found interesting spikes during celebrity features. The episode on September 15th which featured guest celebrity Abhishek Bachchan, son of KBC's star host Amitabh Bachchan, witnessed highest viewership of 37.21 million for the entire season so far.

Boom in Sony TV's primetime viewership, but is it sustainable?
Sony's primetime viewership increased by 69.1% in just one month after KBC aired on TV. This means the channel nearly doubled its viewers during the 8 PM - 12 PM slot for the period August 28th - September 25th, from what it had a month back (August 1st - 28th).
But did people actually stick to watching this reality show on the long-run? To find out, we ran an overlap test and spotted unique viewers who stayed from the first to the last episodes considered in our study. The result was 22%+ stickiness which means nearly one-third of KBC's initial viewers remained loyal on TV. Moreover, the show witnessed an average time spent of 21 minutes per episode, which means every person who ever tuned into KBC impressively watched it almost halfway through the episode.
Lessons on stealing the show: Migration from other channels, shows and genres
To answer crucial questions on how KBC affected the entire TV viewing landscape in India, we studied audience migration from other shows and genres which aired during the same time as KBC on Television. Results revealed highest movement from other top watched shows like Sa Re Ga Ma Pa Lil Champs (22.90%) on Zee TV; Khatron Ke Khiladi (22.40%) on Colors TV; Dance +3 (18.70%), Yeh Rishta Kya Kehlata Hai (17%), and Ishqbaaz (16.40%) on Star Plus.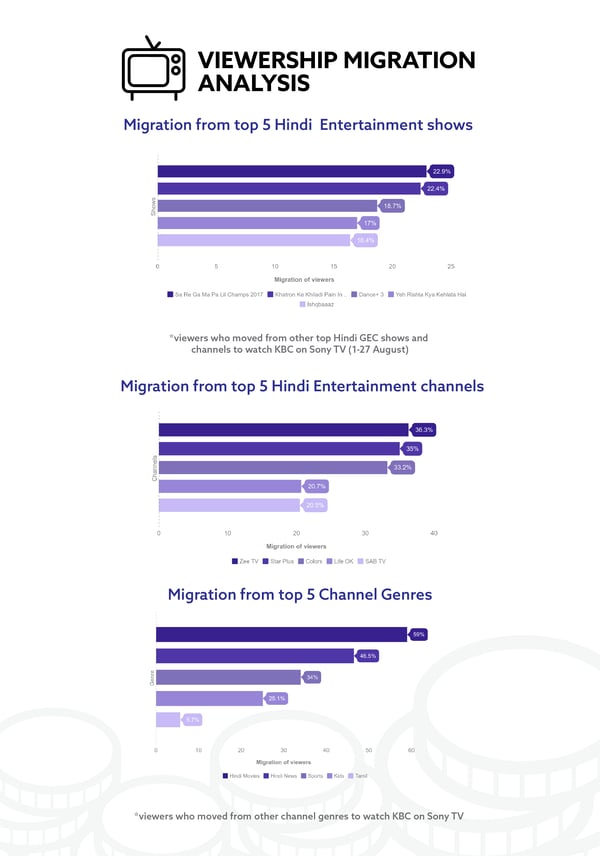 KBC drew in massive audiences from Hindi Movies channels (59%) such as Sony Max, Star Gold, Zee Cinema, and Hindi News channels (46.5%) such as Aaj Tak, India TV, Zee News. Interestingly, the quiz show drew in 25.10% viewers of Kids channels such as Nickelodeon, Disney Channel, Hungama; and 34% of Sports viewers across channels such as Star Sports, Sony Six, Ten Sports.
The crème-de-la-crème of Hindi GEC: KBC tops Primetime hours
Kaun Banega Crorepati's long absence in the Hindi GEC scene has seemed to revive debutant-like charms as it claims nearly half of the entire genre's viewer-base. Using Zapr's TV-to-Mobile analytics, we mapped out the top-viewed shows during primetime and found KBC leading by a high margin: 44.4% share of all Hindi GEC viewers between 8 PM - 12 AM on both weekdays and weekends.

Geographic mapping: Real-time TV penetration among smartphone users
We combined our user-mapping technology and TV analytics to precisely measure KBC's penetration in major cities across India. We did this by meticulously calculating KBC's reach in each city given the number of active TV-viewing smartphone-users in that locality. This gave us real reach at highly granular levels, in different areas classified by population.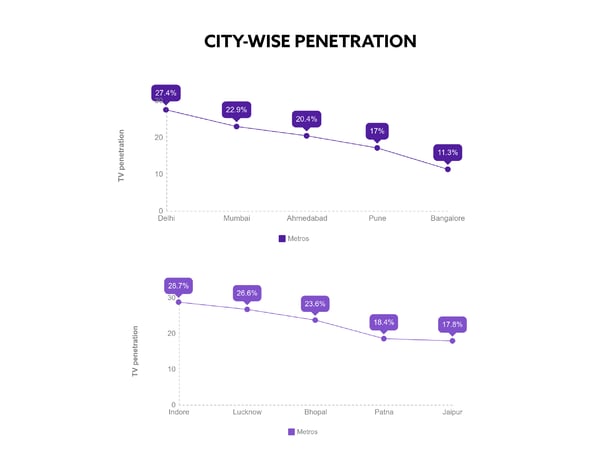 Delhi, Mumbai and Ahmedabad had the highest penetration among metropolitan cities, while Indore, Lucknow and Bhopal topped cities with above 1 Million populations. Interestingly, these geographic findings differ starkly from a similar show-penetration analysis we recently did for popular English series Game of Thrones. Do certain cities definitely have more affinity for popular Hindi GECs, while some others do for English content? Our data findings map out specific consumption patterns, aiding media planners to decide the distribution of content and their corresponding marketing efforts.
Device-distribution: revealing aspiring crorepatis
We wanted to understand how KBC viewers were spending money, so we ran a device analysis and found valuable insights indicating purchase-power and Socio-Economic Classes (SECs). Zapr's smartphone-powered technology enabled us to identify the kind of mobile handsets used by KBC viewers.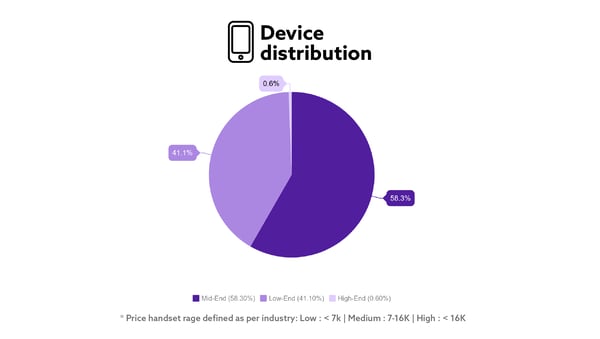 We found that the highest section of viewers belonged to mid-end section (58.3%) using phones prices between Rs.7,000 - Rs. 16,000, followed closely by low-end phone users (41.1%). However high-end phone users formed a negligible minority of 0.6%, suggesting strongly that KBC's TV audiences were mainly comprised of SECs B and C with average purchasing power.
Perhaps the show has aptly reached audiences most responsive to its alluring call of Kaun Banega Crorepati?