Whatever made Kapil Sharma leave his previous one-man show and take over another one (which even comes with his last name) was good news for Sony Entertainment TV: the channel has been experiencing a massive rise in its overall weekend prime-time TV viewership since the launch of 'The Kapil Sharma Show' which had 54 million TV viewers on its opening night.
His previous stint on Colors TV made 'Comedy Nights with Kapil' India's highest rated scripted TV show until its last episode on January 24th.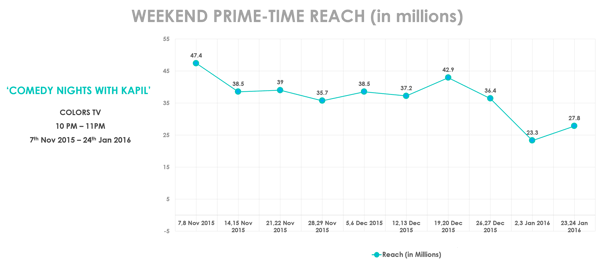 In two months, 'The Kapil Sharma Show' has massively impacted Sony TV's prime-time weekend viewership since the show's launch.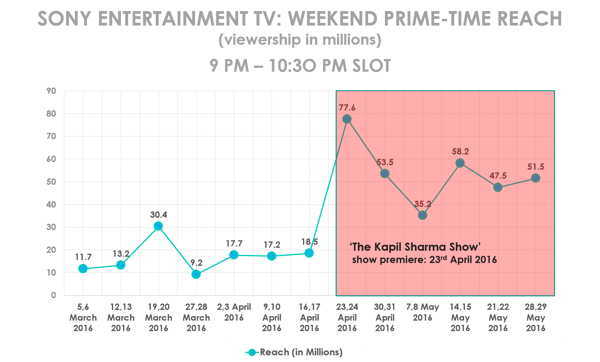 28% of the TV audience for 'Comedy Nights With Kapil' loyally continued following 'The Kapil Sharma Show'. Even if this number is less than expected, Kapil Sharma has had no trouble attracting a new set of TV audience for his new TV show which enjoys an average viewership of 53 million TV viewers. This is significantly larger than the average 30 million viewership enjoyed by 'Comedy Nights With Kapil' during its final weeks.
Besides its big TV viewership numbers every weekend with 'The Kapil Sharma Show', Sony TV has experienced a massive rise in the channel's overall weekend prime-time viewership across the Hindi entertainment genre:
With the launch of 'The Kapil Sharma Show', Sony Entertainment TV's genre share has leaped from 7.7% to 23.4% - more than thrice the share of TV viewership across the genre!
Both the 8 PM - 9 PM slot and the 10:30 PM - 11:30 PM slot, right before and after 'The Kapil Sharma Show' time slot, have experienced their highest viewership on the same weekend the show was launched.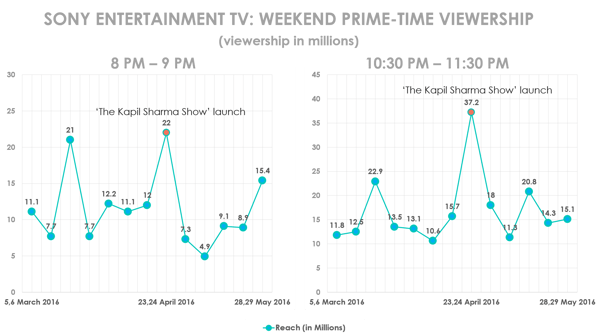 A rare phenomenon in the Indian television industry, Kapil Sharma's shift across competitor TV channels in such a short span of time has hugely impacted Sony Entertainment TV's viewership within a specific time slot. However, the channel's TV viewership across other prime-time weekend time slots has remained consistent in comparison to the weekends before the 'Kapil Sharma Show' launched.
Nevertheless, with Kapil Sharma's one-man army towing the channel's weekend prime-time viewership, Sony TV has certainly picked its battle wisely.