Did you know that the first May Day celebration in India took place in the year 1923 in South India?
Following tradition, Colors Kannada hosted a dance award function on May 1st which saw a gathering of the most prominent actors and actresses in the Kannada film and Television industry.
The award show was a special episode of the Kannada TV series called 'Simpalagi Ondu Thanks Heli' which means 'say a simple thanks'. But this time, grandly!
Opening with a red carpet show between 4:30 PM and 6 PM, the episode took off with a viewership of 1.5 Million people.
As the show progressed to the main event, the number of viewers increased to 7.7 Million people! Full of special acts and dance numbers, the function staged debut performers and old-timers alike.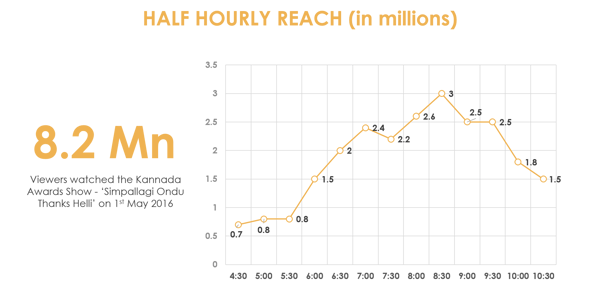 With the show airing on prime-time, Colors Kannada reached a total viewership of 8.2 Million people, with Karnataka claiming a home state's share of 95% of the viewers!
Well, what better way to win hearts than by saying a warm thanks?