(Note: Week 18 viewership data has not been calculated due to technical reasons.)
India's Got Talent airs on 9-10 PM slot on both weekend days, on Colors. The show premiered on 18th April and it attracted a major viewership which shook up things on that day.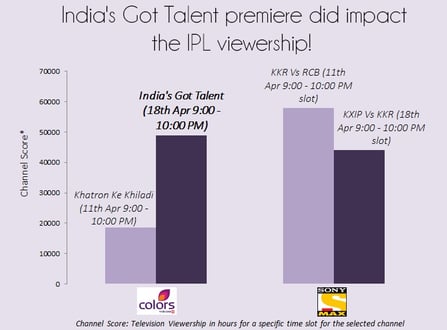 We can see how IGT's launch made an impact on IPL numbers. Colors has always been an 'after 10 PM' (don't get me wrong!) channel for Indian viewers, obviously because of Comedy Nights With Kapil which consistently holds a top spot with a 50-55% genre share every weekend during 10 PM – 12 AM slot.
Between 9-10 PM on MAX, there is a halt in IPL match, due to change of innings. Viewers tend to switch to any other channel during this slot. But as we can see, Khatron Ke Khiladi wasn't much useful for Colors for its 9 PM – 10 PM slot as it's 'finale' got less than half the viewership of IPL on 11th April 2015.
It's clear that India's Got Talent helped Colors rule the 9-10 PM slot on Saturday - 18th April. But has this viewership behavior been consistent since then? Let's see:
You all watch IPL, don't you? There is no other event on Indian Television as popular as IPL since 8th April 2015. So the comparison is kept with the top player.
As we can see, since the launch, there's a visible consistency in viewership of Colors during this slot which means India's Got Talent is working out really well for these guys! Also, there's a 'drop' in IPL viewership.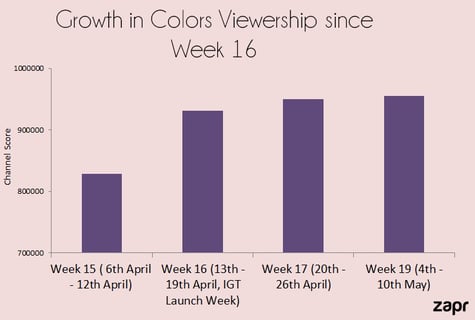 While looking around on our dashboard, we could also find out that there's a major rise in viewership of Colors from Week 15 to Week 16 and it has been rising since then! Will this continue after the IPL gets over? We'll keep you updated!
As of now, it's clear that India's Got Talent has come out to be a 'lucky' charm for Colors.
Note: Viewership has been calculated on the basis of Channel Score* for week 15, 16, 17 & 19.
*Channel Score: Television viewership in hours for a specific time slot for the selected channel