The first two T20 matches roped in 132.4 million and 123.3 million viewers each. This was a significant drop from the last ODI match which had 203.4 million viewers. Will viewership rise for the last T20?
As we count down to the very last cricket match in the England tour of India 2016-17, let's look at the viewership stats so far.

Also check out Ind vs Eng Test cricket viewership here.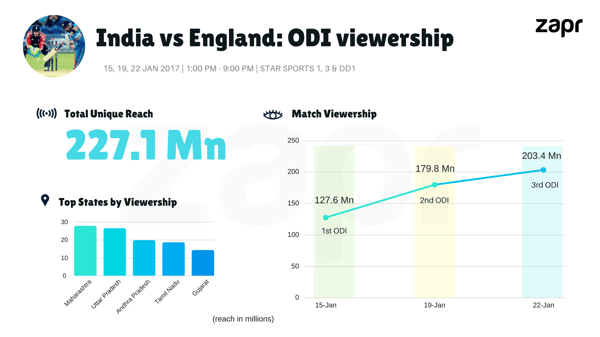 Stay tuned for the final T20 match viewership data from Zapr Media Labs!
Subscribe to newsletter for monthly updates on Live Sports viewership and TV audience insights. Directly sign up on our subscription box!
Or follow this link to subscribe: http://eepurl.com/ceX-z1http://eepurl.com/ceX-z1http://eepurl.com/ceX-z1