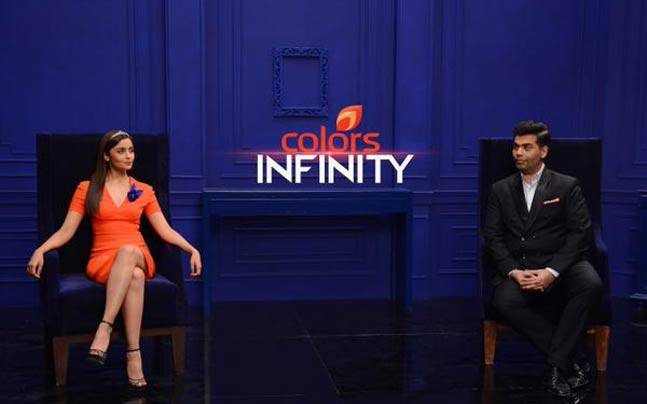 Launched in July 2015, Colors Infinity has seen an interesting one year with the launch of original shows like 'The Stage' and 'Vogue BFFs'. Competing with other premium English channels such as Star World Premiere, AXN and FX, the channel has seen high loyalty from viewers: 84% of those who watched Colors Infinity in the months of April and May have continued watching the channel through September 2016.
With an average weekly viewership of 25.2 million viewers (Aug-Sept), has Colors Infinity successfully served differentiated English content to their audience? Let's take a look at these viewers.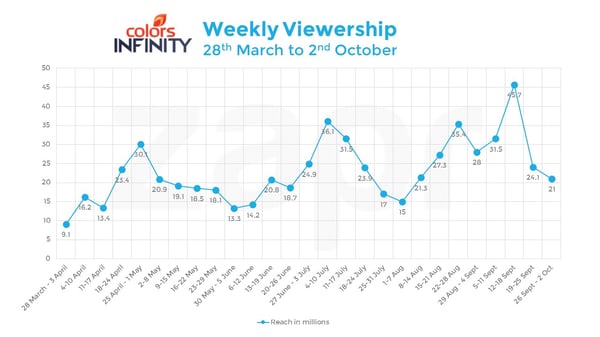 The channel's weekly viewership trend reveals that 12th to 18th September experienced the highest viewership across a span of six months. This was the week which saw the season 2 launch of the first original English music reality show in India - 'The Stage'.
'Infinity: On Demand' launched on 11th June has further contributed to the channel's viewership. This one-of-a-kind show format allows viewers to choose their favourite TV serials aired every weekend - 12:00 PM to 5:00 PM.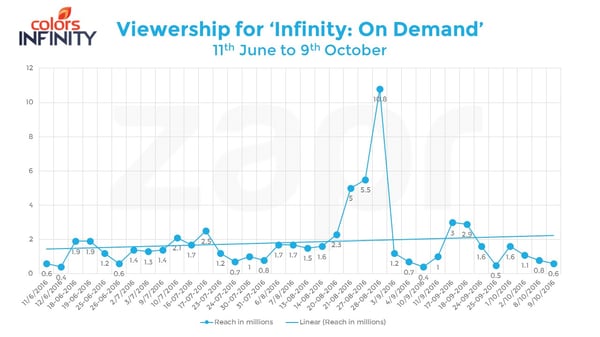 'Infinity: On Demand' sees a slow upward trend in its viewership since its launch. The telecast of 'Peaky Blinders' on 28th July has so far seen the highest viewership for the time slot with 10.8 million viewers.
'My Kitchen Rules' is the highest viewed show on Colors Infinity between 26th September and 9th October. Also featuring in their Top Ten list are the channel's two original shows: 'The Stage 2' launched on 17th September is the 4th most watched show claiming a 9.4% share while 'Vogue BFFs' launched on 24th September is the 6th most watched on the channel, claiming a 8.3% viewership share.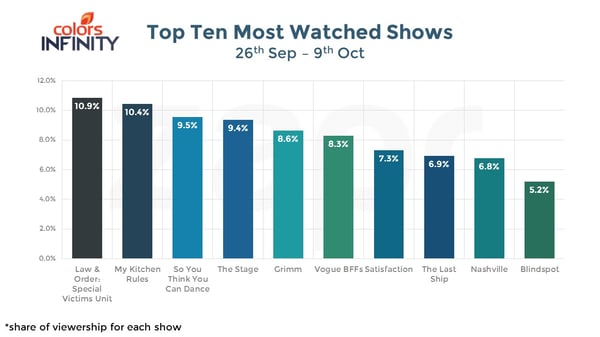 An analysis of the TV viewing behaviour of individuals who watch Colors Infinity further reveals that this audience consumes an array of English content in different genres.
53% of the channel's viewers consume English Entertainment content on other channels: 'Orphan Black' on AXN and 'House' on FX are the top shows watched by Colors Infinity viewers in the months of August and September.
Our data also finds many Colors Infinity viewers watch English Business news channels – an audience segment considered 'Premium' by brand advertisers. Zapr Media Labs not only maps these viewers but allows brands to engage with this specific segment via 'offline-to-mobile cookies'. (For more in-depth data reach out to hello@zapr.in)
Between 8:00 AM and 8:00 PM, the channel experiences higher viewership on weekdays compared to weekends. However, prime-time (8:00 PM - 12:00 AM) sees higher viewership on weekends.
On both weekdays and weekends, the channel experiences the highest viewership during primetime hours (8:00 PM and 12:00 AM) – this is good news for Colors Infinity since both their original shows air during this time.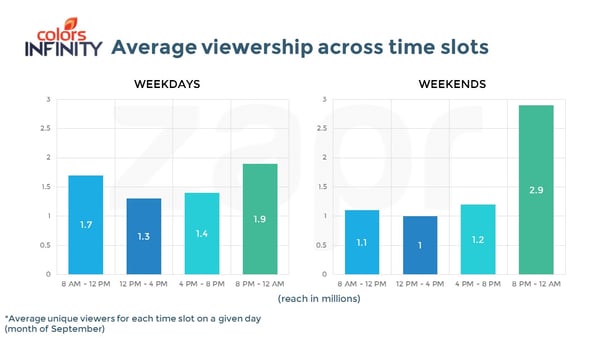 Viewership for 'Colors Infinity' is largely skewed towards urban audiences. Maharashtra sees the largest urban audience for the channel with 6.3 million unique viewers in the month of September. Tamil Nadu has the highest rural viewership with 2.5 million unique viewers.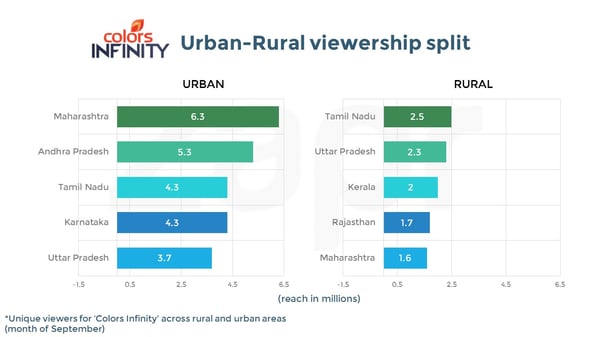 Colors Infinity viewers can be tracked and segmented into unique sets of niche audiences who watch various other premium English content on television. Various use cases at Zapr Media Labs reveal that brand engagement with niche audiences result in high click-through-rates and engagement rates which far exceed industry standards.
This report is a glimpse of the comprehensive consumption data that Zapr Media Labs derive from specific channels, shows, TV promos and commercials.
Brands and broadcasters use Zapr's data analytics for market intelligence and segmentation on a wide range of parameters like genre, top shows, channel preference, audience loyalty, geo-mapping, and cross-channel viewership.
Zapr's user mapping technique provides geo-specific insights such as viewership shares among urban and rural audiences, total unique viewers in cities and towns layered with the smartphones used and other useful data points.