The land of cricket is now ready to embrace other sports it seems. After the massive success of Pro Kabaddi League, it is now the turn of football with the Hero Indian Super League. The football league kicked off on 12th on a very glamorous note with numerous corporates, actors and cricketers joining in and owning a piece of the action. The question that remained to be seen however was - will the Indian audience savor football at all, especially since the international soccer tournaments (besides the World Cup) haven't really garnered mass interest?
Well, we don't need to speculate anymore, the viewership numbers from ZAPR paint us a distinctly clear picture.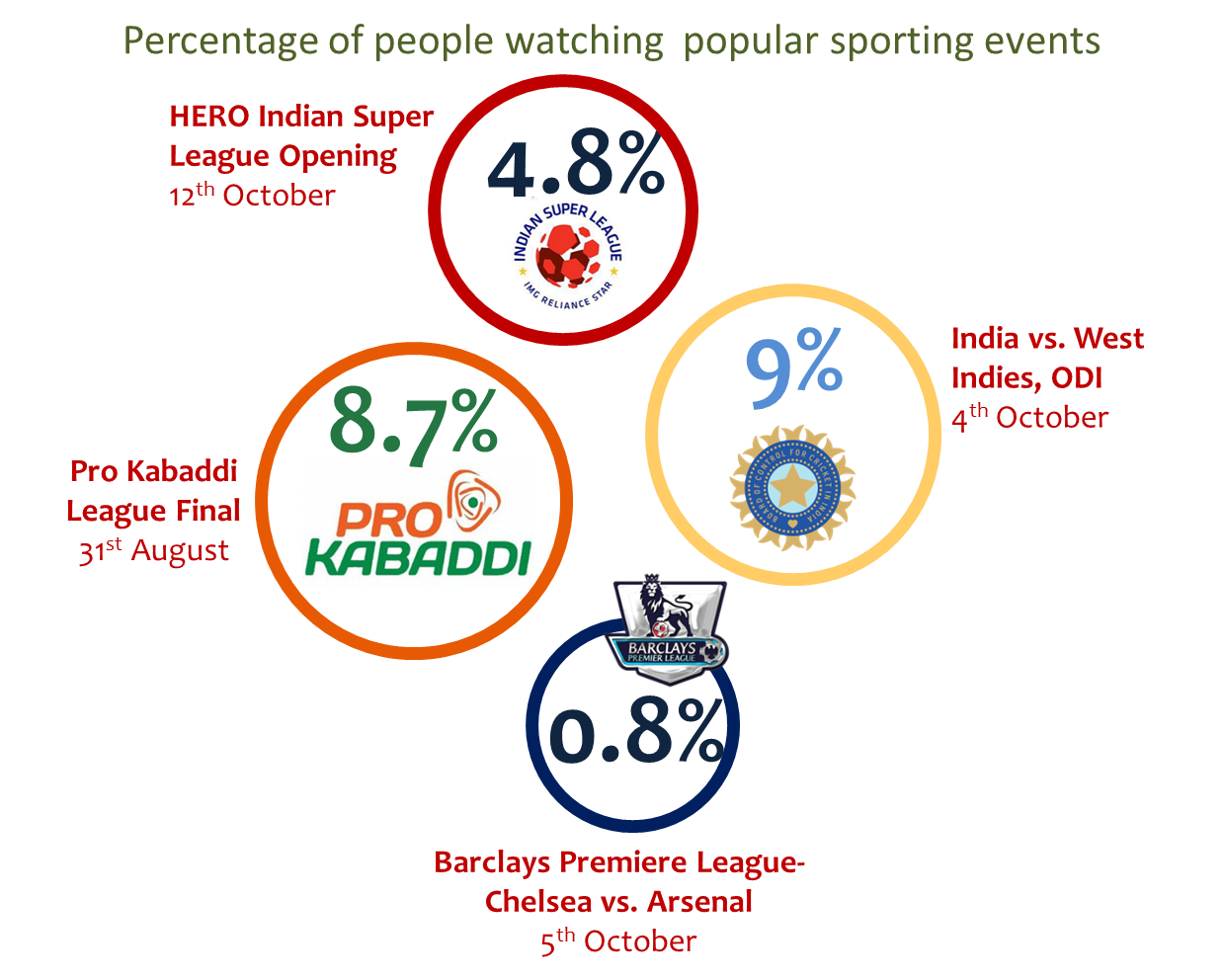 The opening game of ISL was watched by 5% of the entire TV watching population, which is almost 5 times the number of people (almost 1%) who watched the Barclays Premiere League - Arsenal vs. Chelsea game, one of the most exciting matches of the tournament. ISL opener also attracted almost half the viewership compared to the finale of Pro Kabaddi League and the second ODI between India and West Indies in the current series.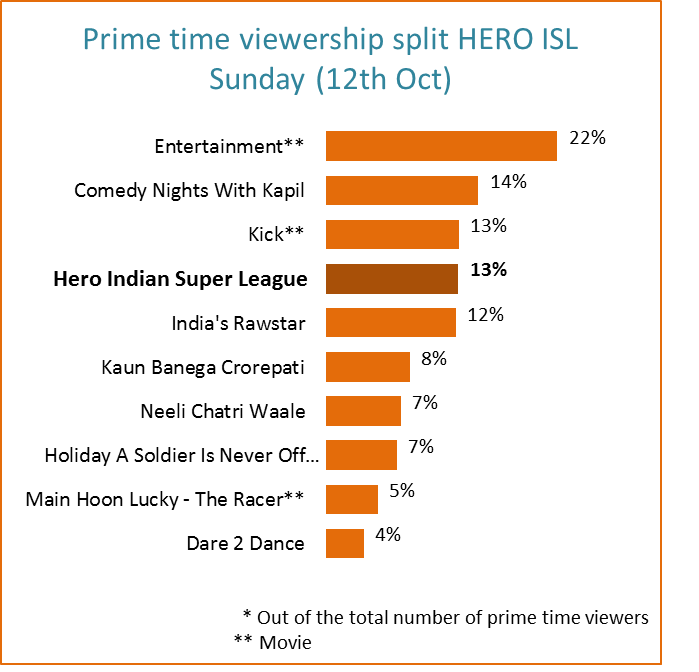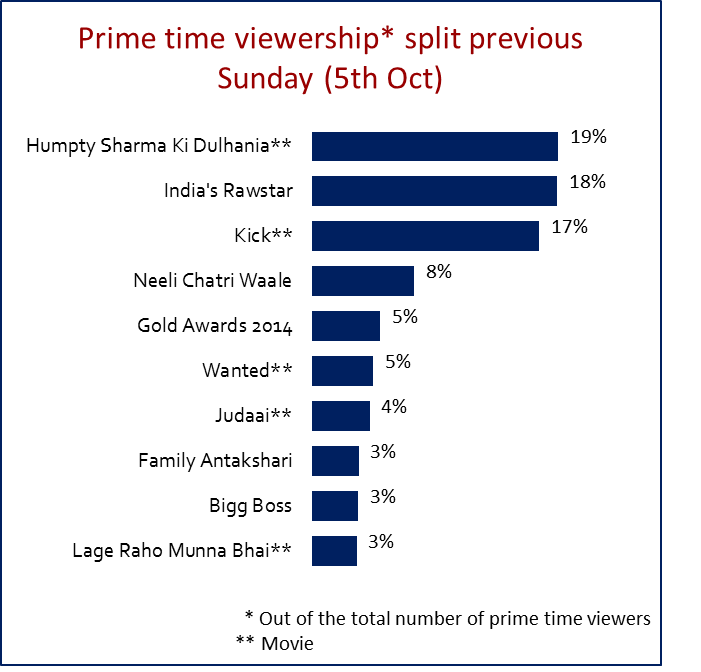 When compared to other shows playing on 12th evening prime-time, ISL ranks fourth,trumping the popular Yo Yo Honey Singh reality show - India's Rawstar. Of the total viewers glued to TV that evening, 13% enjoyed Hero ISL. The top 3 audience picks were Entertainment (Akshay Kumar movie premiere), Comedy nights with Kapil, and Kick (Salma Khan movie) with 22%, 14% and 13% audience share respectively. Compared to these behemoths, a 4th rank for a new format sports series opening game is a fabulous achievement. Surprisingly, Bigg Boss could not even be seen in the top 10 picks.
---
Hero ISL viewers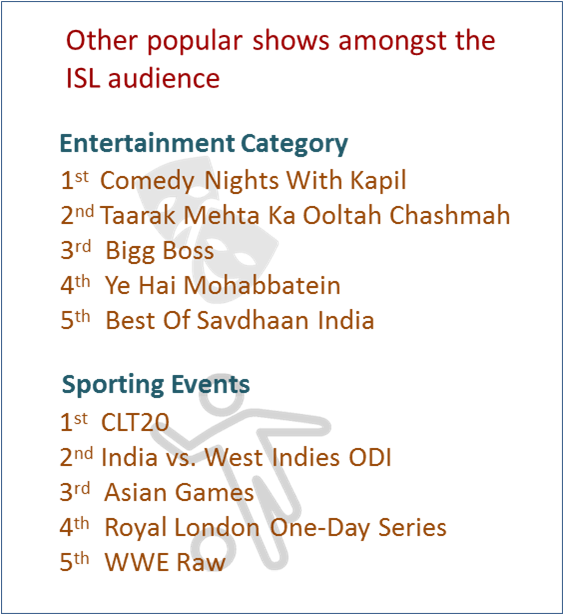 If we take a closer look at the ISL audience specifically, we see that it includes not just football fans or sports lovers, but also the average Indian TV viewer.The top shows watched otherwise by the ISL audience, include popular drama and reality hows like Comedy Nights with Kapil, Tarak Mehta Ka Ooltah Chasmah and Bigg Boss.
Moreover, their top sporting events includes not only soccer, but also a lot of cricket. It's safe to conclude then that ISL is drawing attention from the masses that do not really follow football.
---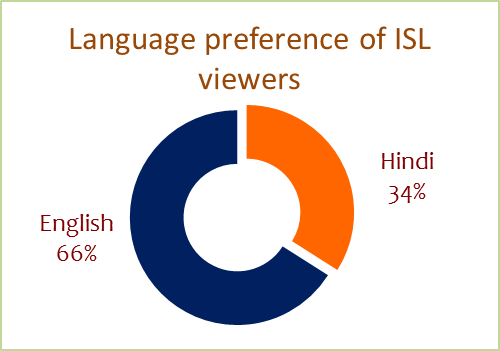 Another interesting characteristic observed was the language preference of this audience. The larger Star network channels telecast the match in Hindi and English, while a few other channels telecasted in regional languages. Of Hindi and English, English seemed to be the clear winner with two thirds of people watching the match in English. That's surprising given the fact that their otherwise top shows and genres are all Hindi based. Looks like us Indians like to watch our sports with English commentary.
---
Summary
It looks like ISL is off to a good start, and the IPL-ish format with celebrities galore is a sure shot success mantra for sporting events. Whether it sustains the interest of the larger populace, however, is yet to be seen. Of course, we will keep watching ISL's progress and sharing the insights with you. Keep watching this space for more updates.
Source: This blog is based on comprehensive TV viewership data crowd-sourced from people across 1000+ villages, towns and cities of India. For any queries, please contact us at feedback@zapr.in.