2017 was a hallmark for football in India with the FIFA U-17 World Cup hosted for the first time on home grounds, and the Indian team's debut entry into the tournament. With a growing fan-base for football telecasts nationwide, has FIFA left a lasting impact on commercialized and regular running leagues like the Indian Super League (ISL) and Premier Futsal?
At Zapr Media Labs, we studied millions across two major football tournaments to answer critical questions of reach, audience spill-over, geographic penetration and user affluency. Our TV analytics reveal how media planners can target relevant sport audiences with highly precise cross-screen experience, from TV to Mobile.
Moreover, Zapr can analyze TV viewership insights of commercials during these big ticket events, such as IPL or World Cup.

First, we examined daily viewership charts of the two football tournaments:
FIFA U-17 opens with high reach but sees a drop as India falls out
FIFA U-17 opened with the highest reach record of 4.7 million TV viewers for 2017. Interestingly, 10th Oct witnessed a drastic dip from 2.8 million to 1.3 million following India's knockout from the tournament on 9th. The tournament picked up its TV following in the next few days and closed with 3.8 million tuned in for the final showdown between England and Spain.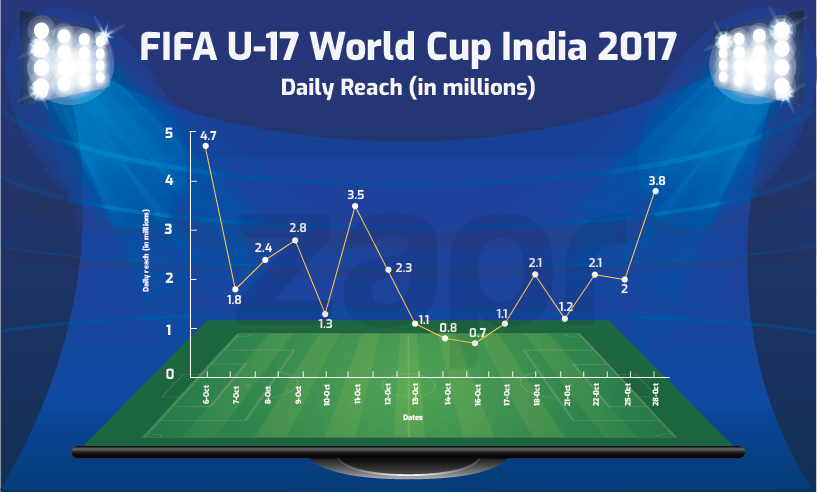 The Indian Super League opened with the season's record high of 9.4 million TV viewers. Similar to FIFA U-17, the league experienced erratic viewership for most of the season. However the last few days had lesser shifts, as visible in the chart below, suggesting that people would tune in more consistently as the finals moved closer. Marketers can deep-dive into our TV analytics data to identify these loyal viewers and find out how many converted to the finals after watching previous matches or after being exposed to ISL promos.
Did FIFA make people stay back for ISL?
We conducted overlap analysis to find out the spill over from FIFA U-17, which ended on Oct 28th, to ISL which started the very next month. Turns out that the former left a significant impact on the minds of football viewers with 28.83% of FIFA viewers tuned into ISL. At Zapr, our TV analytics technology can further map out sport audiences by leagues, channels and affinity - light, mid and hardcore sport viewers. Marketers can directly contact us for overlap analysis across different sport events.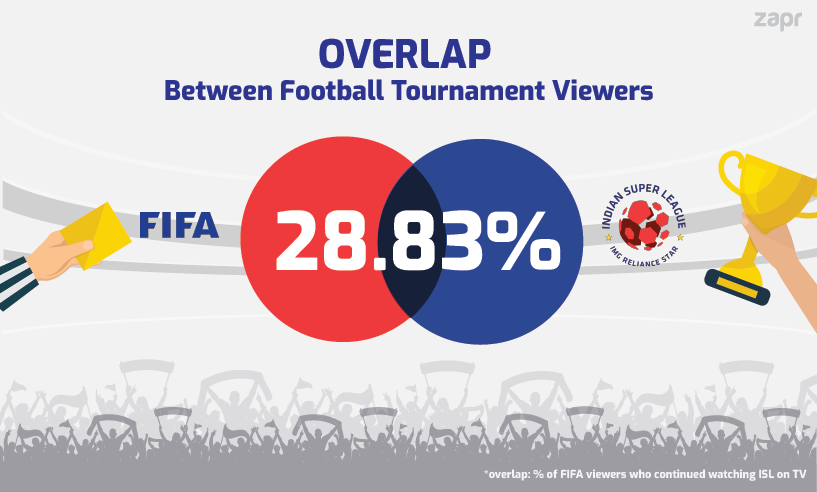 Football penetration: the real score
While aggregate numbers give a large picture of viewership, we dug into another metric called TV penetration to understand the relative reach index of each tournament. For each tier of cities in India, we measured show viewership to the number of TV viewers active in that region. Our results reveal interesting data-backed insights on how different cities watched the two popular football tournaments.
FIFA U-17 had highest viewer penetration in northeast India with cities like Imphal (16.44%), Shillong (12.84%) and Aizawl (9.13%) topping the chart for cities above 1 lakh population. West Bengal lived up to its name as the hub of Indian football with Haora (7.65%) topping 1M cities and its capital Kolkata (10.37%) leading among metropolises. Interestingly, not a single southern city featured in the top five among 1M cities. Take a look: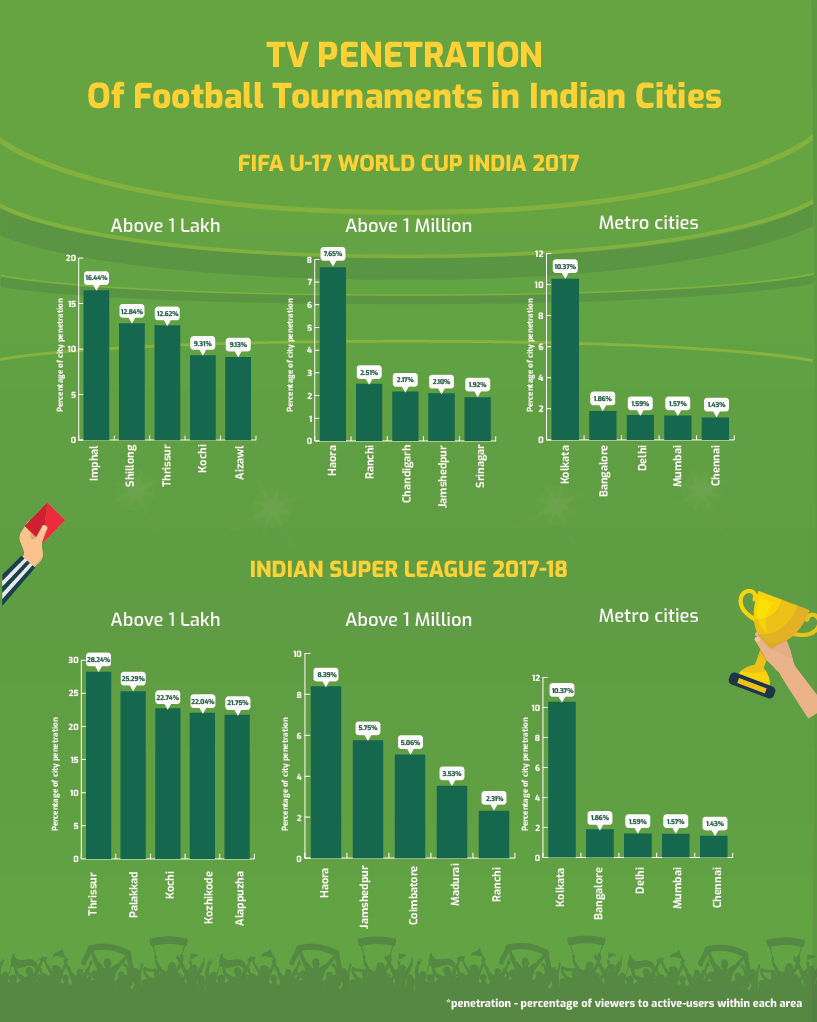 ISL had the highest penetration in the state of Kerala, another major Indian football hub. Top spots for 1L cities went to Thrissur (28.24%) Palakkad (25.29%) and Kochi (22.74%). While Haora (8.39%) also topped 1M cities for ISL, southern cities such as Coimbatore (5.06%) and Madurai (3.53%) featured in the top five. Interestingly, ISL had higher penetration among metropolitan cities on an average compared to FIFA: Kolkata topped with 9.6% followed by Chennai (3.29%) and Bangalore (2.51%).
Demographics, purchase power and socio-economic indicators:
Zapr analyzed the demographics of football fans by tapping into user-provided information on social media. 75%+ of both FIFA and ISL viewers were college educated. We further plugged into affluency indicators by studying the professions of football fans. Our studies reveal that majority of ISL viewers (45%+) hold premium, new age jobs in fields such as Engineering, Sales and Media. FIFA viewers largely belonged to traditional sectors with 56%+ holding positions in Government, Administrative and community service jobs. Marketers can further dive into socio-economic class indicators by analyzing handset range and deriving the purchase power of sport audiences.
ISL had the largest TV following among men between the ages 18 and 24 (41%), followed by women between 25 and 34 (38%). However, there was not much difference in how men of both age brackets watched FIFA, as seen in the chart below: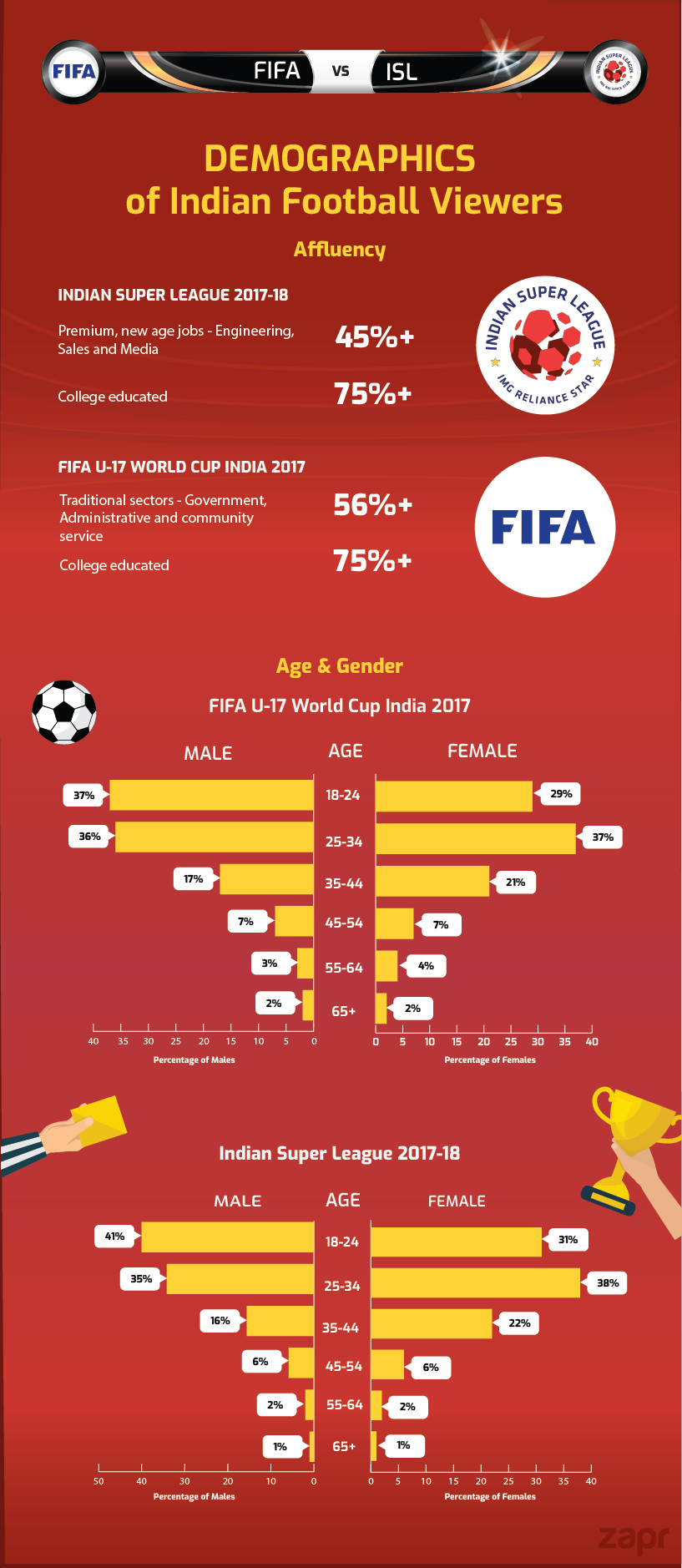 With football growing into one of India's most sensational sport telecasts, loyal audiences can be profiled across their TV consumption. Event marketers and brands can stand strong in the minds of these high-affinity segments by reaching them straight on their mobiles, without incurring heavy spends on TV.
In the next Zapr TV analytics piece, we map out the reach of brand ads during the two popular football tournaments. Brands often ask, have my ads reached the right target group? Stick around to find out.
Reach out to us on hello@zapr.in to discuss TV-to-Mobile targeting campaigns, data projects and surveys. Don't forget to subscribe to our newsletter to receive in-depth TV analytics pieces straight in your mailbox!