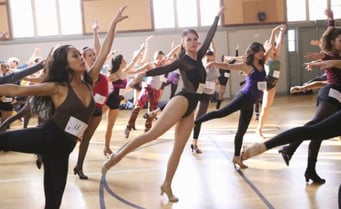 It is one of those shows that we tend to ignore in the midst of crime thrillers and laughathons . It might not be a hyper verbal comedy but has a few other things to its credit.
"Bunheads" starts with an audaciously arbitrary plot twist. The sassy and cynical Las Vegas showgirl Michelle Simms blind drunk after a pity date with a nerdy admirer, Hubbell woke up married to him. After Michelle saw Hubbell's idyllic but rustic hometown, named Paradise, and met his formidable mother, Fanny, logic dictated that she would high-tail it back to Vegas. So the maker of the show killed off Hubbell in the first episode, stranding Michelle in Paradise and saddling her with enough guilt and responsibility to make it mildly plausible when she stayed to help at Fanny's dance studio.
This show is beyond being a charming and funny show, has the great merit of being unlike anything else on television at the moment. It doesn't fit into any of the typical prime-time genres, though it has affinities with teenage comedy and family drama. It could also be grouped, very loosely, with the music show "Glee" and the theater show "Smash," except that "Bunheads" gets at what performance really means in its characters' lives rather than using it as a kind of artificial sweetener to stimulate the fantasies of the audience.