New Year's Eve was a Bollywood party right at home for 71.4 million Indian TV viewers who tuned in to watch the last Hindi movie award show of 2016. The 'Star Screen Awards' gave Star Plus a whopping 1.6x rise in Primetime weekend viewership compared to previous weeks in December. Zapr Media Labs tracks viewership for the show which gripped viewers up till the very last hour of the year.
Using cutting edge TV-to-Mobile mapping technology, we identified these viewers and profiled their award show consumption in 2016. Our insights reveal an audience segment who tuned into almost every major Hindi movie award show aired on Television.
Hourly viewership breakdown of the telecast shows drastic rise from the first to the second hour as Box office hits like Pink and Udta Punjab bagged several award categories. 24.7 million viewers tuned in between 8:00 PM and 9:00 PM. The number rose to 38.1 million viewers between 9:00 PM and 10:00 PM.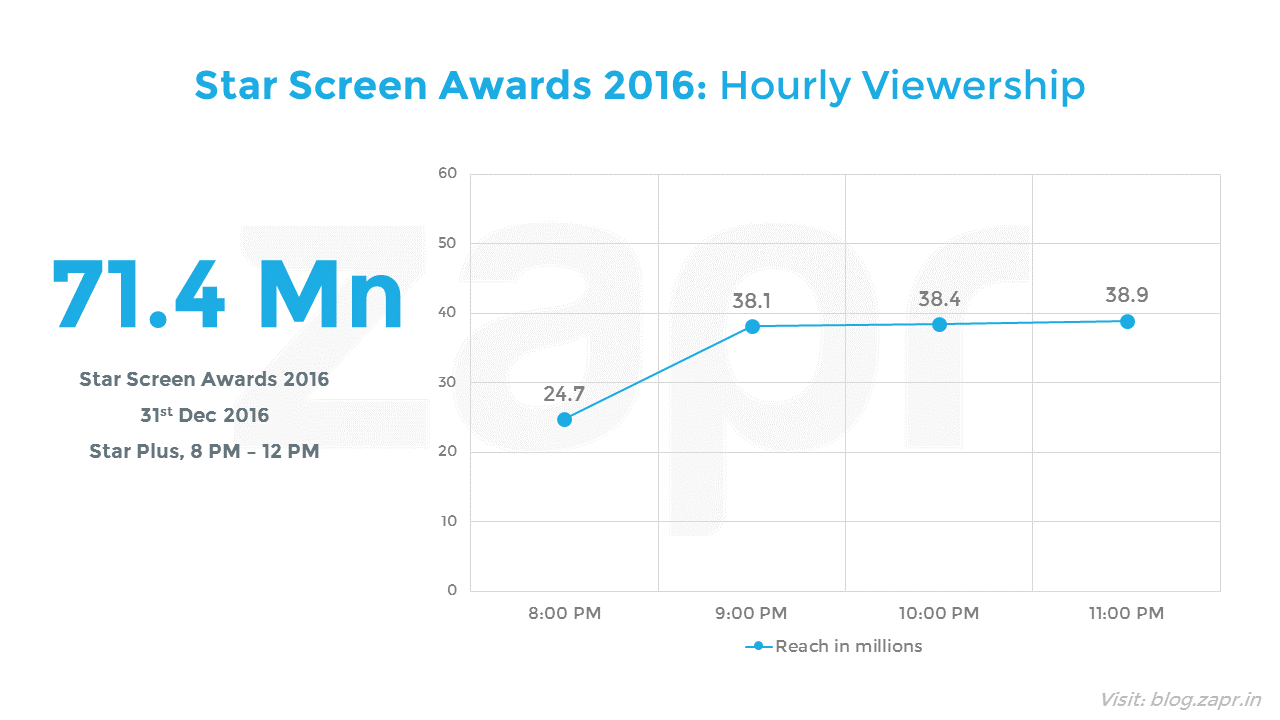 The rest of the telecast received highly consistent viewership maintaining 38 million viewers until the show ended.
Our viewership overlap studies at Zapr Media Labs show that significant percentages of Star Screen Awards viewers previously consumed other Bollywood award shows on Television.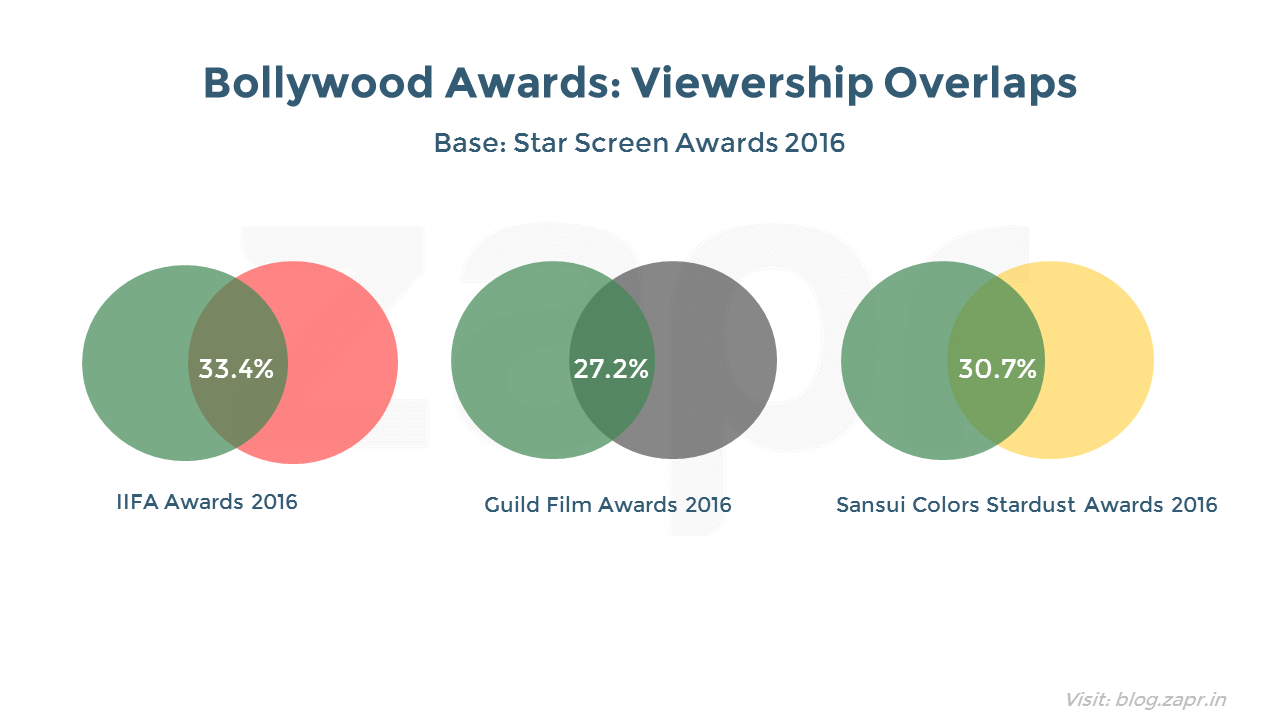 33.4% watched IIFA Awards on Colors, 27.2% watched Guild Film Awards on Sony TV and 30.7% watched the Sansui Colors Stardust Awards.
Since these viewers diligently followed Hindi stars across major award shows, we were curious to know the actual shows and movies that interest them. So we profiled the Television consumption patterns of Star Screen Awards viewers and shortlisted their Top Five most watched Hindi Movies and Entertainment shows in the month of December 2016.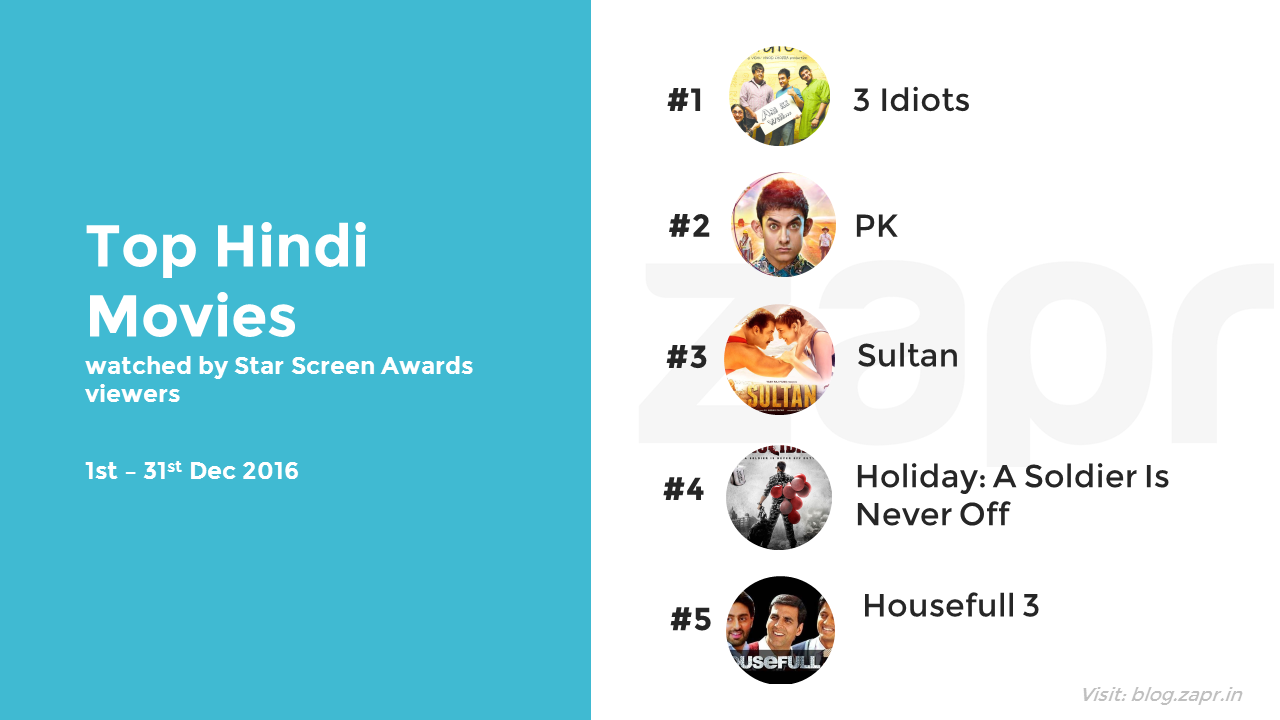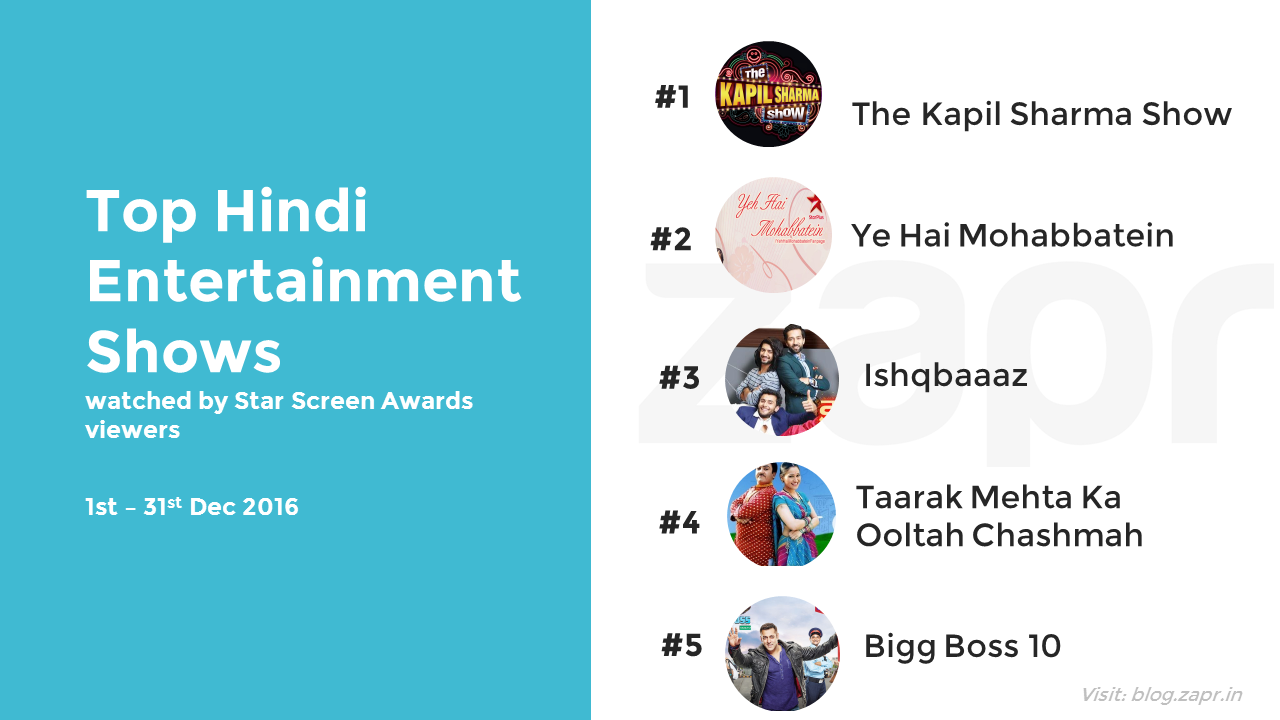 The Zapr ad-tech platform enables Brands and advertisers to identify Bollywood movie buffs and viewers of specific Hindi Entertainment shows by their content consumption patterns. These viewers comprise niche interest groups in the Zapr audience pool, much like Facebook interest groups with high potential for brand engagement.
Zapr geographically maps out viewers at highly granular levels like states, cities, towns and even smaller localities. The Star Screen awards had the largest number of viewers located in Maharashtra - 10.3 million viewers. Uttar Pradesh followed closely with 9.9 million viewers. Gujarat had 6.8 million viewers. West Bengal and Madhya Pradesh made it to Top Five with very close margins of 4.5 and 4.2 million viewers respectively.