After the top actors and actresses of Bollywood, Zapr now presents the movies which had the highest reach impact across India's TV viewing population.
Using Zapr analytics, we measured unique viewership for all the Bollywood movies aired on TV and picked out the ones with highest reach across all telecasts. We did this by identifying mobile users individually across our 40 million plus user base, and tracked their TV viewership.
The same individuals are profiled across their consumption preferences and can be engaged on whatever apps they use.
It turns out that 2016's top movies boiled down to an all too familiar clash of the two King Khans: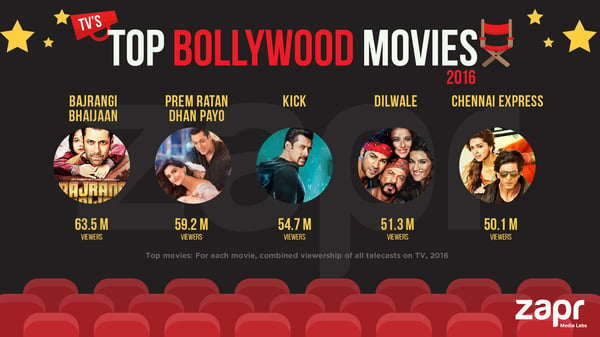 We conducted further study in broadcast movie consumption across major metropolitan cities in India.
Our Data shows consumption patterns which reflect certain regional affinities. In the chart below, we see that Bahubali: The Beginning was highest viewed in Southern cities like Hyderabad, Chennai and Bangalore. The movie which was originally released in Telugu and Tamil was popular in its Hindi dubbed version in these cities.
The movie Kick which is an official remake of a Telugu film with the same name also featured in top three movies for all three South Indian cities. So either a remake or a dubbed version does the trick? (Erm…)
It is also interesting to note that the movies Bajrangi Bhaijaan, Dilwale and 3 Idiots together featured in top three for all Northern metro cities considered in the study - Delhi, Mumbai and Kolkata.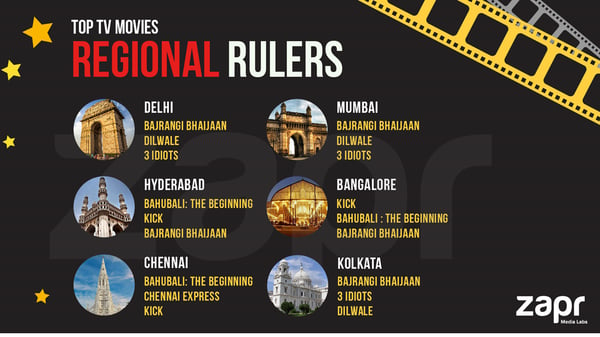 Up next we have the biggest crowd pullers among Bollywood stars who were special guests on TV talk shows!