We recently looked at Hindi Television stars and compared their viewership with their payout to find some really interesting correlations. It's only fair that we now turn to the biggest of all entertainment giants in India - the Hindi film industry.
Zapr Media Labs conducted a study on all things Bollywood for these infographic reports. We looked at how the biggest stars affected TV viewership trends through their sheer gravitational pull, the hit movies that still attract loyal viewers and unique insights that tell us more about our guilty pleasures and love for Bollywood.
Our data reveals interesting insights on each actor's reach and audience loyalty. The metrics are crucial for tapping into target audiences of these actors who are often ambassadors for major brands and big budget shows. Zapr's user mapping identifies these individuals across their TV consumption and reaches out to them on their mobile phones no matter which apps they are on.
Here's a list of the five most popular actors in 2016: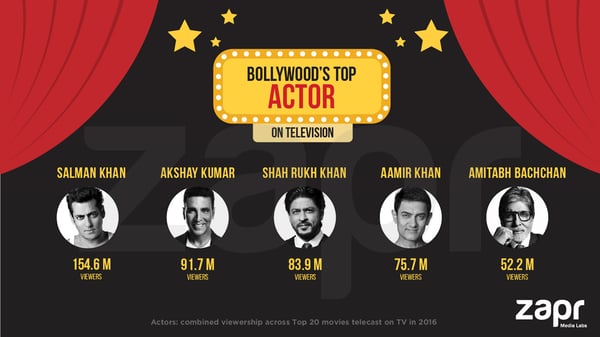 Salman Khan stole the show outdoing other top actors on the chart by far.
Stick around to find out the most watched actress in B-Town!
---