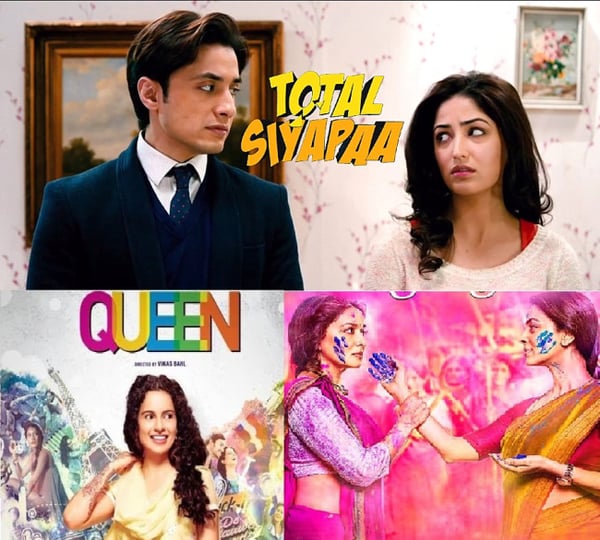 QUEEN
Kangna is never the girl next door rather queer characters are her forte. Her upcoming film has gotten stars to dance to her beats; it's been also called her best work till date. An ordinary Delhi girl with a hidden intriguing personality goes alone for her honeymoon and unturns quite a few stones on the journey, leading to some hilarious situations. Naïve yet spunky Rani cracks me up every time I see the promo. This is the pick if you are in for some offbeat acting to tickle your bones.
TOTAL SIYAPPA
Muslim boy loves Punjabi girl and it's all rosy till they know he comes from Pakistan and you know what happens when Indians especially Punjabis meet Pakistanis. But this film will change what you know and churn out a romantic comedy instead. Yami says," like Vicky Donor, this one also might freshen up people's perspective without belittling anything". In your face comedy with a cute love story; makers have the backing of 'A Wednesday' and 'Special 26'.
GULAAB GANG
Two actresses who have shaped up the cinema of the 90s are coming together for the first time, as potent female characters. Madhuri who defines grace would be seen in an action role and Juhi as a cunning Politician. The story is based on a group of women activists who symbolically done pink sarees in their fight against injustice. This movie is about promising character portrayal and an awe inspiring backstory. If serious is your mood, then this your pick.