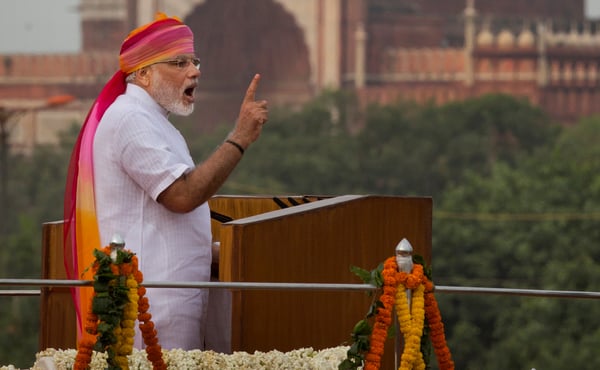 The 70th Indian Independence Day programme on August 15th 2016 saw 51.4 million TV viewers tuned in to watch PM Narendra Modi's speech. Broadcast live across many news channels in the country, the telecast received viewership that was 12 times higher than the viewership for PM Modi's interview on 27th June 2016 - the first ever interview by a sitting Prime Minister of India to a private television news channel.
(read:https://blog.zapr.in/2016/06/30/times-now-pm-narendra-modi-interview-urban-audiences-claim-highest-viewership/ )
The speech witnessed a highly consistent viewership throughout the telecast and experienced the sharpest peak towards the end: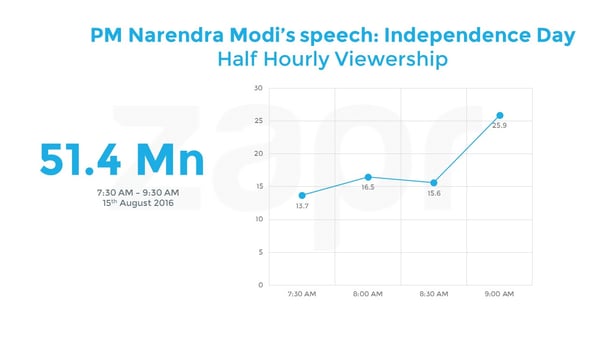 Among the states which had the highest viewership for the independence day telecast, the number of urban audiences were larger than rural audiences. The state of Uttar Pradesh claimed the largest number of both urban and rural audiences tuned in to watch the Prime Minister's speech. The states of Maharashtra, Gujarat and Rajasthan followed closely.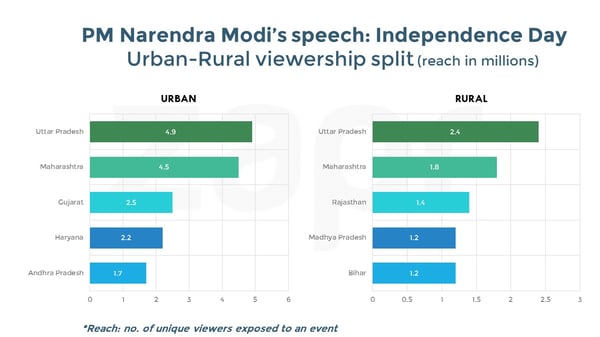 Being one of the few gazetted holidays in India when many business and entertainment spots outdoors are closed, the day experienced a 14% rise in the overall television viewership across India compared to the average television consumption in the previous week. The people who watched the Independence Day programme consume the highest amount of Hindi entertainment and Hindi news content.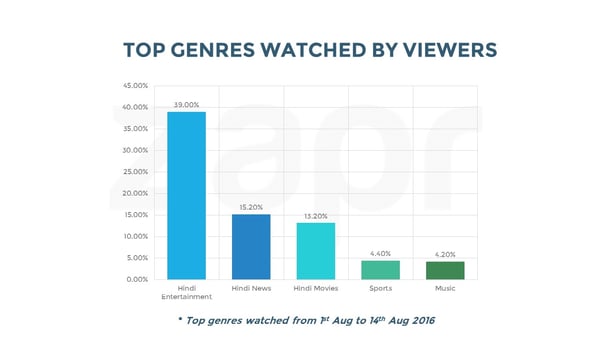 The film "Sholay" on Star Gold and "The Kapil Sharma Show" on Sony Entertainment, were some of the most watched TV shows this Independence Day.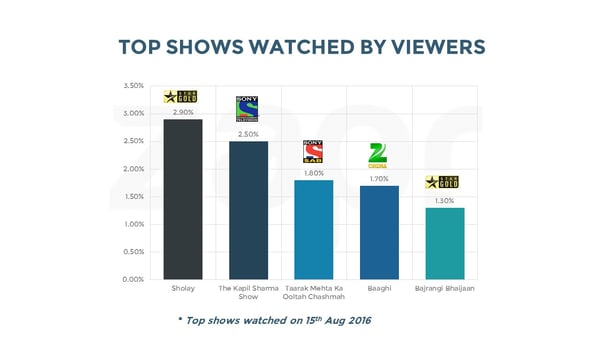 Watching TV is definitely luxury on a holiday spent indoors. So what better time to engage with your audiences than when they catch up with their favourite shows on television?
You can now identify your audiences and engage with them in real-time through ZAPR's audience engagement platform. Furthermore, ZAPR can help you identify individuals who watched other specific programmes on TV and profile their TV viewing habits across other shows and TV genres.
Many brands are leveraging ZAPR's technology that enables you to identify your audiences with varied interests, spread across different genres, and target them for your brands and products.