New Zealand's Cricket tour of India coincided perfectly with the Diwali festivities: the Test matches followed by India's glaring victory at the ODIs attracted a massive viewership of 200 million unique TV viewers in India. In a show of high viewership loyalty, 69% of viewers watched both the Test series and ODIs.
The ODI game format garnered 64% higher viewership than the Test matches, even rivalling the viewership numbers of the world's largest viewed cricket league - the IPL.
(Read more on IPL viewership here)
Here are some of the India vs New Zealand Cricket tour's viewership trends: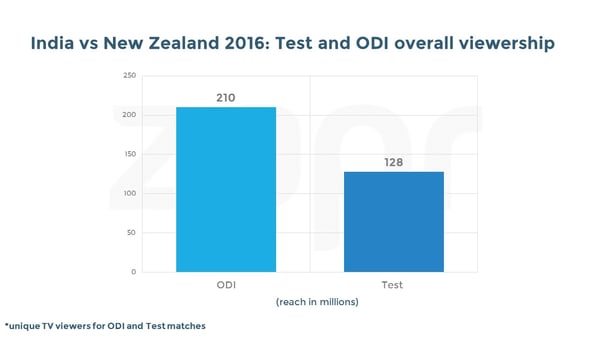 Viewership rose sharply across the span of three Test series in the tour: 71.6 million unique viewers in the first Test match, 87.8 million in the second and 107.5 million unique viewers in the third Test match - each match spanning over a couple of days.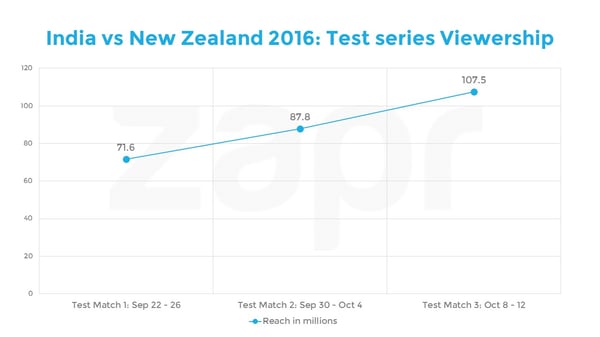 The third Test series started with 51.1 million viewers on day 1. Then experienced a peak on day 2 - 74.4 million viewers. Viewership fell to 50.8 million viewers on day 3 and ended with 64.2 million viewers on day 4.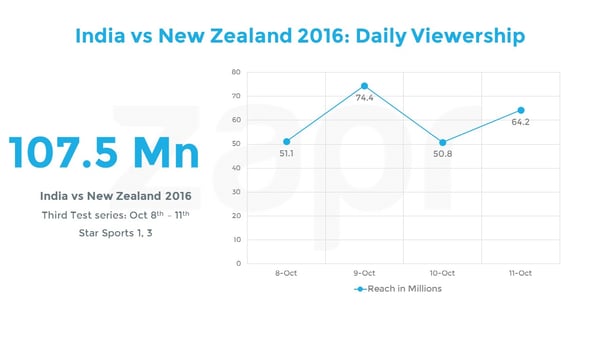 Maharashtra, Tamil Nadu and Andhra Pradesh were the Top 3 states with the largest number of viewers tuned in for the entire Test series.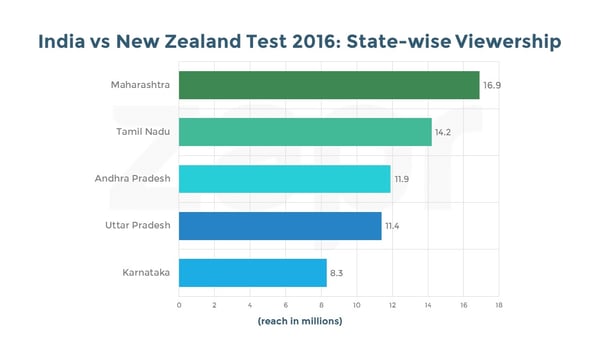 Viewership for the ODIs was not only higher than Test matches but also more consistent throughout the five days.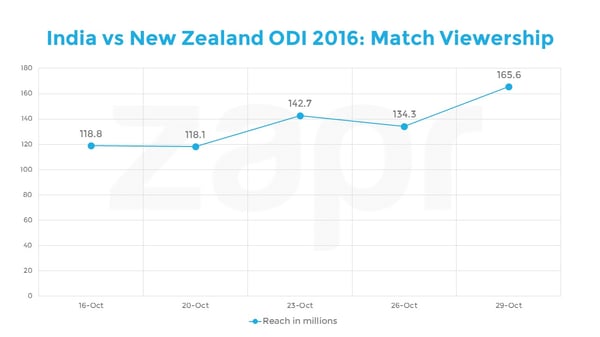 The fifth and final ODI on 29th October garnered the highest number of viewers in the series - 165.6 Million. Certain spikes in the day's viewership were corroborated by crucial moments in the match:
Between 4:00 PM and 5:00 PM, 63.3 million viewers watched Virat Kohli score an impressive half century in 62 balls. In the last hour of the match, 75.9 million Indian viewers watched the New Zealand team get bowled out as Amit Mishra broke record for the highest number of wickets in a five-match ODI series.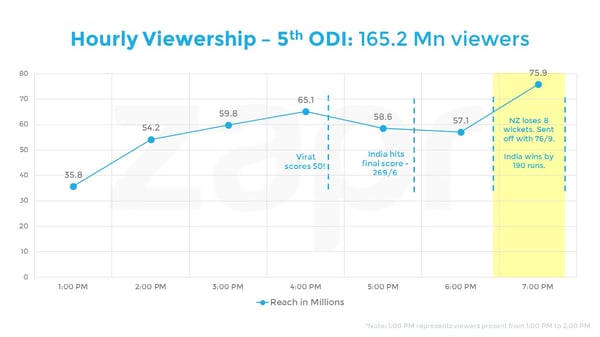 The ODI viewership distribution across different states experienced a trend similar to the Test matches. The same states made it to Top Five: Maharashtra had the largest viewership with 25.7 million viewers, Tamil Nadu followed with 22.3 million and Uttar Pradesh with 21.7 million viewers.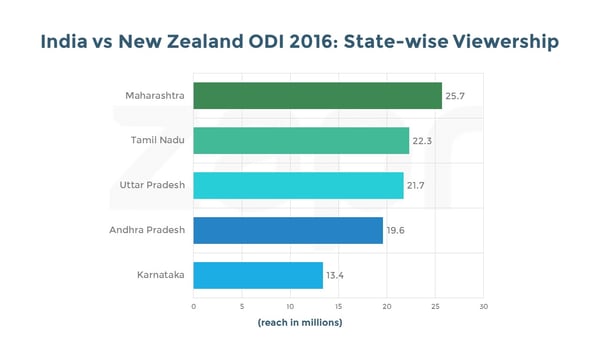 In addition to these viewership breakdowns, we also analyse specific viewership overlaps at Zapr Media Labs: do these viewers watch other Cricket tournaments? Do they generally consume a lot of Sport content?
Zapr's TV-to-Mobile platform can identify Sport viewers who possess high affinity towards brands and personalities associated with certain sports.
TV broadcasters and brands can now leverage Zapr's smartphone user-mapping technology and execute highly targeted engagement with smartphone users all over India.