Sweeping four victories out of five matches, the Indian men's Cricket team garnered as high as 113.7 million viewers for a single match in the recent India vs Australia ODI series. At Zapr Media Labs, we were curious to see not just how people watched the series on TV, but who exactly tuned in?
To find out, we ran a demographic analysis on match viewers and found out which age and gender groups expressed a higher affinity for the Cricket series. We also studied mobile-handset data which interestingly points out to above-average spending power among Ind vs. Aus ODI viewers. Check it out:
MATCH STATS:
The ODI series witnessed stable viewership spread across six matches, with only a slight dip on 21st Sept (90.11 million). The series saw a peak on 24th Sept with 113.79 million viewers tuned in for the match that sealed India's victory at the ODIs.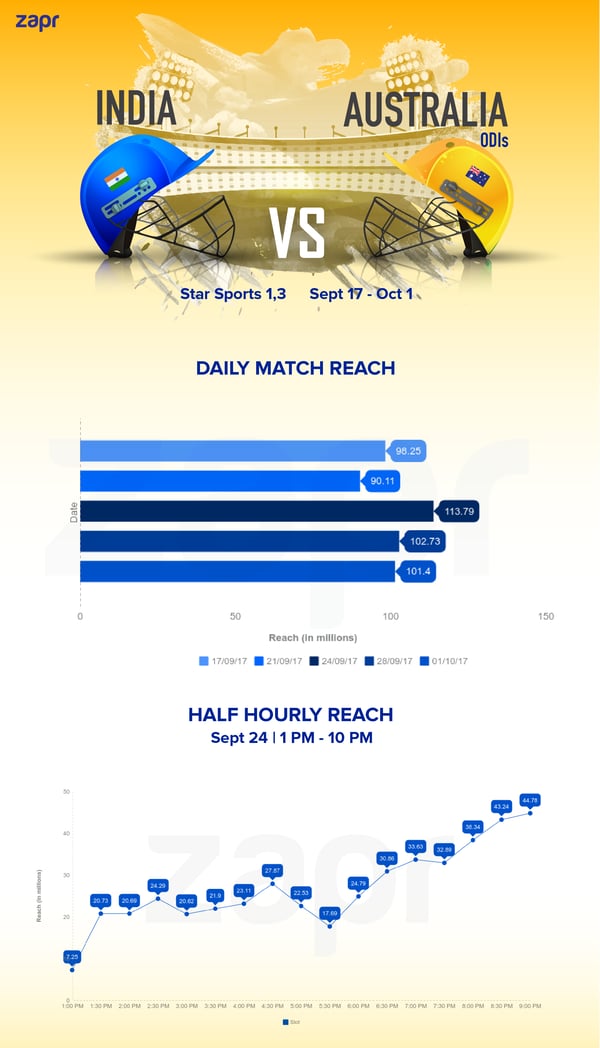 We further analyzed the third ODI to understand viewer-stability for a single match, and we found that the number of viewers increased as the match progressed. In the chart below, we see that 9 PM - 10 PM touched a peak with 44.78 Million tuned in for final match moments.
VIEWER PROFILES:
Zapr's TV-to-Mobile technology enabled us to measure with more than 99% accuracy individuals who tuned into the Ind vs. Aus ODIs. We segmented viewers within our user-base and found 84% male and 16% female audiences, and the majority age group that tuned in to watch the cricket series were 18 - 34 year olds.

Our smartphone-powered technology gave us insights into the kind of mobile handsets used by Ind vs. Aus ODI viewers. We found that majority of them (61.20%) owned mid and high-end phones suggesting that these audiences possessed above average purchase-power.