The ICC Cricket World Cup is like the Oscars of Cricket. Cricket fans around the world look forward to the series. And a majority of the cricket fans are Indians. According to a study by ICC, India constitutes 90 percent of one billion cricket fans.
This means, 900 million people celebrated India's victory against South Africa two days back during India's first match in the series. And nearly all of them are going to be glued to their screens on the following days: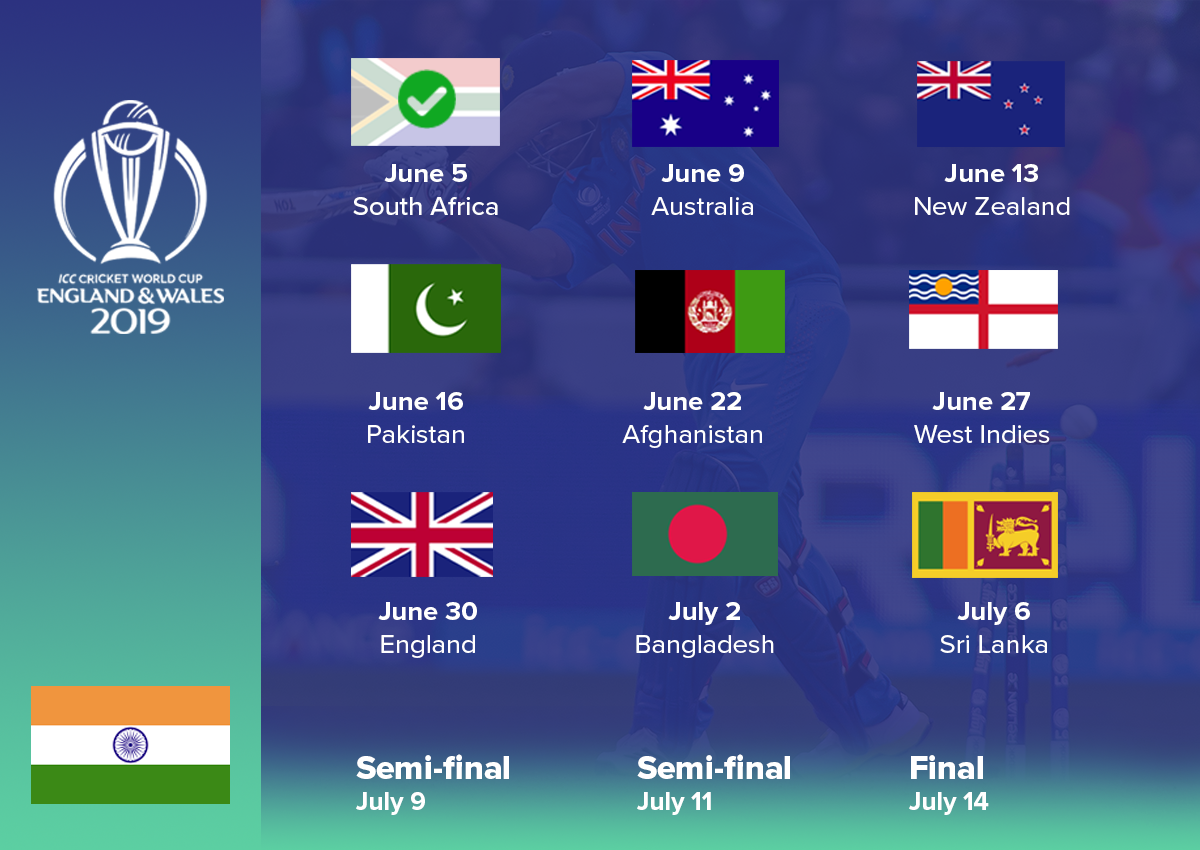 So if you are an advertiser looking to reach large number of audiences in the country, look no further. Chances are, you're already advertising on TV during the World Cup.
But if you want to do it in the most efficient manner, here's a list of things to do:
1. Sharpen your existing media plan further with insights on TV viewership habits
The first step to any advertising campaign is understanding your target group and their needs. In this case, your customers are cricket fans. Also they most likely would have watched previous cricket series and matches on TV.
Identifying these TV viewers from a database of millions in the country can have various benefits – you can get to know their previous TV viewing patterns, or what else they watch on TV during the ongoing series.
In fact, we have seen a 45% overlap of alternate channels during cricket matches. You can further enhance your existing TV media plan by considering alternate options to expensive World Cup ad spots.
Get data insights on TV viewership analytics like reach and performance of other channels, genres, shows, time slots, etc. and compare them with ICC World Cup channels. This can give you a more balanced view of the impact and cost effectiveness of your spends.
2. Target your loyal cricket audience on digital and reach your TG cost-effectively
TV ad spots during big ticket events like the World Cup are cluttered with several brands advertising at the same time. One of the ways in which you can create higher brand awareness and stay top-of-mind by extending your TV ads on mobile.
With an integrated TV and digital marketing technology, you can engage audiences on top apps that they use while watching the matches. You can further win back share-of-mind by targeting viewers of your competitors' TV ads with your own ads on mobile in real-time.
Another way to create huge impact in the minds of match viewers is by syncing live cricket moments with contextual ads on mobile. For example, Britannia engaged 2 million Asia Cup 2018 viewers on their phones with its ads celebrating its 100th year anniversary at moments when a batsman scored a century.
Similarly, Tata Motors reached over 5 million live viewers of their target audience during the FIFA World Cup 2018. This kind of moment marketing can be super powerful because you get to convert big TV moments into immediate brand engagement!
3. Measure your TV campaign performance and know what works best for your brand
Even when the World Cup comes to an end, your marketing efforts don't. Track how your campaign performed across geographies, matches, time slots, day of the week, channels, ad creative types, etc. This will help you make quick, granular analysis later to take strategic decisions.
Along with getting real-time data analytics, it is equally important to test for brand awareness, ad recall, purchase intent, etc. among your TV viewers. Engaging your TV ad viewers with surveys on their mobile phones is a good way to do this. Conducting brand lift surveys will help you measure the impact and effectiveness of your TV commercials aired during the World Cup.
You can further assess the impact of your ad spots and channels, figure out your best performing creative, get to know the optimal frequency of exposure for your ads, and do much more using accurate research. As mentioned earlier, quick feedback helps you take timely decisions.


Want to find out what else you can do in the coming days? We've got a bunch of ideas that will help you make the best of the World Cup matches. If you want more information on our offerings, get in touch with us here.