A fresher to work life, Aditi paved her own way through the challenges at Zapr. Sheer hard work and passion combined with Zapr's mentorship let her garner control over what she does here. Currently handling viewership data, the delicate component that impacts almost everything at Zapr, Aditi shares the story of her journey to this pinnacle of her career.
My life as a software engineer began with Zapr and it has been one hell of a ride here. Growing from someone who knows just how to write codes to building reliable systems, the journey has been purely exciting. Being part of the Algo team, my everyday challenges not only include ensuring data availability across our multiple sources like Druid and Warehouse, but also providing correct data.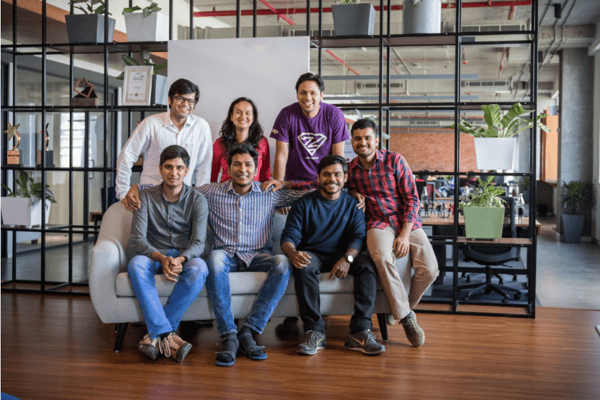 Coders unite: Aditi with the Algo team at Zapr
Laying the foundation right - Training myself to build
I was ready to move to Bangalore from my hometown. But the city still seemed strange to me at first. Zapr's Bangalore office took root and I settled into the new environment simultaneously. When I entered the office the first day, I only found our CTO, Sajo. The entire team was yet to relocate from Gurgaon.
My work at Zapr began on the Ad tech front. As our VP of Engineering, Siddharth tried explaining my work at Zapr, I didn't even have a clue of the jargons he used. This instance was more of a revelation than a session - a revelation on how much I had to learn to even begin my career as a software engineer.
My primary task was to create an ad server. Now that I look back, it was nothing but an elementary task. But at that time, I lacked self confidence and did not rely on my skills. At college, I used to write codes and run it. But this was a major leap and with no prior work experience, I was in fact, scared. This was more like a take-it-by-the-head challenge for me then!
It took me some time to get familiar with everything and I worked long hours while creating the ad server. To go through the documentation, trigger out the server on my own and at the same time ensure that it supported all formats - it required a lot of clarity and perseverance. At Zapr, we always take ownership and build everything. Building an ad server was clearly a massive experience for a fresher like me. But in the end, I had built an ad server on my own! Of course, I wouldn't have done it without Siddharth's guidance and my friend and colleague, Karthick's constant support. That was a time when I realized I had made the right choice in joining Zapr - a place where I could learn, grow and innovate.
Ad tech to Zapr's core - Moving away from my comfort zone
Once I got my basics right on the Ad tech front, it was merely adding more features and enhancing the existing ones. I wanted to learn more, dive into areas of work I had no exposure until then; I felt the need to move out of this comfort zone and understand Zapr's core - the data.
I lacked context when I started handling data - the "viewership side" of Zapr. Agam had joined Zapr as an intern initially and was the tech lead then. He guided me through this entirely new platform I had entered.He was my go-to person for every single doubt and I was comfortable working with him. In Ad tech, I had to just deal with latency, there was not a lot of data involved. But here, it is all about data. With data, every small aspect required attention as even the daily reports we send our clients depended on it. Analysing the data we receive is the challenge and we need to analyse it right! However small the changes are, we have to evaluate the impact. And this is crucial.
It is never an all-time easy and smooth workflow. We do have temporary issues on few days. At times, when we run the job in our systems to receive correct data, the job gets killed and we sometimes end up losing data temporarily. In that case, we re-run it. If it's an unfamiliar issue, we analyse it, work on it and fix it. We always get our data back. We never lose data.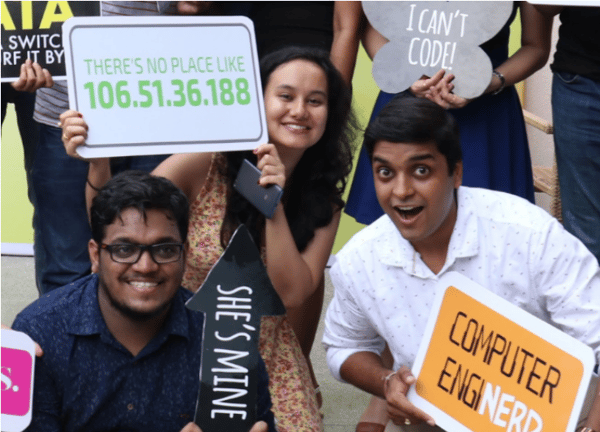 Zapr Family Fun Day: Aditi holding her favourite prop at Zapr photobooth
Multi Matcher System - When scaling up was not a choice, but a necessity
If we take a look back, we have had many instances where we encountered issues at Zapr. Especially while scaling up. But people at Zapr overcame every one of that obstacle just because they took it up as a challenge and never gave up. My first project in the viewership side was to build a multi matcher system. It was more than a testing ground for me.
Many a times, we have the same content being played on different channels. The challenge was to design a system which can determine the potential TV channel a user might have watched when multi-audio-content is detected. I had to start from scratch - I had to learn how channel and show matching happens and then build a system that suits this set up. The multi matcher system was the solution to this intriguing problem at Zapr.
The viewership correction generally took just forty five minutes. But when we wanted to deploy the multi matcher system, we were unable to scale up. We realised that we cannot deploy it in the set up we had then as it was consuming too much time. We spend weeks to analyze the problem and figure out a suitable solution - something that helps scale up, yet not disrupt the existing system. Agam and I used to work even on weekends to discuss and solve the issue. It was days and days of research, discussions, trials and errors. But in the end, we fixed it and I consider this a great achievement.
The support pillars - Hold on anytime you feel you're lost
The mentors at Zapr are reliable support systems. Seeing them work and mentor new joinees like me itself is inspiring. Sajo set the context right for me and he gave me a heads up on what I should be familiar with even before I joined Zapr. This helped me a great deal during my initial days at Zapr.
With Siddharth, it was altogether a teacher-pupil relationship where he even made a couple of us read through an entire book in 2-3 hours on the first day. We even had a discussion session post that to analyse what we had learnt by then.
Most companies have mentors who guide and help out new entrants. But at Zapr, they look into intricate details so that you learn everything end-to-end. Even while writing a single piece of code, Siddharth used to make me sit with him and tell me how it is to be done, where to add exceptions and where variables are necessary. From making a code backward-compatible to systems to deployment, Siddharth guided me through my learning phase at Zapr.
People at Zapr - Divided by teams, united by culture
Zapr grew tremendously and at a fast pace. Initially we had very few people. We grew into a large team real quick. With the ice breaker sessions we have for every new joinee, our interactions begin from Day 1. I feel they understand the systems in no time and get along with everyone very quickly. It's just the initial problem - we, as a small team had been working by ourselves so far. But now we work together and make projects go live.
We have numerous teams at Zapr and have constant cross-team interactions. Data Analytics team is dependent on us to receive correct data. In case of any issue, they inform us in the morning and we prioritize it according to our tasks for the day. If there is anything that needs to be communicated to any other team, Mayuresh, our Project Manager ensures that it gets done. He is the link that connects every team at Zapr while working together on projects. Sometimes we go directly, talk and get things done. We have a lot of interactions and it's extremely easy communicating this way with each other.
At Zapr, everyone is immensely dedicated to their work and so, the only problem that occurs is that we might not have enough time. Most of the time we are absorbed in work and we follow our timelines. We work on data which needs core precision whereas we are extremely flexible at work with no stringent schedules. But we ensure that everything happens on time. When Zapr gives so much to us, we owe it our best.
Check out our team at Zapr Media Labs and see where you fit in! If you want a deeper understanding of our technology and operations, visit our website. You can also check out our data insights and case studies on the blog.
We're just a scroll away. Connect with us on social media for quick updates and announcements: LinkedIn, Facebook and Twitter.