The Telecom Regulatory Authority of India (TRAI) has been taking a lot of heat over the past few months. Initially, it was the broadcasters and DTH operators complaining about the new Tariff order. Now, it is the consumer's turn.
While the Tariff order was introduced and implemented last month with good intentions supporting consumer benefits, subscribers have received higher TV bills than before instead of the promised lower rates.
Consumers now are not only responding on social media with outrage, they have also started unsubscribing. For example, according to Zapr's insights, Sports channels have seen a sharp 41% drop in viewership between the months of January and February. This is particularly not good, especially with prime sports events like the IPL coming up.
Here's a 3-step checklist you can follow so you don't lose your TV viewers and ensure they stay subscribed to your channels:
Step 1: Understand where you're facing losses
In order to solve a problem, the first step is to understand it thoroughly. Accurate data insights based on real-time analysis can give you the answers that you're looking for.
Over the past one month since the TRAI order came into effect, we've observed a severe drop in TV viewership across no less than 24 channel genres! This observation was made based on our steady analysis of over 500 channels.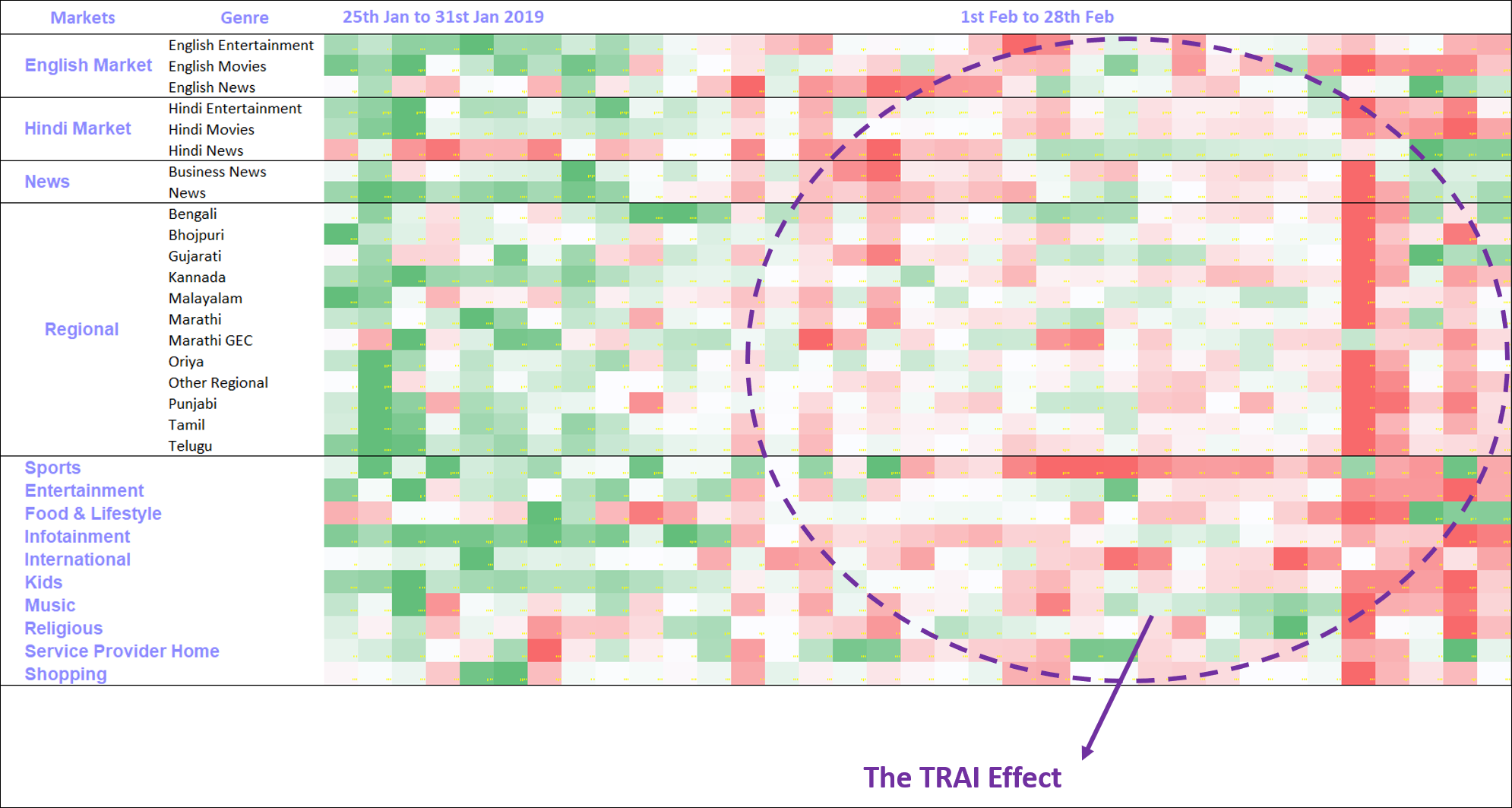 Identifying your strengths and weaknesses on a daily or weekly basis will help you improve your TV plan. Get real-time viewership and impact analysis across channels, genres, geographies (state-location-class), day of the week, time-slots, metrics (reach, impression, time spent, etc.) and much more.
By acquiring TV viewership data of your channels sooner than ever, you'll even be able to stay ahead of your competition. In case your access to standard TV ratings are disrupted during this period of change, subscribe to our real-time TV data insights immediately!
Step 2: Find out what your consumers want directly from them
Last month, TRAI announced a new 'Best Fit Plan' to be implemented by service operators, containing only those channels that a particular subscriber prefers. It aims to solve the higher TV bill issue as the plan shouldn't exceed the current bill amount of the subscriber.
The best way to go about this is by reaching out to your TV viewers directly and asking them what they want. But first you also need to identify who they are.
Using targeted surveys on mobile, you can reach out only to relevant TV audiences who watch your channels, or might be potentially interested in subscribing to your channels.
By executing high-velocity consumer research at PAN India or socio-cultural-regional levels, you can do the following things:
Get real-time information on consumer usage pattern, preferred genres, choice of languages, etc.
Conduct A/B testing of prices/packaging among audiences of your choice
Understand why audiences of your competitor's channels prefer those over yours
Most importantly, Identify why your audiences are dropping off from your channels
Step 3: Engage with your TV audiences more personally
While showing 'Subscribe to our channel' ads on TV does reach a wide number of viewers, engaging them individually on their mobile phones can further prompt your consumers to take action. This is possible through an integrated TV and digital marketing tech platform.
Complementing your 'Subscribe' ads on TV with the same on mobile has its benefits:
Increase in frequency of your ads result in better recall
Build reach by targeting audiences who haven't seen your 'subscribe' message
Creates a sense of urgency more effectively
Mobile ads further have Calls-To-Action that can lead them to take instant action
In fact, there's so much more you can do. For example, syncing your ads on mobile with the right TV moments can create better impact. Detailed TV viewership data can further give you insights on the right time-slots to execute ads.


While the new Tariff regime is still being debated by consumers and broadcasters alike, there are several benefits such as transparency in communication, level-playing field, etc. By leveraging these benefits using an integrated approach, both consumers and broadcasters will be rewarded. Reach out to us for more details on our offerings and solutions here.