We are elated to share with you that Zapr has bagged four big awards at the MMA (Mobile Marketing Association) Smarties Awards 2017. It is most humbling and motivating to present our tally of 2 Golds, 1 Silver, and the industry award for 'Best In Show' across all categories at this year's MMA Smarties!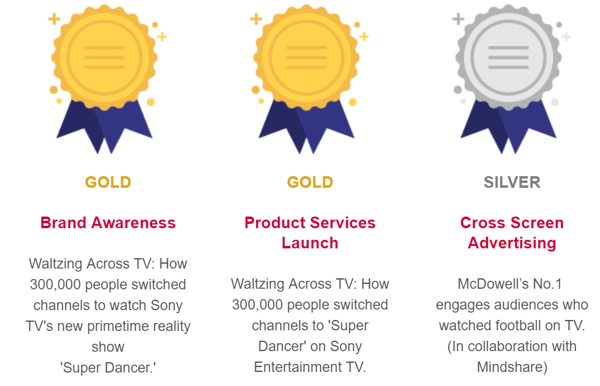 Industry award for the most innovative and disruptive work out of 300+ entries across all categories of the MMA Smarties Awards!
Over the past two years, we've worked with hundreds of leading brands and agencies and executed highly innovative campaigns that have pushed the boundaries of media technology and mobile advertising. The MMA Smarties are Zapr's first ever award entry, and bagging four awards in this event further reinforces our commitment to providing the industry with disruptive technology solutions.
We deeply appreciate all the support, guidance and collaboration that we've enjoyed with you, our partnering agencies and brands. Now we are excited to kick off 2018 with innovative and disruptive work, worthy of the most prestigious awards!
We are keen to further strengthen our relationship in the coming months. Let's continue to revolutionize second screen advertising, media planning and big data analytics with our TV-to-Mobile technology!
"Zapr's primary aim is to provide brand owners with customized solutions and insights to help them understand the consumers better. We have been enabling brands to drive effective campaigns that align seamlessly with their messaging. This win for us is a validation of all the hard work and toil that the Zapr team has put in over the past year."
- Sandipan Mondal, Co-founder and CEO at ZAPR
Work with us for your next big marketing campaign!

[catlist id=8]