The Indian Premier League is mainly about two things: Cricket and Advertising.
Last year, 20,000 ads were aired on TV during the IPL alone. With more than a hundred brands advertising, there was high competition and clutter. This year is going to be no different – and if you're one of the brands advertising during IPL, this may not be great news for you.
For example, if four different brands of the same product category as yours advertise during a match, the chances of viewers remembering your brand's name become lesser. Since IPL TV audiences are bombarded with way too many ads, you'll need to stand out from the clutter.
Although advertising on TV during IPL is no doubt one of the top ways to reach out to large audiences, there's a better way to build higher brand impact, and that is through moment marketing – reaching out to them at the right moments during the match on another screen.
What is moment marketing?
Moment marketing campaigns involve targeting viewers in real-time, during key TV moments, with relevant brand messages on a second screen device. Over the last two years, marketers have been increasingly using mobile phones and other devices to engage with their viewers while they're watching TV.
The global average for simultaneous use of TV and a second screen is around 70%. There is not only immense scope for getting the right message across to consumers, but also delivering them at the right TV moment, which is a key factor for any ad campaign.
Moment marketing especially works during high impact TV events. Sports events telecasted live on TV, like the IPL, have several high impact moments during the match. These sensational moments can be leveraged by brands to connect with their audience.
For example, Britannia targeted more than 2 million live TV viewers of the Asia Cup 2018 on their mobile phones, with ads highlighting their 100 year anniversary. The cricket match viewers were engaged during key moments like centuries, boundaries, wickets, etc. with ads connecting the moment with the message of their milestone. The campaign delivered CTRs 4x higher than industry benchmarks in just a week! (Read the full case study here.)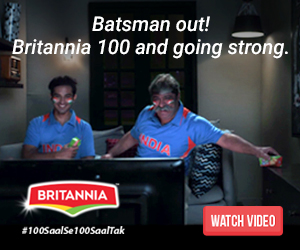 Similarly, your brand too can share in the emotions of high impact TV moments and connect with your audiences further. This leads to a lasting impression in the consumer, helping your brand stay top-of-mind and increase brand recall.
Right timing is good, but what about reaching the right audience?
While moment marketing leads to higher engagement, it is still a highly probabilistic way of marketing. In fact, the probability of hitting the right set of audience exposed to that specific live moment is still miniscule to the order of 1% - 2%.
In order to engage relevant audiences, you'll need data insights on the right mix of app categories through which you can reach your audiences effectively for your digital campaign. Our latest whitepaper further tells you how to enhance the above probability and boost your campaign's ROI 30-70% higher!

Is it possible to target the right audiences? Yes, definitely. For example, Tata Motors wanted to target members of the youth during FIFA World Cup 2018. Through a moment marketing campaign, they engaged over 5 million live TV viewers belonging to their TG on their mobile phones.
During key moments like goals, free-kicks, yellow cards, red cards, etc., they were shown ads that connected the product with that particular event. The campaign's display ads received 2x higher engagement compared to industry standards and further helped generate nearly a 100 leads! (Access the full case study here.)

How to take your moment marketing a notch higher this IPL
Moment marketing helps deliver better engagement with TV content through effective mobile campaigns. And the key to an effective moment marketing campaign is insightful execution – target the right audiences, at the right moments, through the right platforms.
With an integrated TV and mobile marketing tech platform, you can:
Increase your frequency of exposure even if your TV ad spots are limited
Target your IPL viewers both during an ad spot as well as during the match
Improve your brand recall and ad recall cost effectively with stronger impact
Also, there's huge scope for using moment marketing in creative ways. For example, whenever your competitor's ad appears on TV during an IPL break, you can counter it with your own ad on mobile with relevant messaging. This way, you can even win over your competition's market.
As the teams battle on the field, so do advertisers and brands on TV. If you want to make the best of your IPL ad strategy, make every moment count. Get in touch with us now.