The countdown to this IPL's season finale begins. With only a week to go, here's something every brand who's advertising on TV during IPL should do.


Advertising during the IPL is an expensive affair, and brands usually end up spending nearly 15-20% more for their TV ad campaigns. While the high spends are done in good faith, brands rarely get to measure and count the fruits of their extra efforts.
When their campaigns come to an end, brands are often heard asking questions like:
- "How did my campaign perform across various metrics?"
- "What is the change in brand recall after my campaign?"
And more often than not, these questions are left unanswered (or answered inadequately).
Well, not anymore.
At least, not if you do these things:
1. Get daily TVC analytics reporting
If you haven't been doing this already, don't worry. It's never too late to start, especially since the most crucial IPL matches are yet to come. Monitoring your TV campaign performances on a daily basis across matches and time slots can help you make quick, granular analysis to take strategic decisions.
You can do this by tracking your IPL campaign performance across geographies (state, city, socio-cultural-region levels), matches, time slots, day of the week, channels, ad creative types, etc. Want to get real-time insights? Sign-up here!
2. Run post campaign surveys for timely feedback
Along with getting real-time insights, you can also conduct brand lift surveys to measure the impact and effectiveness of your TV commercials aired during IPL. A good way to test for brand awareness, recall, purchase intent among your TV viewers is by engaging them on their mobile phones.
Identifying your TV viewers based on precise data and targeting them with surveys on their phones can help you get quick feedback for timely action. You can further dissect the responses of those who've watched your TV ads based on brand lift as illustrated below.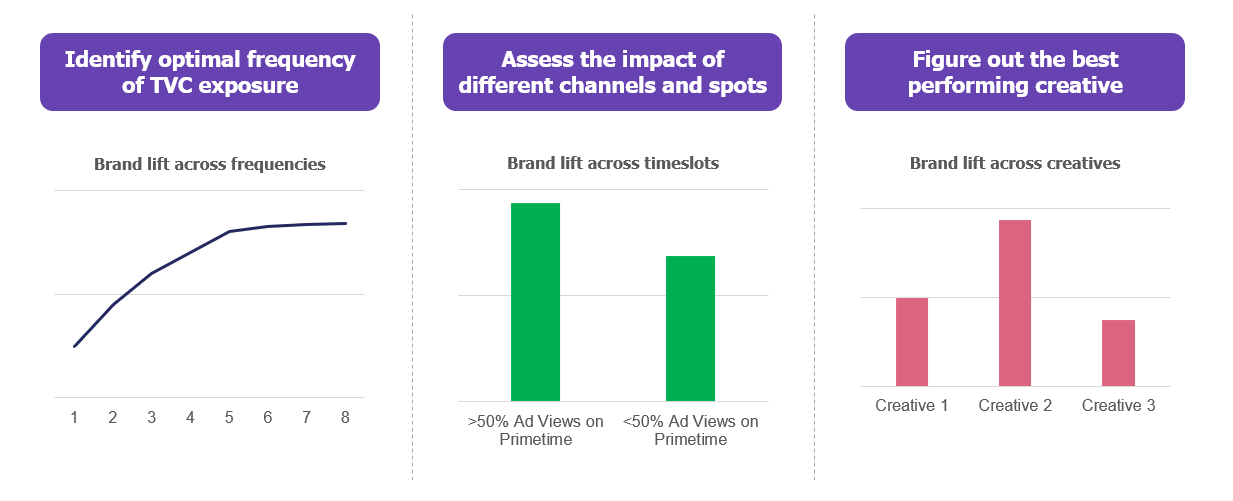 Want to find out what else you can do in the coming days? We've got a bunch of ideas that will help you make the best of the biggest IPL matches. If you want more information on our offerings, get in touch with us here.
And why stop with IPL? – the ICC Cricket World Cup is only a month away... (: