It's once again that time of the year when brands advertise massively on TV. The festive season has been in full swing since as early as last month.
Several brands and advertisers have already worked out their TV ad strategies for this advertising season. And this time, many of the successful brands advertising on TV are adding a secret ingredient to their TV plan recipe - it's the real-time data sauce.
What this helps brands do is make sure that they are investing in ad spots that will actually work in their favor. This is extremely important to do, since the number of brands advertising rises during the festive season, as seen last year: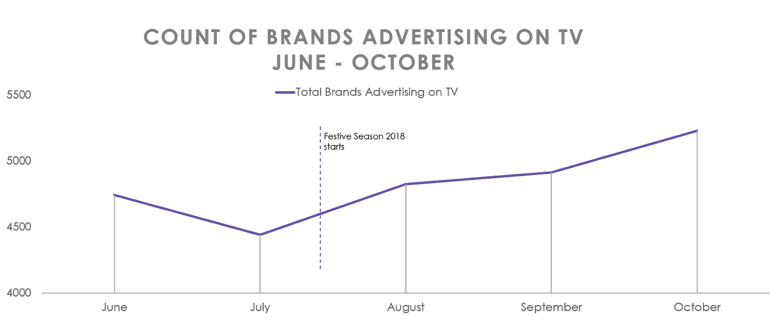 Get your special subscription plan for daily TV viewership this Diwali with Zapr DataFest!
It then becomes crucial for your brand to cut through the clutter while spending efficiently on TV. Here are 3 things you can do to help achieve that:
1. Build your TV plans on better data insights
The first step to a successful TV campaign is an effective TV plan. Data insights on TV viewership behavior can help you choose the right channels and ad spots. Analyze reach, impressions and time spent by audience across:
- channels, genres and languages
- specific locations within cities and states
- time slots on from hourly to monthly basis
Recently, brands like Swiggy and Rebel Foods worked out the recipe for efficient TV media planning with insightful TV viewership data.
With daily viewership data, a TV commercial can be compared to its competitor's, which will help you understand its share of voice in the same brand category and plan your advertising campaigns better.
2. Combine your TV strategy with digital to save on ad spends
Around 90% of digital audiences overlap with TV audiences. Ensuring you reach only the audiences who haven't watched your ad can save you more than 80% of the cost you would otherwise be spending on digital platforms.
It can also work vice versa. If you want to reach a certain set of audiences who haven't seen your ads enough time, maximize your frequency cost-efficiently by targeting them on mobile. Doing so will help you save an average of 15% on TV ad spends.
You can even increase your share of voice by spending less than your competition. This can be done by Identifying the viewers of your competitor's TV ads and engaging them on digital.
3. Measure the impact of your TV campaigns
Research goes a long way in efficient media planning. Run real-time surveys on smartphones that target only your relevant respondents and receive quick feedback for timely action.
For example, separate post-TVC brand lift surveys can be conducted across both audiences who watched and did not watch your TV commercial. This will help you measure the impact and effectiveness of your TV commercials based on metrics like brand awareness, recall, purchase intent, etc.
Also, simultaneously monitoring your TV campaign performances on a daily basis across matches and time slots can help you make quick, granular analysis to take strategic decisions.
Read how PharmEasy made use of data insights, digital engagement and research surveys and brought their campaign to a full circle.
Get the most relevant and accurate data insights to help you understand your target markets and your own brand's positioning better. Reach out to your relevant TV audience members using a cross-screen advertising strategy and save big on ad spends!