Godrej No.1, a major Indian FMCG brand, grows ahead of the category as more players jump onto the 'naturals' bandwagon. Small wonder as Nielsen India pegs naturals at 41% sales share of India's entire personal care market.
Nevertheless the brand needed to ensure that its own message didn't get lost in the clutter.
Godrej ran a national television campaign for No.1 soap, spending heavily over two weeks across major TV channels. They wanted to complement this by reaching audiences who had NOT been exposed to the commercials: in specific geographies where the TV campaign had not performed well enough, and among specific socio-economic classes (SECs) whom the brand wanted to target more aggressively. Mindshare India with its digital media mandate for GCPL identified the opportunity on this campaign for Godrej No.1 and leveraged Zapr technology to find those who did not view their TV ads, and engaged the same users on their mobiles. The only way to precisely identify such individuals was through Zapr's TV-to-Mobile platform which detects the offline media consumption of more than 40 million smartphone users in India.
This precision targeting led to video completion rates as high as 71%, which means more than half of those who started Godrej No.1 ads watched it till the end. Zapr gave the brand an incremental reach of 260,000+ unique users in less penetrated geographies. This high engagement reduced spillage of impressions and brought down the effective cost per view (eCPV) by 28%.
"Connecting and reaching out to new and more audience is always an important task for CPG brands, hence we ran this campaign on Zapr to reach out to new audiences on digital space through their platform, and we were quite impressed with the results. It gave us good incremental reach and much better engagement rates, on various parameters. The pilot has given us confidence to include Zapr's cross-device targeting as part of our always on TV + Mobile Approach."

- Pankaj Parihar
VP and Head of Digital Marketing, Godrej Consumer Products Limited
THE CHALLENGE
Find lower end smartphone users who were unexposed to Godrej No.1 commercials on offline TV, and engage with them on mobile.
Mindshare India wanted to complement the offline impact of Godrej's TV campaign by filling the gaps online. Our challenge was to target audiences belonging to SECs B and C who had not viewed the commercial on TV. We identified this segment among low-end smartphone users in the Zapr Audience pool. This way Godrej could win back target groups and open a two-way communication with viewers via personalised devices, their mobiles.
Our challenge comprised of three steps:
Precisely identify low-end smartphone users who had never been exposed to Godrej No.1 commercials on TV
Display the same commercial on DBM programmatic and mobile YouTube to only these users
Monitor and track key metrics to evaluate campaign performance
"The challenge for the brand Godrej No.1 was to increase unduplicated reach within its core audience. Thus on digital, using TV to Mobile technology, we were able to exclude users who were exposed to the TV ad creating a cluster with unique cookies. This cluster was then targeted which helped deliver incremental reach via Digital."
- Varsha Sethia
Partner - Client Leadership (Digital), Mindshare
THE ZAPR STRATEGY
Mindshare India and Zapr together designed a double identification strategy wherein we first mapped out those who watched the TV commercials as they aired on television. Next we removed them from Zapr's entire user-base to give us the precise segment of low-end smartphone users who had not been exposed to the commercials. These individuals were then targeted with the same video ads on mobile YouTube and DBM programmatic simultaneously.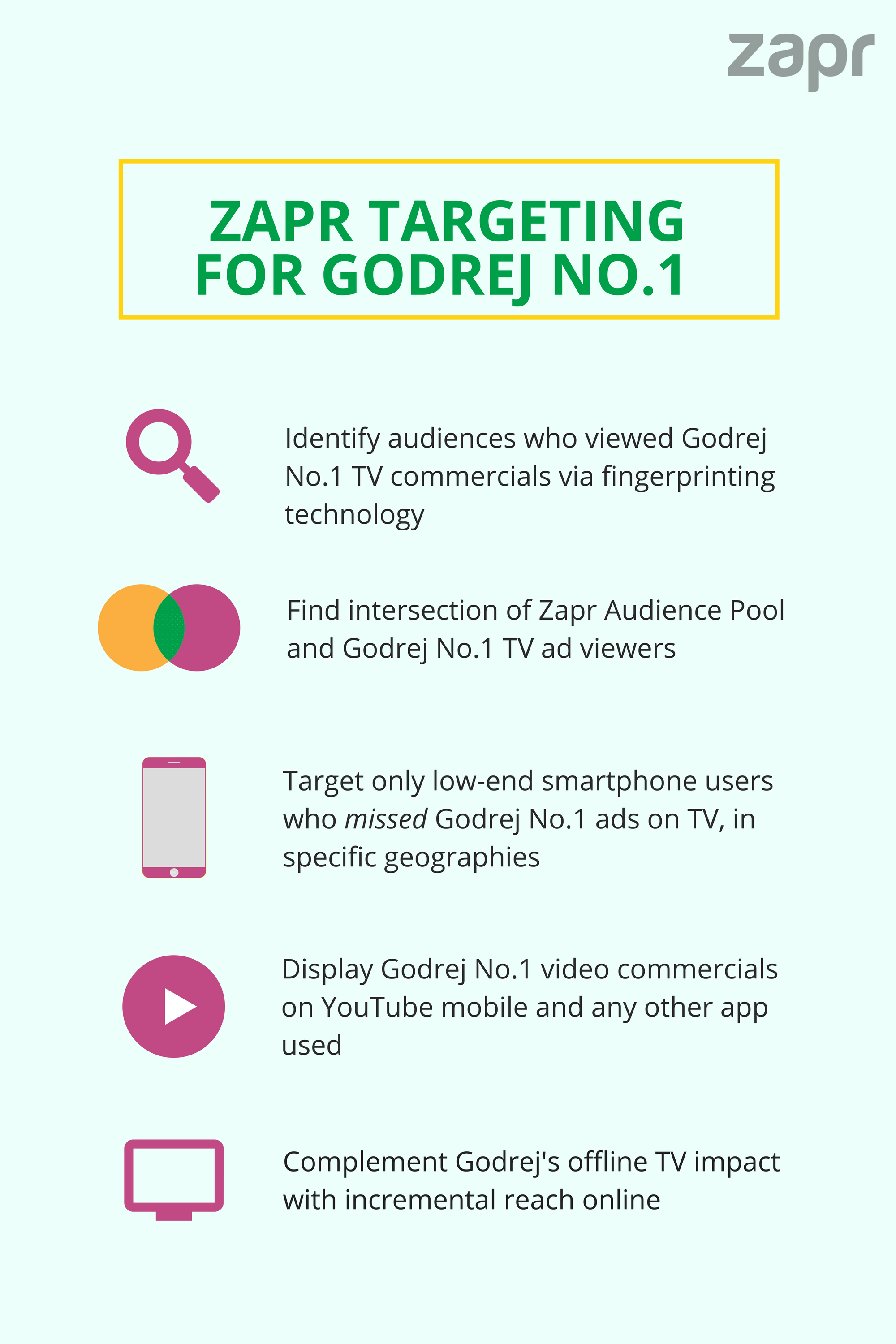 EXECUTION
Godrej ran its mobile campaign on mobile YouTube and DBM network across our user base of 40+ million smartphone profiles. The video commercials were displayed on mobile phones of target groups whenever they browsed YouTube and other apps, across different categories like e-commerce, games, news, food and lifestyle.
Creative: Video
Platform: DBM (programmatic), YouTube (filtered by Targeted IDs)
Duration: 30 days
Agency: Mindshare India
Mobile technology:
Our proprietary SDK was deployed across thousands of targeted lower end smartphones in India with user permissions and opt-ins. We fingerprinted ambient audio patterns and identified with 99%+ accuracy whether users viewed Godrej No.1 ads on broadcast TV, across 550 channels in India. We bid inventory near-real time via DBM across major mobile ad exchanges such as Google's AdX, Twitter's MoPub, InMobi, Smaato, Inneractive, Vdopia and our direct partner properties. This way targeted users were engaged on any mobile app they used at any time during the campaign.
RESULTS
Zapr's campaign with Mindshare India for Godrej No.1 reached 260,000+ lower end smartphone users who had never been exposed to No.1 ads on offline television. The campaign received an impressive response of more than 70% video-through-rates: more than half of the targeted audiences viewed the complete video from start to end.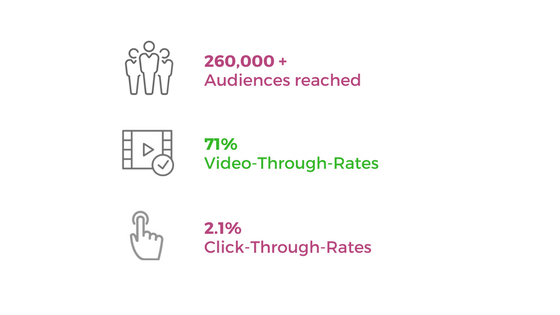 As a result of good engagement, the brand spent 28% lesser that the expected cost per view (eCPV) which means almost one-third of the campaign's budget was saved as a result of effective targeting. Godrej also won as high as 2.1% click-through-rates to their landing page.
Our in-depth analysis of the campaign's performance revealed that the brand engaged 16% higher on weekdays compared to weekends. States like Rajasthan, Punjab, Madhya Pradesh and Gujarat witnessed highest engagement for Godrej No.1 commercials.
CAMPAIGN LEARNINGS
Zapr's always-on plan ensures that brands never lose their audiences whether they are running a TV campaign or not. For those who are spending heavily on television, the surest way to make a home run with potential customers is by actually engaging with them on relevant second-screen platforms. Brands can consistently win a share of their competitor's audiences, or acquire new segments of interest-based groups; the possibilities of using Zapr TV Analytics and Mobile Targeting are numerous. Get in touch with our sales team on hello@zapr.in to discuss how our technology can integrate your offline and online media campaigns.
Also read how Kotak Mahindra integrated TV and Mobile to reach audiences who did not view the TV ads of 811 app.
Want to read more of our winning campaigns with leading brands and agencies? Click here.
Don't forget to subscribe to our newsletter for monthly updates!