India has the world's second-largest TV viewing population, yet for a long time, brands and broadcasters had to depend on household sample data to understand how viewers watched their TV shows and channels. Moreover, broadcasters cannot
directly
promote their shows on competitor TV channels. As demonstrated in this campaign with Star India, Zapr's TV-to-Mobile Audience Platform allows broadcasters to engage competitor audiences and genre loyalists right on their mobiles and track the result back to channel viewership.
CONTEXT AND CHALLENGE
Star Plus, a leading Hindi Television broadcaster took three strategic primetime bets in 2017 and tapped into some of the hottest trends in Indian entertainment industry - comedy, historical drama, and dance reality. The channel launched three shows and wanted to capture maximum share of primetime audiences on TV, and ultimately convert them to Star Plus viewers.
To meet this challenge, Star India leveraged Zapr Media Labs - the world's largest media consumption repository, and India's only platform for individual-level TV consumption and Mobile targeting. Across 3 campaigns, Star Plus wanted to target TV audiences on Mobile and CONVERT them into actual show viewers across few weeks after the campaign started - driving eyeballs away from competition and giving Star Plus a clear edge in the battle of Indian Primetime television!
DATA-DRIVEN STRATEGY:

Zapr would study the TV consumption patterns of millions of smartphone-owning individuals in our repository. We looked at three months till the campaign started, and precisely identified unique individuals who fit into Star's target segments across three campaigns classified into:
Primetime loyalists:

People who

regularly

watched Hindi channels across news, general entertainment, music and movies in the very

same

primetime slots (eg. 8 - 9 PM) when Star's newly launched shows would air on TV. Since these viewers were more likely to

switch channels

across Hindi content, Star Plus had to ensure awareness among these timeslot loyalists.

Genre enthusiasts who watch competitor show:

Star wanted to grab maximum awareness among people who tune into rival shows in the same niches such as reality TV, comedy, and historical drama.
Using our audio fingerprinting technology, ad-tech, and proprietary algorithms, we would Identify and engage target audiences few weeks before the show launch to ensure interested individuals actually CONVERTED on broadcast TV. Star's promo strategy would achieve precise Mobile-to-TV conversion rates as high as 8%, something which hardly any marketing agency can do for a broadcaster.
EXECUTION
Across three campaigns, Zapr identified 7.8 million unique users who fit into Star's TV-to-Mobile campaigns. Using in-house ad technology, we programmatically executed second-screen advertising that replicated a TV campaign on mobile. Users were engaged with promo videos on any app they used anywhere on the mobile ecosystem. Zapr ensured fixed frequency caps with not more than 2 ads shown to a user giving just the right amount of awareness. Zapr achieved 100% engagement with identified target segments securing zero spillover of Star's digital budgets.
Campaign 1:
For the season premiere of dance reality show 'Dance +3', Zapr targeted audiences in the 'Hindi reality-content' pie which has the largest following across Indian television, and primetime loyalists.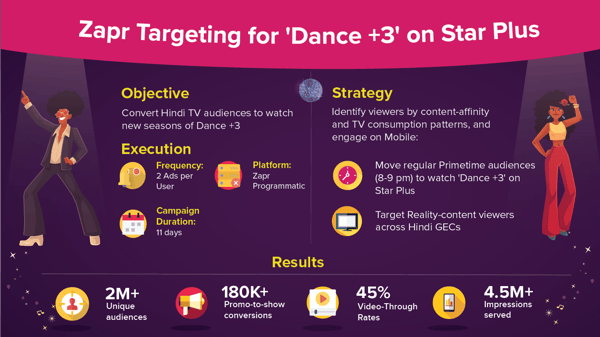 Campaign 2:
For the launch of its new historical drama show 'Aarambh', Zapr engaged viewers of 2 majorly followed shows in the same historical-drama genre aired on competitor channels.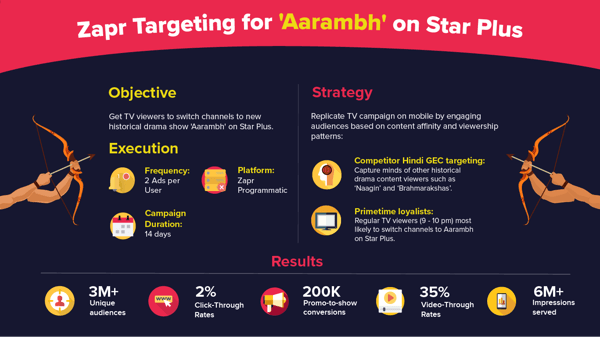 Campaign 3:
For the new season launch of stand-up comedy show 'The Great Indian Laughter Challenge', Zapr engaged viewers of rival Comedy-Reality TV shows and primetime loyalists.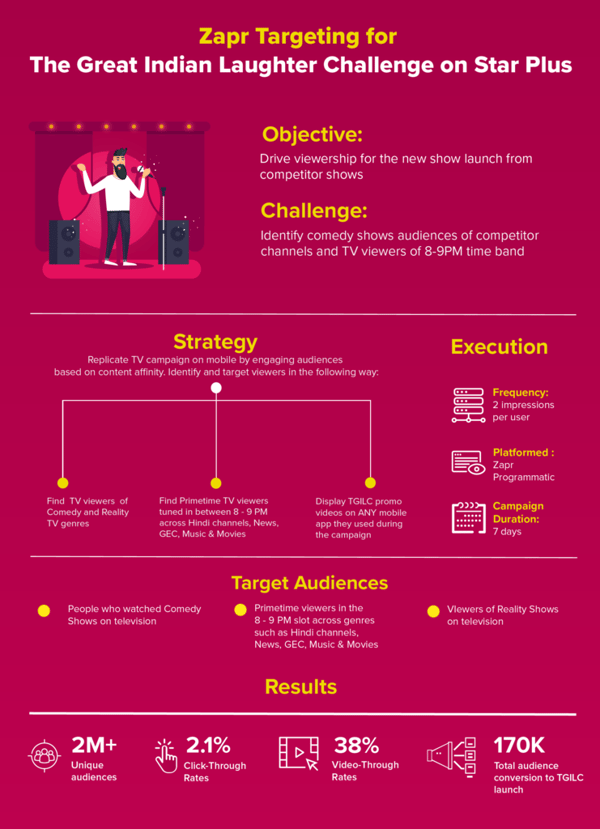 OVERALL RESULTS

550,000+

converted from Mobile campaign to Star Plus shows on TV

2 - 3 million audience segments

identified for each campaign

Engaged

100%

of identified audiences with

4,000,000 - 6,000,000

million impressions served on mobile in less than 3 weeks

High video engagement with

completion rates as high as 45%
300% - 400% Higher Click-Through-Rates

to brand's landing page (compared to industry standards)

6% - 8% Promo-to-Show conversion rates

revealing the impact of the cross-screen campaign.

Post-campaign analysis

on TV consumption behaviour of Target Groups for a better understanding of audiences and their content preferences/content affinities

Higher share-of-mind and hence, share of eyeballs and

share of wallet from competition.
Watch the case film for Star Plus campaigns here: https://youtu.be/LC08SNp7sTI
Also read how Zapr helped Colors boosted loyalty among Indian TV viewers and bumped offline viewership for primetime show 'Shakti' up 25%